---
Homicides Soar 96% In Washington State After Passage Of Gun Restrictions
Authored by Patricia Tolson via The Epoch Times,
Data shows that the number of homicides in Washington State skyrocketed after Second Amendment Rights were restricted.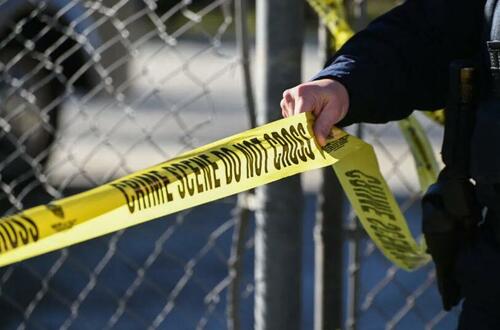 According to a report released July 10 (pdf), the rate of murders, violence, and property crimes rose across Washington state in 2022, while the number of law enforcement officers available to respond and protect citizens decreased.
Specifically, the report revealed there were 394 murders in 2022, an increase of 16.6 percent over 2021 and the highest number of murders since the Washington Association of Sheriffs & Police Chiefs (WASPC) began recording this data in 1980. In addition, homicides increased 96 percent since 2019 and violent crimes increase by 8.9 percent.
During a July 10 press briefing, WASPC Executive Director Steve Strachan said that residents are more concerned about crime because it's starting to affect them "in a real way in their real life."
He specifically addressed the rise in homicides, up 16.6 percent, with an all-time high number of 394 people being murdered in 2022.
"With that increase of 16.6 percent, compared to 2021 to that all-time high of 394, that is 96 percent more murders than we had in 2019," Strachan said.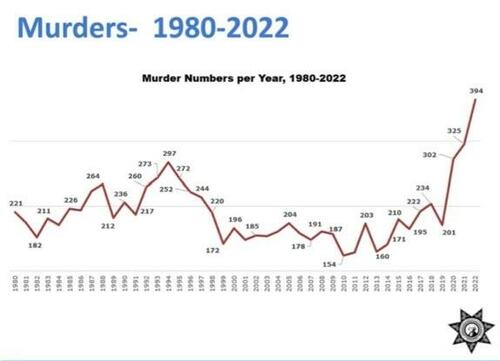 A slide shown during a media availability session hosted by the Washington Association of Sheriffs & Police Chiefs on July 10, 2023. (WASPC/Screenshot via The Epoch Times)
Strachan also noted that Washington State suffered a net loss of nearly 500 police officers or 4.4 percent of its force in 2021. The per capita loss in officers per 1,000 citizens was down to 1.38, "which was the lowest on record and also the lowest in the nation."
Things did not improve in 2022.
Strachan said net statewide law enforcement staffing went down by an additional 70 officers, bringing the per capita number down to 1.36 per thousand, "again the lowest on record and again the lowest in the nation."
It was the 13th straight year that Washington State had the lowest police staffing numbers in the country.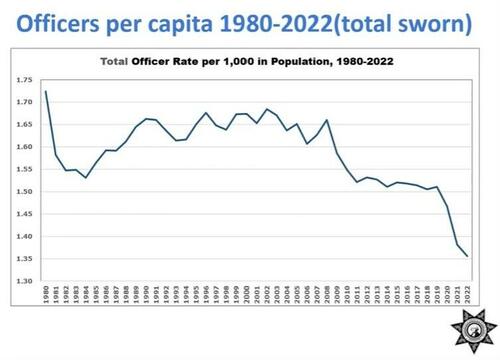 A slide shown during a media availability session hosted by the Washington Association of Sheriffs & Police Chiefs on July 10, 2023, reflecting the decrease in the number of law enforcement officers per capita. (WASPC/Screenshot via The Epoch Times)
Assaults on officers went up 20 percent, rising from 1,968 incidents in 2021 to 2,375 incidents in 2022. There was a 5-year trend of increased assaults on law enforcement, going down only slightly (by 59 incidents) during the pandemic lockdowns.
While the total population of Washington State increased by 93,262, the number of law enforcement officers decreased from 10,736 to 10,666 in 2021. This placed Washington in last place nationwide for the number of officers per thousand residents. There were also 2,375 reported cases of officers assaulted in 2022—an increase of 20.7 percent. Two officers were killed on duty.
In the meantime, Seattle's City Council cut the police budget by nearly 20 percent in 2020, falling short of their goal to gut law enforcement funding by 50 percent. According to reports, "the agency has been in a tailspin ever since."
'Backfired'
In a July 10 press release in response to the WASPC report, Alan Gottlieb, chairman of the Citizens Committee for the Right to Keep and Bear Arms, says the 96 percent increase in homicides since 2019 is "damning proof that billionaire-backed gun control measures were, as we predicted, false pie-in-the-sky promises."
"Passage of Initiative 594 in 2014 and I-1639 in 2018 have accomplished nothing other than to create massive impairments, which we believe are unconstitutional, for law-abiding Washington citizens," Gottlieb said further.
Initiative 594 (pdf) imposes background checks on firearms purchasers and mandates that only licensed dealers may sell or transfer firearms to unlicensed persons.
Initiative Measure No. 1639 (pdf), filed on May 2, 2018, places restrictions on the purchase of "semiautomatic assault rifles," requires the purchaser to have "undergone training within the past five years," and subjects the purchaser to a waiting time between 10 to 60 business days. The law further mandates that gun dealers may not deliver a pistol to a purchaser "until the purchaser produces a valid concealed pistol license and the dealer has recorded the purchaser's name, license number, and issuing agency" in "triplicate."
Gottlieb says the WASPC data proves that all of that has "backfired."
"These findings really validate everything we've said about all of the gun control measures that the State of Washington has passed, either by initiative or legislative process," Gottlieb asserted, noting how the numbers prove that gun violence and homicides escalated after the state passed measures to restrict gun rights.

"This was the highest homicide rate recorded since 1980," He said.

"So all of these so-called gun control measures that were going to stop violence in the State of Washington have backfired."
He also proposed that when Americans are allowed to exercise their Second Amendment Rights freely, crime rates go down, specifically in Constitutional Carry states.
An analysis of Centers for Disease Control and Prevention (CDC) data by the United States Conceal Carry Association and released in October of 2022 showed that states that allow some form of permitless or Constitutional Carry have "fewer total and gun-related homicides."
Conversely, Gottlieb said crime rates in "Democrat-controlled states" where gun control laws restrict the rights of law-abiding citizens from bearing arms go up dramatically.
"Chicago, New York, San Francisco, Los Angeles, Baltimore, and Philadelphia, we're seeing it all over the country," Gottlieb reflected.

"You are less safe when you do not have a means of self-defense."
For Gottlieb, one of the primary struggles faced by gun rights advocates is that they are competing against "a legacy media with a gun-control agenda, and they only push one side of the equation."
"They don't let our data flow out to the public so the average citizen doesn't know that all of the gun violence they're hearing about is happening because gun laws don't work," he explained.

"The data doesn't lie. But you won't see the Sheriff's report or our press release in response to the report on the legacy media."
Gottlieb also discussed how most mass shootings take place in "gun-free" zones.
Data compiled by the Crime Prevention Research Center confirmed that 97.8 percent of all mass shootings between 1950 and 2018 occurred in gun-free zones.
Not much has changed.
In May of 2022, the Crime Prevention Research Center reported that 96 percent of mass shootings occurred in gun-free zones.
"These numbers shouldn't surprise anyone," Gottlieb said. "They always tell us we'll see all kinds of carnage without gun control. But we're not going to see that because we aren't seeing it in the 26 states that have permitless carry."
Loading...