---
House Republicans Want To Use Unspent COVID Relief Funds In Debt Ceiling Package
GOP lawmakers want to rescind unspent pandemic relief funds and apply them towards an eventual bill to resolve the debt ceiling.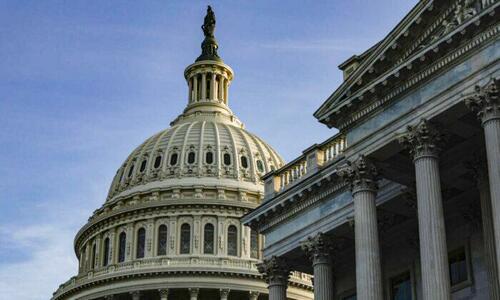 According to government estimates, $4.61 trillion has been authorized for Covid-19 relief, while $4.12 trillion of it has been spent - leaving roughly $500 billion in theoretically unspent funds, although a portion of that is currently "obligated" to certain pots of money and may not easily be returned to the US Treasury.
The idea "certainly could" be included in a debt ceiling measure to avert default, said Rep. Tom Cole (R-OK), chair of the Rules Committee.
"I would hope we look at that," he told NBC News. "It's something that ought to be on the table."
Ways and Means Committee member Rep. Mike Kelly (R-PA), says he's open to it, adding that it would be "insane" for Congress not to explore every option to find and eliminate unnecessary spending.
"There's areas that we should not be spending and where we could actually either reposition or just not spend it, and then bring down our debt," said Kelly, adding "We can make cuts that don't hurt people."
The idea isn't yet ready for prime time in the GOP-run House, the Democratic-controlled Senate or the White House. But it is the most specific Republicans have gotten in terms of what they'd like to attach to a debt limit hike, a question that GOP lawmakers have been notably vague on, even as they demand spending cuts as a concession to pay the country's bills. The Treasury Department has set a June 5 deadline for Congress to act or breach the debt limit. -NBC News
Rep. David Schweikert (R-AZ), a member of the Ways and Means Committee, said he likes the idea, but cautioned that it may be difficult to identify and reclaim the unspent money.
"There's some disputes on what the dollar amounts actually are, and what's actually technically obligated and what's not obligated," he said. "Because we have some states that … put it into their rainy day funds. And there's specific language that you can't supplant it. So that's that sort of thing you're going to have to dig into and figure out what's really there."
On Wednesday, the Oversight Committee held a hearing on federal pandemic spending, during which Rep. Andy Biggs (R-AZ) pressed the Government Accountability Office (GAO) to provide an answer for how much of the pandemic funds is left and not spoken for.
"As of November 2022, there's about $157 billion unobligated funds," according to GAO comptroller general, Gene Dodaro.
"Unencumbered, unobligated, unspent?" asked Biggs.
"Right," Dodaro responded.
On Capitol Hill, some Republicans believe a proposal like tapping excess Covid money could fall into a political sweet spot that adheres to both parties' red lines on the debt ceiling. It may satisfy GOP demands to cut some spending — though it won't come close to addressing conservative wishes to balance the budget. It's the sort of add-on that Democrats may be willing to dismiss as fig leaf, given that it's unspent money, and especially as President Joe Biden seeks to declare victory against Covid.

The White House said Biden made clear in his Tuesday meeting with Speaker Kevin McCarthy that preventing default is "not negotiable or conditional." Most Democrats are standing with Biden, insisting that the debt ceiling be lifted without strings attached. -NBC News
Democrats have refused to negotiate on the debt limit - and instead want Republicans to agree to a "clean" bill to raise the debt ceiling, and a separate negotiation on spending cuts.
According to Rep. Rosa DeLauro (D-CT), the top Democrat on the Appropriations Committee, negotiating the debt limit is a "nonstarter," however she signaled an openness to discussing ideas when it came to sending certain Covid funds back to the Treasury.
"I have to take a look and see what has been obligated, and so forth. I just want to see where that is — so much of that has been obligated," she said.
Loading...