---
House Approves Resolution Backing Israel In New Speaker's First Move
Authored by Dave DeCamp via AntiWar.com,
The House on Wednesday approved a resolution that expressed strong support for Israel, the first bill brought to the floor after Rep. Mike Johnson (R-LA) was elected as the chamber's new speaker.
The resolution passed in a vote of 412-10 and says that the US "stands" with Israel in the wake of the October 7 Hamas attack and as Israel is relentlessly bombing Gaza. The resolution reaffirmed the US commitment to providing military aid to Israel and said Congress will work to pass more.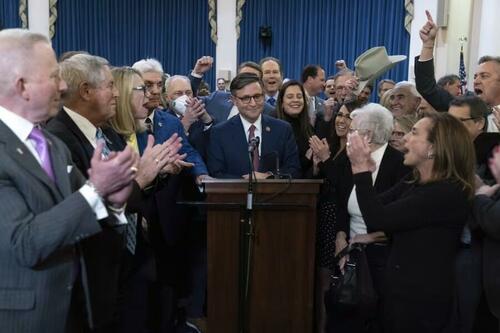 The bill says the House "stands ready to assist Israel with emergency resupply and other security, diplomatic, and intelligence support." It also called for the US to continue enforcing sanctions on Iran and condemned the Hamas attack.
Nine Democrats voted against the resolution, including Reps. Jamaal Bowman (NY), André Carson (IN), Cori Bush (MO), Al Green (TX), Summer Lee (PA, Alexandria Ocasio-Cortez (NY), Ilhan Omar (MN), Delia Ramirez (IL) and Rashida Tlaib (MI). The sole Republican who voted against the measure was Rep. Thomas Massie (KY).
Explaining his opposition to the bill on X, Massie pointed to the sanctions aspect and the promises of military support and aid. "It contains an open-ended promise of military support that is so broad that it could be interpreted to commit US soldiers to the conflict. US troops should not be engaged in this conflict," he said.
Johnson won the speakership hours before the vote and pledged his first action would be in support of Israel. "Our nation's greatest ally in the Middle East is under attack. The first bill that I'm gonna bring to this floor in just a little while will be in support of our dear friend Israel," he said.
President Biden has requested $14 billion in new military aid for Israel as part of a massive $105 billion spending package that also includes $61 billion for the Ukraine war, $7.4 billion that will go toward military aid to Taiwan, and other spending in the Asia Pacific, and funds for border security.
I condemn the barbaric attack on Israel and I affirm Israel's right to defend itself.

However, I will not be voting for House Resolution 771 today because:

1) It calls for sanctions on a sovereign country. Sanctions are a prelude to war and hurt the citizens of the country more…

— Thomas Massie (@RepThomasMassie) October 25, 2023
It's not clear if the House will take up the entire spending package or if it will seek to divide it into individual bills.
Johnson has previously voted against spending on Ukraine, earning him a grade of "F" from Republicans for Ukraine, a neoconservative group that's trying to rally GOP support for the proxy war.
Loading...