---
House Expected To Vote Wednesday On Stopgap Bill To Avoid Govt Shutdown
Update (1515ET): House Majority Leader Steny Hoyer has confirmed the vote on the stop-gap bill:
"I am disappointed that we have not yet reached agreement on government funding. The House will vote on Wednesday on a one-week CR to keep government open while negotiations continue."
*  *  *
While some had hoped for a 'combo' stimulus/government-funding bill, it appears that will not be the case - at least in the very short-term - as The Hill reports that The House is expected to vote Wednesday on a stopgap measure to avert a government shutdown after current funding expires this Friday.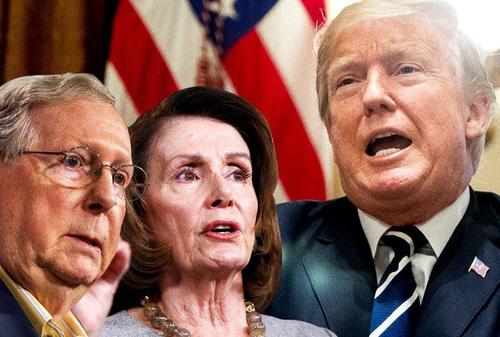 While House Democratic leadership had expressed hope for an all-encompassing bill, Democratic aides confirmed Monday that the stopgap 'continuing resolution' is expected to last through Dec. 18, and implicitly recognizing the fact that any COVID Relief is not imminent.
On the bright side, if this CR is passed, it will give lawmakers one more week to come to some agreement over the stimulus (and for that matter the omnibus spending bill which remains rife with bigger picture disagreements) before they leave for the holiday break.
Additionally, in yet another disagreement, The House will return over the holidays for a vote to override President Trump's threatened veto of the defense authorization bill, according to Rep. Adam Smith, the House Armed Services Committee Chairman.
"If the president vetoes it, we will come back and override," Smith (D-Wash.) told reporters today.
Trump said he would veto the bill if it didn't repeal the Section 230 liability shield for tech companies (he has also threatened to veto it over requirement to rename bases honoring Confederate generals).