---
'Unprecedented Abuse Of Authority': House GOP Demands Answers From Manhattan DA Over Trump Indictment, DeSantis Slams
House Republicans on the Weaponization of the Federal Government subcommittee are using their new investigative powers to look into liberal Manhattan District Attorney Alvin Bragg, over the Soros-funded DA's reported plans to indict former President Donald Trump on felony charges this week related to hush money he allegedly paid to porn star Stormy Daniels seven years ago - a charge which would normally be a misdemeanor. Bragg would also be prosecuting the case beyond the five-year statute of limitations.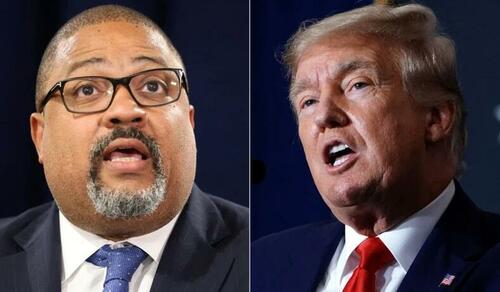 "You are reportedly about to engage in an unprecedented abuse of prosecutorial authority: the indictment of a former President of the United States and current declared candidate for that office," reads a Monday letter to Bragg from Reps. Jim Jordan (Judiciary Chairman), James Comer (Oversight Chairman) and Bryan Steil (House Admin Chairman).
"This indictment comes after years of your office searching for a basis - any basis - on which to bring charges, ultimately settling on a novel legal theory untested anywhere in the cuntry and one that federal authorities declined to pursue."
The letter goes on to shred the 'untested legal theory' underpinning Bragg's expected indictment, and calls out former Trump Attorney Michael Cohen, Bragg's star witness and a convicted perjurer, as having a "serious credibility problem."
The letter demands all documents and communications related to the decision.
Was the Manhattan DA's office in communication with DOJ about their investigation of President Trump?

Was the Manhattan DA's office using federal funds to investigate President Trump?

Alvin Bragg owes our committee answers. pic.twitter.com/G6mL4Jfiiq

— Rep. Jim Jordan (@Jim_Jordan) March 20, 2023
"This is the type of thing America hates, and it divides America and it is wrong," McCarthy said this week while conferring with House Republicans in Orlando, Florida. McCarthy has accused Bragg of lowering penalties for criminals in New York while prosecuting his political opponents.
"It's interesting to me he spent his whole time as a DA lowering felonies, not to prosecute," said McCarthy. "I think Republicans and Democrats alike hate this type of justice."
"Republicans stopped the radical D.C. crime law, and we will investigate any use of federal funds that are used to facilitate the perversion of justice by Soros-backed DA's across the country," he continued.
Florida Republican Sen. Rick Scott echoed McCarthy's sentiment, saying "No federal dollars should be used to prop up this radical, Soros-backed activist attorney or his gross political attacks."
While Florida Governor Ron DeSantis - who's been encouraged to speak up, accused Bragg of 'weaponizing' his office.
JUST IN - Governor Ron DeSantis responds to reports of a possible Trump indictment.

"The Manhattan District Attorney is a Soros-funded prosecutor...They weaponize their office to impose a political agenda on society...The Soros District Attorneys are a menace to society!" pic.twitter.com/h7VN48XBV2

— Townhall.com (@townhallcom) March 20, 2023
And according to House Oversight and Accountability Committee Chairman James Comer (R-KY), the timing of a leak from Bragg's office over the indictment is suspect.
The indictment news leaked right after Mr. Comer revealed that he had obtained bank records showing Biden family members were involved in a business transaction with a Chinese company that paid them more than $1 million.

Mr. Comer called the DA's targeting of Mr. Trump "an effort to detract" from the Biden/China probe, "but at the very least, it's another example of a two-tiered system of justice."

Mr. Comer said he believes nearly a dozen additional business deals were made between members of President Biden's family and China, in addition to the business transaction involving the Chinese company that paid the Bidens over $1 million.

"This is one deal," Mr. Comer told "Fox News Sunday Morning Futures." "We have 11 more to go, and I'm pretty confident we'll be getting more bank records in very soon." -Washington Times
🚨 Someone should tell @POTUS that @GOPoversight has Biden family bank records.

What we know is the Biden family received about $𝟏,𝟎𝟔𝟓,𝟎𝟎𝟎 in payments from a Chinese energy company. What were they buying?

I will continue to follow the Biden money trail. @kayleighmcenany pic.twitter.com/SIgAFrcsLn

— Rep. James Comer (@RepJamesComer) March 18, 2023
According to Trump (via Truth Social), the "most important witness" in the case against him is a lawyer representing his former personal attorney, Michael Cohen, who is set to testify Monday before the New York City grand jury.
"The information he will present will supposedly be conclusive and irrefutable! Witch Hunt!" said Trump.
Meanwhile...
There are many critical facts and pieces of evidence (texts, emails, etc.) relating to the hush money scandal that have yet to see the light of day. And they will unfortunately be very damaging to the prosecution if Trump stands trial. At this point, you simply can't build a case… https://t.co/ou6LoWv3Ab

— Michael Avenatti (@MichaelAvenatti) March 17, 2023
Extra meanwhile...
NOW - Steel barricades outside Manhattan Criminal Court.pic.twitter.com/juNZ1fQAct

— Disclose.tv (@disclosetv) March 20, 2023
Loading...