---
House Votes To Censure Adam Schiff
It has not  been a good day for the Congressman from California.
First he was 'owned' by John Durham, while the democrat attempted a character assassination, and now the House of Representatives voted to censure Rep. Adam Schiff (D-Calif.) on June 21, a week after an initial resolution to do so was tabled.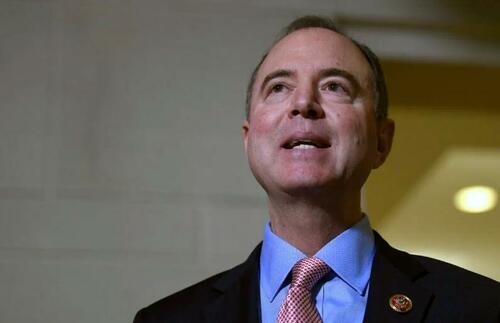 The tally was 213-209. Six voted "present."
Adam Schiff is officially the 26th member of Congress to be censured in American history!

The Democrats are a classy bunch. They kept interrupting McCarthy as he tried to read the resolution.

How these people can defend Schiff is beyond me… pic.twitter.com/kzk3wPV7M1

— Jane Public (@JanePublic55) June 21, 2023
Democrats cheered "Adam, Adam, Adam" in deferrence to his 'sacrifice'? Who knows...
House Democrats go berserk, interrupting Speaker McCarthy numerous times as he attempts to read the resolution censure to Rep. Schiff, chanting "Shame!"

McCarthy fed up reminds Democrats, "I have all night." pic.twitter.com/81uPBCOY94

— Mona Salama  (@ByMonaSalama) June 21, 2023
The resolution, introduced by Rep. Anna Paulina Luna (R-Fla.), blasts Schiff for allegedly perpetuating misinformation against former President Donald Trump.
#WATCH | Rep. Anna Paulina Luna @repluna about Rep. Adam Schiff censure bill: pic.twitter.com/O78sl0091f

— VOZ (@Voz_US) June 21, 2023
With the passing of the resolution, Schiff has been referred to the House Ethics Committee for investigation.
As Jackson Richman reports via The Epoch Times, the resolution was privileged and therefore triggered a House vote. In last week's vote, 20 Republicans joined 205 Democrats to table the initial resolution.
The revised resolution was similar to the initial one, with the notable difference being that it did not have a $16 million fine for Schiff should he be held accountable by the House Ethics Committee for his alleged "falsehoods, misrepresentations, and abuses of sensitive information."
The new resolution, like the tabled one, condemns Schiff, who was chairman of the House Intelligence Committee, for perpetuating the notion there was collusion between former President Donald Trump's 2016 campaign and Russia. That was debunked by special counsel Robert Mueller in 2019, Department of Justice Inspector General Michael Horowitz later the same year, and special counsel John Durham in May. The $16 million fine is half of the taxpayer cost of the Mueller probe.
Durham testified on June 20 at a closed-door hearing before the House Intelligence Committee and also gave evidence in a public hearing today in front of the House Judiciary Committee.
Additionally, the new resolution did not state that "Schiff used his position and access to sensitive information to instigate a fraudulently based investigation, which he then used to amass political gain and fundraising dollars."
House Speaker Kevin McCarthy (R-Calif.) gave credence on June 15 to the 20 House Republicans that joined Democrats in tabling the initial resolution.
"I think everybody knows my thoughts of Adam Schiff," McCarthy told The Epoch Times.

"That's why I removed him from [the House Intelligence Committee]. … You have a number of members on principle that sat and argued for the last four years with President [Donald] Trump that you had to have due process and voted that way. And I think a number of them believe that they should [have] gone to [the House Ethics Committee] first."
Ahead of the vote on the revised resolution, Schiff appeared defiant on the House floor.
"To my Republican colleagues who introduced this resolution, I thank you. You honor me with your enmity. You flatter me with this falsehood," he said.

"You who are the authors of the Big Lie about the last election must condemn the truth-tellers and I stand proudly before you. Your words tell me I have been effective in the defense of our democracy and I am grateful," continued Schiff. "And yet this false and defamatory resolution comes at a considerable cost to the country and to the Congress."
Following the vote on the revised censure resolution, McCarthy, who has expressed contempt toward his fellow Californian, called Schiff to the well of the House floor that is below the dais where the clerks and speaker preside.
"Will the gentleman from California present himself in the well? By its adoption of House Resolution 521, the House has resolved that Representative Adam Schiff be censured," said McCarthy.

"That Representative Adam Schiff forthwith present himself in the well of the House for the pronouncement of censure," said McCarthy after Schiff went to the well.

"That Representative Adam Schiff be censured with the public reading of this resolution by the Speaker."
With a strike of the gavel, McCarthy concluded the censure.
In interviews on June 20 with The Epoch Times, Republicans were in favor while Democrats expressed opposition to the censure resolution.
"This guy's for however many years been walking out of classified briefings and saying to the press, 'I heard that President Trump, I was told that President Trump did this, this, this, this or this,'" said Rep. Brian Mast (R-Fla.), referring to Schiff.

"So one, if members of Congress had to fill out an SF-86, like every other normal American to get a security clearance, he would have his denied, revoked, whatever, in about 10 seconds."
An SF-86 is the application to obtain a security clearance.
"And so I think that's well worth censuring, given that it's a direct violation of his duties to keep it simply on that," said Mast.

"So I could say a lot about the guy. None of it nice."
Rep. Harriet Hageman (R-Wyo.) said Schiff "lied to the American people … for years. He was extremely destructive, and I believe that he needs to be held accountable."
But Rep. Ro Khanna (D-Calif.) remarked that the censure would be "in-kind contributions" to Schiff's 2024 Senate campaign to succeed retiring Sen. Dianne Feinstein (D-Calif.).
Also coming to her fellow Californian's defense, Rep. Zoe Lofgren (D-Calif.), said Schiff "has done good work honorably" and that "the effort to try and change a policy dispute into some kind of sanction is unprecedented and unwise."
Rep. Jack Bergman (R-Mich.) stated simply, "I believe that good behavior should be rewarded and bad behavior should be censured."
Loading...