---
How Albanian Gangs Are Dominating The UK's Cocaine Supply Networks
Authored by Patricia Devlin via The Epoch Times,
Albanian organised crime gangs (OCG) are now dominating the UK's cocaine supply networks, with small boat arrivals contributing to the gangs' growing networks, a former police chief has said.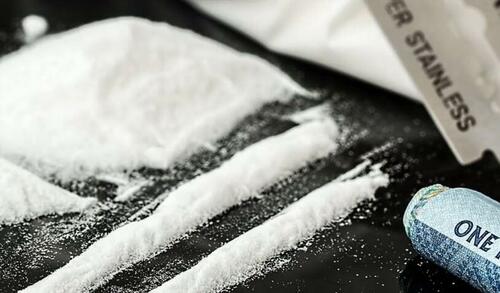 Tony Saggers, who headed up the National Crime Agency's (NCA) Drugs Threat and Intelligence department, said Albanian gangsters have been able to gain considerable control in Britain's booming drugs trade by slashing their own wholesale profits to undercut rivals.
Their "non-greed" approach—which differs greatly from British OCGs—has led to the foreign gangsters becoming the "preferred supplier" in the UK, Mr. Saggers told The Epoch Times.
The insight into the gangs' growing influence comes just days after the government revealed authorities had seized record hauls of the Class A drug last year.
The Harm to Hope report—part of the UK's new ten-year drug strategy—said 19 tonnes of cocaine had been seized by authorities in 2022—the highest number for a single year on record.
The figures come just months after the United Nations (UN) warned Albanian criminals are exerting "excessive" control of the UK's drug trade—with the ability to ship in huge illicit consignments of cocaine via southeast England seaports.
The UN's Office on Drugs and Crime  (UNODC) said in its 2023 report (pdf) that migration from Albania has allowed gangs to set up in key cities across Europe and take over trafficking networks.
"They rely on a vast network of associates among the Albanian diaspora abroad and often work in conjunction with Italian criminal groups,' it said.
The UNODC added, "The important destination of the United Kingdom, where Albanian-speaking groups have also been assessed to exert considerable control across the drug market, is also supplied to a large extent via 'roll-on, roll-off' freight reaching ports in the south-east of the United Kingdom from nearby European ports."
'Non-Greed' Approach
"Albanian organised crime adopts a different approach to controlling drug markets, than I have generally experienced from their British counterparts," Mr Saggers told The Epoch Times.
"In the early days of growing cocaine trafficking dominance, they were highly competitive, driving wholesale prices down and prioritising unadulterated quality, value for money and reliable delivery.

"They systematically reduced wholesale prices in the wider market by settling for lesser profit margins per kilogram."
The threat, risk and harm consultant, who spent more than 30 years fighting crime in the UK, said the gangs increased competitiveness by moving "upstream" to dominate in The Netherlands and then on to Latin America, where they are now able to buy in bulk for far cheaper, expanding their profit margins.
"By importing direct to the UK, or even via continent-Europe, they greatly increased their revenue while continuing to keep kilogram prices low," he explained

"By adopting this non-greed focused approach they became the preferred supplier for UK-based OCGs."
However, the record-breaking levels of cocaine seizures in the UK may not be directly linked to Albanian gangs' influence on the British drug trade.
Mr. Saggers said that although a growing cocaine market has led to greater volumes imported to the UK, the record numbers are most likely down to "law enforcement focus and resources" following the disruption of the encrypted EncroChat platform.
"In the past three years, we have seen the impact of the disruption of the encrypted EncroChat platform and many additional arrests resulting directly from these revelations.

"This has inevitably pushed up seizure figures, although we should not underestimate the impact of the NCA and Border Force working upstream with international partners—intercepting high volume consignments destined for Europe and the UK."
Trafficked for Crime
The UK justice system is seeing an increasing number of Albanian migrants appear before the courts on drug-related charges.
In 2023 alone, at least a dozen migrants from the Balkans region have been jailed across the UK over their involvement in British-based cannabis farms.
Some claimed to have been trafficked to the UK and forced to work in the grow houses to pay off debts to smugglers who helped them gain illegal entry to Britain, mostly by small boats.
In March, lawyers for 19-year-old Besmir Sula—a baker from Albania—told Maidstone Crown Court how he had paid £4,000 to traffickers to smuggle him into the UK by small boat before being forced to work in a cannabis grow house.
According to the Times of London, Mr. Sula had been intercepted by British authorities on arrival in October last year, before being moved to a Home Office-funded hotel for immigrants.
He was contacted by the man in his home village from whom he had borrowed the money for his boat trip and was told he had to pay off the debt, the newspaper reported.
The teenager was then picked up from the hotel and driven to a building between Cranbrook and Hawkhurst in Kent and was effectively "sealed" inside to act as a gardener for 500 plants.
He had been there for about two months when police discovered the operation on December 29.
Mr. Sula pleaded guilty to producing cannabis and was jailed for 15 months.
His barrister, John FitzGerald, said his client had been a victim of "organised gangs who exploit people into believing our streets are paved with gold".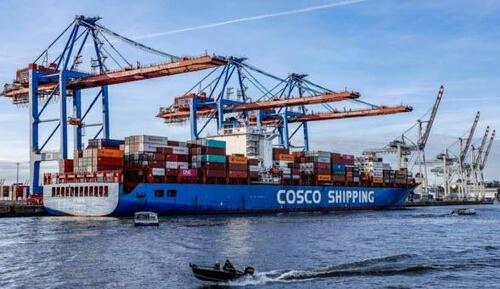 Small boats pass in front of the container ship 'Xin Lian Yun Gang' of China COSCO Shipping Corporation as it is unloaded at the Tollerort Container Terminal owned by HHLA, in the harbour of Hamburg, northern Germany on October 26, 2022. (AXEL HEIMKEN/AFP via Getty Images)
Small Boats Surge
"The Albanian criminal business model relies upon a ready and fluid UK-based workforce—with quite an insular approach to commonly only using Albanian nationals on the ground," said. Mr Saggers
"When arrests are made or individuals are exposed by policing, they need to be replaced.
"It is likely that some of those arriving in Britain via the small boats across the Channel are intended or destined for the drug distribution network or as workers in cannabis intensive grow sites."
In May, The Epoch Times revealed how the number of Albanian migrants locked up in British jails had almost doubled in four years.
According to Ministry of Justice (MoJ) figures, almost 1,400 Albanian foreign nationals are currently in custody in England and Wales—compared to just over 800 in 2019.
Those from the Balkans now make up the biggest number of all foreign inmates in the UK's soaring prison population, and fall just second to the biggest overall nationality—British prisoners.
The figures were revealed just days after the government announced it was sending 200 jailed Albanian prisoners home to serve the rest of their sentence—amid concerns that UK prisons are nearing capacity.
Offenders handed terms of four years or more will return to their native country to serve the remainder, MoJ said.
The arrangement will also see Britain provide support to Albania to help modernise its own prison system, according to the department.
It is one of a number of measures the government is taking to reduce the number of foreign national offenders in prison, as well as tackling the small boats crisis.
Last year, a record 12,301 Albanians reached the UK on small boats, representing a quarter of the total of 45,755.
In June, the Home Office launched a social media campaign in Albania in a bid to deter those making the dangerous Channel journey after traffickers advertised their services on apps such as TikTok.
Leading human rights lawyer Danny Bayraktarova told MPs last month how she is increasingly representing Albanian children trafficked into the UK for crime purposes snared by similar social media ads.
Ms. Bayraktarova told the Home Affairs Select Committee that Albanian teenagers make up a large proportion of her caseload with many being criminally exploited by "highly organised" international people-smuggling gangs.
The solicitor said that the grip of the trafficking gangsters is so tight—they are easily able to threaten and intimidate their families back home in Albania if they refuse to cooperate.
Loading...