---
How 'Child-Friendly' Drag Events Can Expose Children To Sex Offenders
Authored by Jackson Elliott via The Epoch Times (emphasis ours),
Drag events targeting children can be a hunting ground for sexual predators, according to a therapist with a long career in treating sexual predators.
A relatively recent phenomenon "Drag Queen Story Hour," which first appeared in San Francisco, now is happening around the nation—at public libraries, in eateries, at performance venues, in parades, and even at schools.
These events often include men in women's clothing performing erotic dances, wearing skimpy or suggestive costumes, and telling sexually charged jokes.
These shows sometimes mask sexual predators and facilitate the sexual grooming of children, experts told The Epoch Times.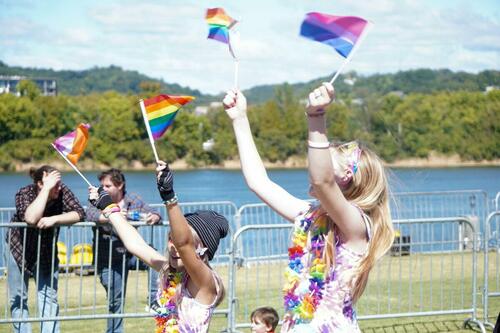 'Significant Risk to Women and Children'
Jon Uhler, a therapist who treats sex offenders, says that in his experience if a man feels comfortable performing sexual dance in a skimpy women's outfit for children, he's likely extremely sexually deviant and "poses a significant risk to women and children."
Uhler told The Epoch Times that men who want to perform for kids in sexy women's outfits have likely watched hundreds of hours of deviant pornography that reshapes the brain to become a sexual predator.
Men don't become sexual predators all at once, Uhler said.
Sexual deviancy requires a slow descent over time into deeper and deeper levels of evil, he said.
"The issue is deviance," Uhler said. "It always has been throughout human history."
Uhler draws his experience from 15 years spent treating hundreds of sex offenders, working with more than 4,000 sex offenders in several contexts, and spending more than 13,000 clinical contact hours with sex offenders.
He said he has treated sex offenders both inside and outside of prison.
All the men he has worked with eventually admitted they did porn, he added.
It Starts With Porn
Viewing increasing amounts of "deviant" pornography supercharges the journey into perversion, Uhler said.
People aren't born sexual predators, Uhler said. Instead, they become remorseless abusers through a process that starts with pornography, he asserted.
People on the way to deviance move from simple lust, to objectification, to power and control, to defiling, to increasingly warped behavior.
Every stage of deviance pulls abusers into increasingly warped behavior, he said.
Uhler said that men who enjoy wearing drag tend to get that way because they watch huge amounts of porn, he said.
Anyone can sink down this scale, and sexual deviancy destroys the brain's capacity for empathy, Uhler said.
That leads to psychopathy, and psychopaths tend to be callous, detached, manipulative, remorseless, parasitic, sexually promiscuous, and without the capacity for guilt.
"A psychopath's brain is very different than a normal person's brain," Uhler said. "And there's no going back."
The Epoch Times found no comprehensive list of drag performers in the United States.
Ru Paul's New York DragCon event drew a record 50,000 visitors this year. But not all of these people were drag queens, and some came from outside America, the group's Facebook page shows.
Not all drag queens perform at "child-friendly" events but verifying the criminal history of a large number of performers would be nearly impossible without a nationwide drag group's cooperation.
Drag performers usually use stage names, wear flamboyant costumes that disguise their identity, and put on heavy makeup that further camouflages their normal appearance. Their real names rarely appear in promotional materials.
The Epoch Times emailed all 28 American chapters of Drag Queen Story Hour and the national hub to ask how many members they have, and whether performers have their backgrounds checked before being scheduled to read with children.
None of them responded to requests for information.
Convicted Sex Offenders
In the past four years, at least eight American drag performers accused of sexual crimes have worked with children, The Epoch Times has found. Seven of these men have been convicted of child sexual abuse, child pornography, and prostitution.
Three of these men participated in Drag Queen Story Hour events for children. Two took part in a reality TV competition. One taught children as a dance instructor. Another mentored young boys wanting to learn how to perform in drag. Yet another performed in "all-ages" drag shows.
One drag performer was arrested in 2012 for running a child sex-trafficking operation. He became a transgender activist in prison.
A man charged with sexual crimes was president of an activist group that facilitated Drag Queen Story Hours.
It's important to remember that these men are only the ones who got caught, Uhler said.
Read more here...
Loading...