---
"Huge Increase" - Americans Renouncing Citizenship Surges To Record Level 
Readers may recall, for almost a decade, we have tracked a troubling trend of more and more Americans renouncing their citizenship. Now, amid a virus-pandemic, crashed economy, months of social unrest, and depressionary unemployment levels, that number has surged to a record high.
Bambridge Accountants New York notes 5,816 Americans renounced their citizenship in 1H20, a 1,210% increase over the prior six months ending in December 2019. In all of 2019, about 2,072 Americans gave up their citizenship.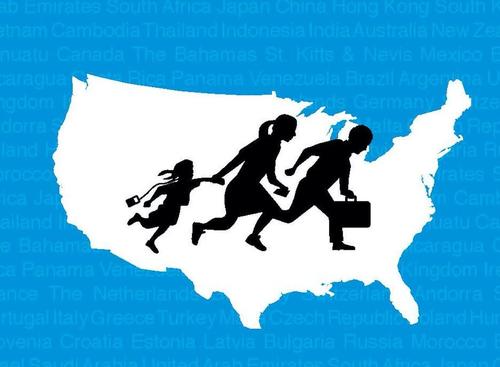 "It seems that the pandemic has motivated U.S. ex-pats to cut ties and avoid the current political climate and onerous tax reporting," said the New York-based accounting firm specializing in the U.S. ex-pat taxes. 
Worldwide, there are an estimated 9 million U.S. ex-pats. Since the financial crisis, a decade ago, Americans giving up their citizenship has grown. In the last couple of years, the trend lost momentum. Still, as soon as the virus pandemic crashed the economy and triggered widespread social unrest, the number of folks leaving the country has gone parabolic. 
After all, it makes perfect sense, who wants to be a citizen of a country that is imploding from within, where the federal government and Federal Reserve are clueless in solving the financial crisis, as officials continue to debase the dollar and bailout mega-corporations and Wall Street.
Has any other country spent a third of their GDP responding to Covid? What are we doing?

— GreekFire23 (@GreekFire23) August 8, 2020
At the same time, the bottom 90% of folks are left in financial ruin. Deep economic scarring is developing, one where years of socio-economic crisis will plague the country. We noted last week the U.S. output gap as a percentage of GDP might not return to 2019 levels until 2030.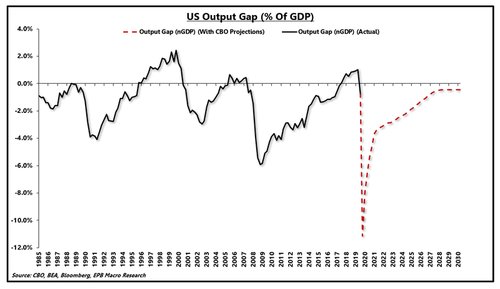 The financial crisis in 2008 triggered the first wave of Americans renouncing their citizenship. Then was supercharged during the Obama regime following his plan to raise taxes, "spread the wealth around," and pursue a socialist agenda.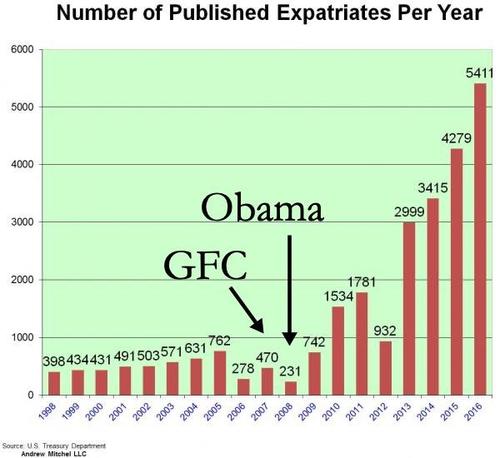 Then in 2016, celebrities threaten to leave the country if Donald Trump was elected. Many have since backtracked.
The number of expatriates peaked in 2016, then slumped from 2017-2019 as the Trump administration injected the economy with fiscal stimulus and sent the stock market to new highs, as it created a false sense of America economically roaring back to greatness.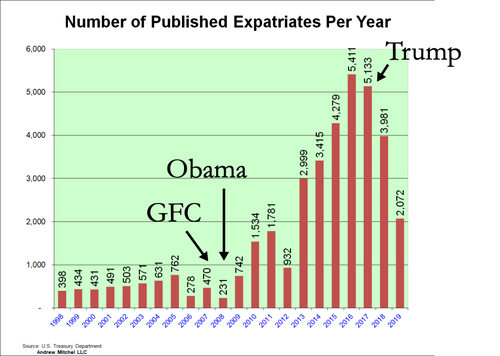 Now the country is imploding. Smart Americans are getting the hell out of dodge, and they see what's coming, or what has already transpired in 1H20. A socio-economic bomb exploded over failed liberal cities, police are being defunded, inner-city crime is erupting, and city-dwellers are fleeing for the countryside. 
Keep in mind, we altered the chart below to realize 2020 figures on a 1H20 basis, as for full-year, the number could be enormous.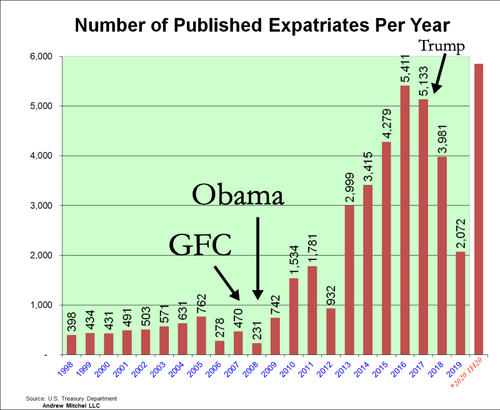 Alistair Bambridge, the partner at Bambridge Accountants New York, explains:
"The huge increase in U.S. ex-pats renouncing from our experience is that the current pandemic has allowed individuals the time to review their ties to the U.S. and decide that the current political climate and annual U.S. tax reporting is just too much to bear." 
So far this year readers have learned city-dwellers are fleeing metro areas for rural communities, now folks are denouncing citizenship at record numbers, all while the country implodes from within.