---
Hunter Biden Confesses Partnership With China 'Spy Chief' -- Fumes After He And Joe Named As Criminal Witnesses: Audio
[Updated below, as audio corroborates Typhoon Investigations research]
*  *  *
Authored by Raheem Kassam and Natalie Winters via The National Pulse (emphasis ours)
An audio recording exclusively obtained by the National Pulse reveals Hunter Biden discussing business involvement with a "spy chief of China" and how his business partner Devon Archer named him and his father as witnesses in a Southern District of New York Criminal case.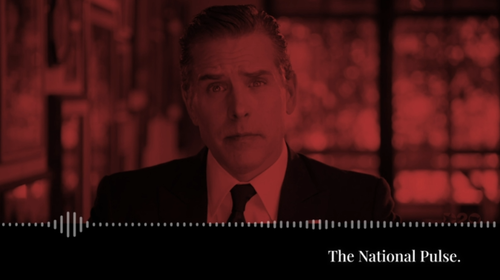 Hunter Biden – in an audio file labelled "Most Genius Shit Ever" – appears to be referencing Patrick Ho, who was a former Secretary for Home Affairs in Hong Kong, as a "spy chief of China" while lamenting how his business partner Ye Jianming of CEFC China Energy had disappeared.
Ho was also involved in the CEFC venture, as originally reported by the New York Post and suppressed by the media and Big Tech firms.
The audio breaks the mainstream media's narrative that the hard drive is somehow "fake" or does not implicate Hunter or Joe Biden in criminal investigations and/or business deals with the Chinese Communist Party.
The former veep's son also bemoans longtime business partner Devon Archer naming him and his father Joe as witnesses "in a criminal case" without notifying him.
I get calls from my father to tell me that The New York Times is calling but my old partner Eric, who literally has done me harm for I don't know how long, is the one taking the calls because my father will not stop sending the calls to Eric. I have another New York Times reporter calling about my representation of Patrick Ho – the fucking spy chief of China who started the company that my partner, who is worth $323 billion, founded and is now missing. The richest man in the world is missing who was my partner. He was missing since I last saw him in his $58 million apartment inside a $4 billion deal to build the fucking largest fucking LNG port in the world. And I am receiving calls from the Southern District of New York from the U.S. Attorney himself. My best friend in business Devon has named me as a witness without telling me in a criminal case and my father without telling me.
The recording adds to the litany of e-mails and stories broken by The National Pulse about the grift of the Biden family, including yesterday's scoop about the VP's son using White House access in exchange for resort villa stays and artwork.
Listen to Hunter's "Most Genius Shit Ever" at The National Pulse.
Meanwhile:
This is just the first of the Hunter tapes

— Jack Posobiec 🇺🇸 (@JackPosobiec) October 27, 2020
*  *  *
[ZH: Reviewing with more context - as Typhoon Investigations notes (emphasis ours)]:
Our research shows that for more than decade, HUNTER has been personally targeted by China's
intelligence apparatus and its various `foreign relations agencies'. A U.S. Senate Committee on
Homeland Security and Governmental Affairs <HSGAC> published on September 23, 2020, details
HUNTER'S recent payoffs from a PLA linked tycoon, Ye Jiamning <YE>, chairman of Chinese energy
company CEFC China Energy Company Limited iCEFC>..
YE's first break came when he purchased a small piston factory that supplied the Chinese army, after
which he was a proxy for PLA officials, based on a New York Times article, and our proprietary research
of the PLA's logistics network. In the early 2000s, YE was the deputy secretary of CAIFC, according
to his CEFC biography.. As explained, the CAIFC is a PIA front organization that has dual roles of
intelligence collection and propaganda work, and worked with LIN and the SLLF a few years after YE
left the organization?. YE also knows Xu, who was a CAIFC special advisor, and arranged for LIN and
HUNTER'S access to the highest levels of government.
In line with his intelligence role YE arranged events that brought together retired American and
Chinese military officers. In 2215, YE arranged for an aide to meet with HUNTER and in May 2017, YE
met privately with HUNTER at a Miami hotel. The purpose of the meeting was for HUNTER to use his
contacts to help "identify investment opportunities for Ye's company LEM China Energy,. and
afterwards YE gave HUNTER a 2.8-carat diamond.
According to HSGAC's Confidential Document 9, YE and his associate Dong Gongwen applied to a bank
and opened credit lines for a business named Hudson West III, LLC, giving HUNTER, his brother James
(and James' wife Sarah Eiden), credit cards which the Bidens used to buy extravagant items. The
HSGAC report details a series of transfers and transactions worth millions of US dollars between CEFC,
Hudson West and the Bidens. This — 11 years after HUNTER and James denied selling their political
connections to foreigners for personal gain.
In March 2018, YE was detained and put under investigation on suspicion of economic crimes. CEFC
was then declared bankrupt in March 2020 alleged to have faked deals and bribed foreign govemments
for oil rights. Some of these were facilitated by Patrick Ho <Ho>, CPPCC member and the former Hong
Kong Secretary for Home Affairs in Tung's administration. On November 113, 2017, Ho was arrested
at the John F. Kennedy International Airport on bribery and money-laundering charges, and called
HUNTER for legal assistance. HUNTER later told The New Yorker that he doesn't see Ye as a"shady
character at all," and he characterized the outcome . "bad luck."
Whether he understands it or not, it is apparent that HUNTER has been compromised by Chinese
intelligence, who most likely have detailed files on HUNTER's time spent in China, encompassing his
personal meetings and any other activities. Furthermore, YE is associated with the P19's General
Political Department, which directly opposes the VS military in Asia, creating a serious conflict of
interest for his father BIDEN.