---
Hunter Biden Emails Debunk 'No Burisma Investigation' Claims
A common retort defending Joe Biden after he bragged on camera about bullying Ukraine into firing its top prosecutor or the United States would withhold $1 billion in loan guarantees is that there was an 'international consensus' that the prosecutor, Victor Shokin, was corrupt and 'had to go.'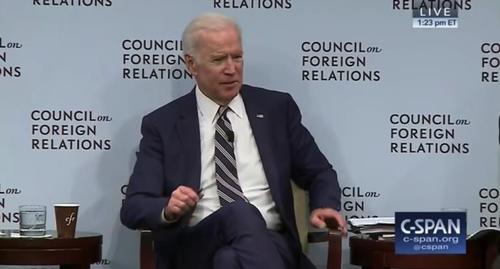 Biden defenders go further to claim that there was no active investigation into Burisma, the Ukrainian natural gas company which hired Hunter Biden to sit on its board (because his last name is Biden, according to board member Aleksander Kwasniewski). Therefore, Joe Biden was simply carrying out the will of the international community, not delivering on Burisma's $50k per month investment in Hunter.
Nevermind the fact that Shokin  and his successor have both stated during depositions that there was an active investigation into Burisma, and that Shokin was fired because of it at the behest of Joe Biden.
Shokin claims he was investigating Burisma, and had opened a case against Burisma's founder, Mykola Zlochevsky - who granted his own company permits to drill for oil and gas in Ukraine while he was Minister of Ecology and Natural Resources. In January, 2019, Shokin stated that there were five criminal cases against Zlochevesky, including money laundering, corruption, illegal funds transfers, and profiteering through shell corporations while he was a sitting minister.
Meanwhile, phone calls between Biden and former Ukrainian President Petro Poroshenko leaked by Ukrainian MP Andrii Derkach in which Poroshenko explicitly says there were no corruption charges against Shokin - despite claims to the contrary.
"Yesterday I met with General Prosecutor Shokin," says Poroshenko. And despite of the fact that we didn't have any corruption charges, we don't have any information about him doing something wrong, I specially asked him - no, it was day before yesterday - I specially asked him to resign. In, uh, as his, uh, position as a state person. And despite of the fact that he has a support in the power. And as a finish of my meeting with him, he promised to give me the statement on resignation. And one hour ago he bring me the written statement of his resignation. And this is my second step for keeping my promises."
Now, thanks to Hunter's laptop, we have proof that there was an active investigation.
In a November 2, 2015 email, Burisma representative Vadym Pozharskyi wrote the following to Hunter and his partner, Devon Archer, complaining that 'services' provided by Hunter and Democratic consulting firm Blue Star Strategies weren't clearly defined:
"The suggested scope of work is largely lacking concrete tangible results that we set out to achieve in the first place," writes Pozharskyi. "It doesn't offer any names of top US officials here in Ukraine (for instance, US Ambassador) or Ukrainian officials (the President of Ukraine, chief of staff, Prosecutor General) as key targets for improving Nikolay's case and his situation in Ukraine.
Nikolay refers to Burisma president Mykola (Nikolay) Zlochevsky).
"If, however, this is done deliberately to be on the safe and cautious side, I can understand the rationale," the email continues.
"I would like us to formulate a list of deliverables, including, but not limited to: a concrete course of actions, incl. meetings/communications resulting in high-ranking US officials in Ukraine (US Ambassador) and in US publicly or in private communication/comment expressing their "positive opinion" and support of Nikolay/Burisma to the highest level of decision makers here in Ukraine: President of Ukraine, president Chief of staff, Prosecutor General, etc."
Here's the punchline:
"The scope of work should also include organization of a visit of a number of widely recognized and influential current and/or former US policy-makers to Ukraine in November aiming to conduct meetings with and bring positive signal/message and support on Nikolay's issue to the Ukrainian top officials above with the ultimate purpose to close down for any cases/pursuits against Nikolay in Ukraine."
Here is the email.

Link at page 73: https://t.co/MTFMcA0KKo pic.twitter.com/Of3gHUzdOn

— Hans Mahncke (@HansMahncke) October 21, 2020
Looks like Joe delivered.