---
Hunter Biden Ordered To Appear In Court For Paternity Hearings
Authored by Zachary Stieber via The Epoch Times (emphasis ours),
President Joe Biden's son Hunter Biden was ordered this week to appear at upcoming hearings in a case revolving around one of his children.
"From now on … I want both of your clients at every hearing I conduct," Arkansas Circuit Judge Holly Meyer said during an April 23 hearing, the Arkansas Democrat-Gazette reported.
"I will no longer allow us to excuse clients … because it is interfering with the progress of litigation, which is taking way too long to get over simple points," she added.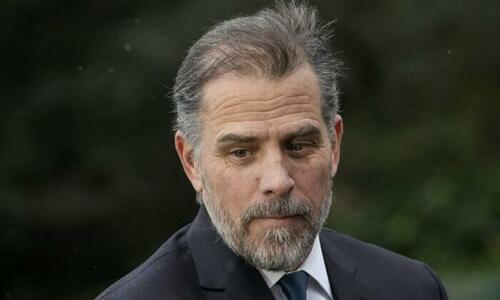 Hunter Biden long denied that a girl birthed by Lunden Roberts, an Arkansas resident, was his, but DNA testing showed otherwise.
Roberts sued Biden over the paternity of the child in 2019, about a year after the girl was born. Following the DNA confirmation, Biden started paying child support.
The case was re-opened after Biden asked to pay less in child support, and Roberts is now seeking to change her daughter's last name to Biden, a request opposed by the girl's father.
Monday's hearing was one of several scheduled before a trial on the matter starts in July.
Meyer's order that Biden appear at future hearings came after Brent Langdon, an attorney representing the president's son, asked to block an expert witness for Roberts from discussing a laptop computer that a Delaware store owner says Biden left at his store.
Langdon said that "there has never been an acknowledgement" from Biden that the computer belonged to him, the Washington Free Beacon reported.
"Well let's clear that issue up right now," Meyer said. "Is it your client's laptop or not?"
Langdon said the computer was "not my client's laptop as far as I know," adding, "He's never accepted that that's his laptop."
That's when Meyer said both Biden and Roberts need to attend future hearings so they could address such matters.
The next hearing is scheduled for May 1.
Other Biden lawyers have said that contents disseminated by John Paul Mac Isaac, the Delaware store owner, are from Biden but that they're not sure how Mac Isaac came into possession of the files. Biden sued Mac Isaac in March over alleged invasion of privacy. Mac Isaac previously sued Biden over alleged defamation.
The Arkansas hearing also came after Michael Morell, a former CIA official, said that the claim that the first story on Biden's computer was seeded by Russia was prompted by Joe Biden's presidential campaign. The claim was offered shortly before the 2020 election.
Loading...