---
Hunter Biden Settles With Baby-Mama After Judge Rejects Coronavirus Excuse
Hunter Biden has reached a settlement in his paternity case after an Arkansas judge shut down his latest attempt to delay the case, after the former Ukrainian energy company board member, crack aficionado, and strip club patron (turned artist) argued that he would be unable to attend scheduled hearings this week - citing his wife's pregnancy, "intense media scrutiny" surrounding his father's presidential bid, and travel restrictions caused by the coronavirus.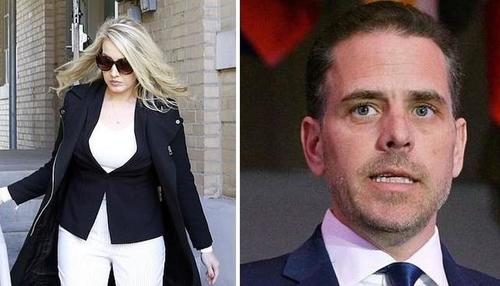 According to the Washington Free Beacon, Arkansas circuit judge Holly Meyer admonished Biden for his repeated attempts at delaying the inevitable.
"For context in ruling on this Motion the Court has reviewed the history of this litigation and finds that the Defendant has been given considerable leniency regarding continuances and delay," she wrote in her order. "The defendant's attempts to delay this case are mounting such that one begins to see a pattern of delay."
On Wednesday morning, lawyers for plaintiff Lunden Alexis Roberts alerted the judge that they had reached a final settlement with Biden that, pending court approval, will end the nearly 10-month-long legal battle.

"Late last night, after the court entered the order, we reached a global, final settlement of all issues," Roberts's lawyer wrote in an email to Judge Meyer.

The agreement comes after months of delays from Biden, who is now on his second legal team for the child support case. Lawyers for Roberts last Friday called for Biden to be held in contempt for his continued failure to submit financial documents, which would likely shed light on just how much he earned through connections to foreign companies, including his lucrative position on the board of Ukrainian gas company Burisma. -Washington Free Beacon
Judge Meyer added that Biden was aware his wife's due date was approaching when he originally agreed to this week's deposition, and made clear that her presence "is not required nor even suggested."
As to the "intense media scrutiny," the judge noted that he will continue to be a public figure.
"The defense second cites ongoing publicity surrounding the 2020 primary and presidential elections, as well as media attention as good cause to continue this case," her order states. "The Court cannot foresee this subsiding as Mr. Biden is a public figure and interest in his person will continue."
And as for the coronavirus excuse, Meyer said "The defendant can come by plane, train, or automobile but life and work will and should continue in our communities and courts. No health threat specific to the defendant has been identified, reasonable precautions are appropriate."
The settlement is expected to be submitted by attorneys for plaintiff and baby-mama Lunden Roberts "later today or tomorrow." The terms have not been stated.
What's more, Biden will still have to appear if the court does not approve the settlement.