---
Hunter Biden Trial Likely As Plea Deal Negotiations Implode: DOJ
Federal prosecutors on Friday said in a new filing that a court trial is now likely in the Hunter Biden tax evasion case.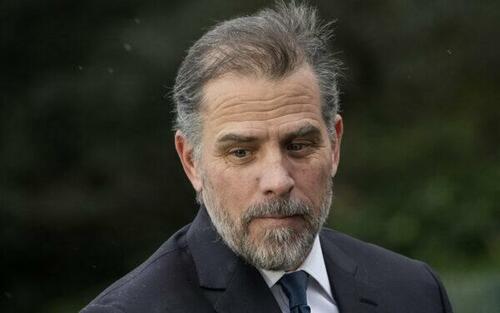 As the Daily Caller reports, prosecutors said in a Friday motion that plea negotiations which continued after Hunter Biden's previous deal fell apart during his July 26 hearing are "at an impasse."
Biden's team had sought immunity for charges unrelated to allegations of tax evasion in a pretrial diversion agreement, prompting Judge Maryellen Noreika to intervene in the deal. -Daily Caller
"The Government now believes that the case will not resolve short of a trial," reads the filing.
And to nobody's surprise, prosecutors want the case moved to a different district, as part of Friday's motion was to dismiss charges filed in Delaware so that the government could bring them in a different district.
"The information was filed in this District because the parties had previously agreed that the Defendant would waive any challenge to venue and plead guilty in this District," the filing reads.
The move comes after Judge Noreika said she wasn't ready to accept the plea deal which gave Hunter Biden immunity from future prosecution on unrelated matters.
The hearing was temporarily derailed when judge Noreika said she didn't understand what Hunter Biden could still be charged with. She asked questions that exposed a difference of understanding between Justice Department prosecutors and Biden's lawyer, Chris Clark.

"I don't really understand the scope" of the agreement, Noreika said. She noted that Biden has had numerous foreign business dealings. At one point, she raised a hypothetical as to whether Biden could be charged as acting as an unregistered foreign agent under the Foreign Agents Registration Act. -Bloomberg
Under the original plea agreement, Biden intended to plea guilty to two misdemeanor tax crimes committed in 2017 and 2018, and would avoid prison on the gun possession charge.
Read the filing below:
Loading...