---
Hunter Biden's Laptop "Is Not Some Russian Disinformation Campaign"; DNI Ratcliffe Slams Schiff
It appears the "Russia, Russia, Russia" cries from Adam Schiff and his dutiful media peons is dead (we can only hope) as Director of National Intel John Ratcliffe just confirmed to Foxx Business' Maria Bartiromo that:
"Hunter Biden's laptop is not part of some Russian disinformation campaign."
As Politico's Quint Forgey details (@QuintForgey), DNI Ratcliffe is asked directly whether accusations leveled against the Bidens in recent days are part of a Russian disinformation effort.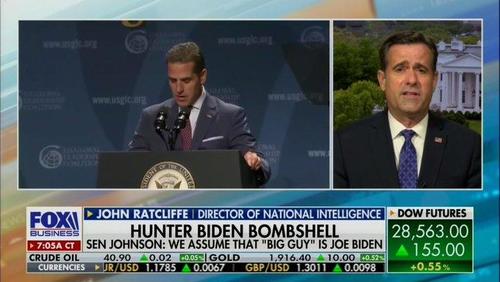 He says no:
"Let me be clear. The intelligence community doesn't believe that because there is no intelligence that supports that."

 "We have shared no intelligence with Chairman Schiff or any other member of Congress that Hunter Biden's laptop is part of some Russian disinformation campaign. It's simply not true."

 "And this is exactly what I said would I stop when I became the director of national intelligence, and that's people using the intelligence community to leverage some political narrative."

"And in this case, apparently Chairman Schiff wants anything against his preferred political candidate to be deemed as not real and as using the intelligence community or attempting to use the intelligence community to say there's nothing to see here."

 "Don't drag the intelligence community into this. Hunter Biden's laptop is not part of some Russian disinformation campaign. And I think it's clear that the American people know that."
October 19, 2020
Of course, this 'fact' from 'intelligence' is unlikely to stop the "emails are Russian" narrative growing ever louder as MSM attempt to distract from the actual content of the emails. As Caitlin Johnstone noted:
So "the emails are Russian" narrative serves the interests of political convenience, partisan media ratings, and the national security state's pre-planned agenda to continue escalating against Russia as part of its slow motion third world war against nations which refuse to bow to US dictates, and you've got essentially no critical mainstream news coverage putting the brakes on any of it. This means this narrative is going to become mainstream orthodoxy and treated as an established fact, despite the fact that there is no actual, tangible evidence for it.

Joe Biden could stand in the middle of Fifth Avenue and shoot somebody, and the mainstream press would crucify any journalist who so much as tweeted about it. Very little journalism is going into vetting and challenging him, and a great deal of the energy that would normally be doing so is going into ensuring that he slides right into the White House.

If the mainstream news really existed to tell you the truth about what's going on, everyone would know about every questionable decision that Joe Biden has ever made, Russiagate would never have happened, we'd all be acutely aware of the fact that powerful forces are pushing us into increasingly aggressive confrontations with two nuclear-armed nations, and Trump would be grilled about Yemen in every press conference.

But the mainstream news does not exist to tell you the truth about the world. The mainstream news exists to advance the interests of its wealthy owners and the status quo upon which they have built their kingdoms. That's why it's so very, very important that we find ways to break away from it and share information with each other that isn't tainted by corrupt and powerful interests.
Donald Trump Jr. asked a good question - one that will be ignore by the mainstream media's reporters...
So if there's no evidence how can the head of the house intelligence committee go on TV and try to sell this as though it's the gospel yet again?

Is there no accountability? How can someone like that be in charge of a committee when he simply lying & weaponizing his position? https://t.co/1nqPCfrmLh

— Donald Trump Jr. (@DonaldJTrumpJr) October 19, 2020
*  *  *
As we detailed previously, as the Hunter Biden laptop scandal threatens to throw the 2020 election into chaos with what appears to be solid, undisputed evidence of high-level corruption by former Vice President Joe Biden and his son Hunter, the same crowd which peddled the Trump-Russia hoax is now suggesting that Russia is behind it all.
To wit, House Intelligence Committee Chairman Adam Schiff, who swore on National television that he had evidence Trump was colluding with Russia - now says that President Trump is handing the Kremlin a "propaganda coup from Vladimir Putin."
On CNN, Intelligence Committee chair Adam Schiff says New York Post Hunter Biden story 'comes from the Kremlin.' Anchor seems to agree. Would be more persuasive if they provided evidence that 1) story is false, and 2) it 'comes from the Kremlin.' pic.twitter.com/JBILBs3YT3

— Byron York (@ByronYork) October 17, 2020
Senator Chris Murphy (D-CT) has gone full tin-foil, suggesting that Giuliani was a 'key target' of 'Kremlin constructed anti-Biden propaganda.'
2/ Russia knew it had to play a different game than 2016. So it built an operation to cull virulently pro-Trump Americans as pseudo-assets, so blind in their allegiance to Trump that they'll willingly launder Kremlin constructed anti-Biden propaganda.

Guiliani was a key target.

— Chris Murphy (@ChrisMurphyCT) October 17, 2020
Headlines in major publications are perhaps even more conspiratorial:


And of course, propagandists are doing their thing...
The essence of propaganda is repetition pic.twitter.com/nWO9aTWklr

— Tom Elliott (@tomselliott) October 17, 2020
Yet, if one looks at the actual facts of the case - in particular, that Hunter Biden appears to have dropped his own laptops off at a computer repair shop, signed a service ticket, and the shop owner approached the FBI first and Rudy Giuliani last after Biden failed to pick them up, the left's latest Russia conspiracy theory is quickly debunked.
*  *  *
Authored by Larry C Johnson via Sic Semper Tyrannis  (emphasis ours)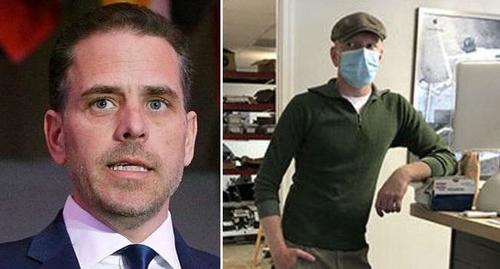 This is the story of an American patriot, an honorable man, John Paul Mac Issac, who tried to do the right thing and is now being unfairly and maliciously slandered as an agent of foreign intelligence, specifically Russia. He is not an agent or spy for anyone. He is his own man. How do I know? I have known his dad for more than 20 years. I've known John Paul's dad as Mac. Mac is a decorated Vietnam Veteran, who flew gunships in Vietnam. And he continued his military service with an impeccable record until he retired as an Air Force Colonel. The crews of those gunships have an annual reunion and Mac usually takes John Paul along, who volunteers his computer and video skills to record and compile the stories of those brave men who served their country in a difficult war.
This story is very simple–Hunter Biden dropped off three computers with liquid damage at a repair shop in Wilmington, Delaware on April 12, 2019. The owner, John Mac Issac, examined the three and determined that one was beyond recovery, one was okay and the data on the harddrive of the third could be recovered. Hunter signed the service ticket and John Paul Mac Issac repaired the hard drive and down loaded the data. During this process he saw some disturbing images and a number of emails that concerned Ukraine, Burisma, China and other issues. With the work completed, Mr. Mac Issac prepared an invoice, sent it to Hunter Biden and notified him that the computer was ready to be retrieved. Hunter did not respond. In the ensuing four months (May, June, July and August), Mr. Mac Issac made repeated efforts to contact Hunter Biden. Biden never answered and never responded. More importantly, Biden stiffed John Paul Mac Issac–i.e., he did not pay the bill.
When the manufactured Ukraine crisis surfaced in August 2019, John Paul realized he was sitting on radioactive material that might be relevant to the investigation. After conferring with his father, Mac and John Paul decided that Mac would take the information to the FBI office in Albuquerque, New Mexico. Mac walked into the Albuquerque FBI office and spoke with an agent who refused to give his name. Mac explained the material he had, but was rebuffed by the FBI. He was told basically, get lost. This was mid-September 2019.
Two months passed and then, out of the blue, the FBI contacted John Paul Mac Issac. Two FBI agents from the Wilmington FBI office–Joshua Williams and Mike Dzielak–came to John Paul's business. He offered immediately to give them the hard drive, no strings attached. Agents Williams and Dzielak declined to take the device.
Two weeks later, the intrepid agents called and asked to come and image the hard drive. John Paul agreed but, instead of taking the hard drive or imaging the drive, they gave him a subpoena. It was part of a grand jury proceeding but neither agent said anything about the purpose of the grand jury. John Paul complied with the subpoena and turned over the hard drive and the computer.
In the ensuing months, starting with the impeachment trial of President Trump, he heard nothing from the FBI and knew that none of the evidence from the hard drive had been shared with President Trump's defense team.
The lack of action and communication with the FBI led John Paul to make the fateful decision to contact Rudy Giuliani's office and offer a copy of the drive to the former mayor. We now know that Rudy accepted John Paul's offer and that Rudy's team shared the information with the New York Post.
John Paul Mac Issac is not responsible for the emails, images and videos recovered from Hunter Biden's computer. He was hired to do a job, he did the job and submitted an invoice for the work. Hunter Biden, for some unexplained reason, never responded and never asked for the computer. But that changed last Tuesday, October 13, 2020. A person claiming to be Hunter Biden's lawyer called John Paul Mac Issac and asked for the computer to be returned. Too late. That horse had left the barn and was with the FBI.
John Paul, acting under Delaware law, understood that Hunter's computer became the property of his business 90 days after it had been abandoned.
At no time did John Paul approach any media outlet or tabloid offering to sell salacious material. A person of lesser character might have tried to profit. But that is not the essence of John Paul Mac Issac. He had information in his possession that he learned, thanks to events subsequent to receiving the computer for a repair job, was relevant to the security of our nation. He did what any clear thinking American would do–he, through his father, contacted the FBI. When the FBI finally responded to his call for help, John cooperated fully and turned over all material requested.
The failure here is not John Paul's. He did his job. The FBI dropped the ball and, by extension, the Department of Justice. Sadly, this is becoming a disturbing, repeating theme–the FBI through incompetence or malfeasance is not doing its job.
Any news outlet that is publishing the damnable lie that John Paul is part of some subversive effort to interfere in the United States Presidential election is on notice. That is slander and defamation. Fortunately, the evidence from Hunter Biden's computer is in the hands of the FBI and Rudy Giuliani and, I suspect, the U.S. Senate. Those with the power to do something must act. John Paul Mac Issac's honor is intact. We cannot say the same for those government officials who have a duty to deal with this information.
*  *  *
The Hunter Biden emails were fabricated by the same Russian operative who beat up Jussie Smollett, wrote homophobic slurs on Joy Reid's blog, and hacked Steve Scully.

— Eddie Zipperer (@EddieZipperer) October 17, 2020