---
"I'm Not A Roadblock" Says Moderate Dem Blocking Road To Socialist 'Utopia'
West Virginia Democratic Senator Joe Manchin insists he's not trying to be a 'roadblock' to Democratic efforts to ram trillions in spending legislation down our throats without GOP support - he simply wants the system to function as designed by the Framers.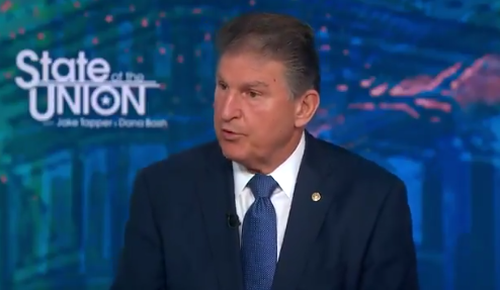 Manchin, a moderate who has been deemed 'the most powerful man in the Senate,' has the power to block the Democrats' $2.3 trillion infrastructure legislation, given his party's slim majority in the chamber.
In a Sunday appearance on CNN's "State of the Union," Manchin argued against the budgetary process known as 'reconciliation' - a loophole which allows certain legislation to pass through the Senate via simple majority, as opposed to the bipartisan 60 votes currently required in the 100-seat Senate - which Manchin referred to as a "brilliant strategy" designed by the founding fathers.
CNN's Dana Bash told Manchin that she had spoken with several Democrats who view him as an obstacle to achieve an ambitious agenda.
"So they believe that you're one of the main roadblocks on getting those goals accomplished. How do you respond to that?" Bash asked (via the Daily Caller).
"I'm not a roadblock at all," said Manchin, adding "The best politics is good government. I can't believe that people believe that if you just do it my way, that will give us the momentum to get through the next election."
"We won't give this system a chance to work," he continued. "I am not going to be part of blowing up this Senate of ours or basically this democracy of ours or the republic that we have … The House was designed to be hot as a fire cracker, we were designed to cool off, and that's the founding fathers. It was a brilliant, brilliant strategy they looked at, so why can't we try to make this work?"
Democrat Senator Joe Manchin said that the Democrat push to get rid of the filibuster would "blow up…this democracy of ours"https://t.co/3RrMNcBDMV pic.twitter.com/4tp7tcCSWN

— RNC Research (@RNCResearch) April 25, 2021
"If you have the violent swings every time you have a party change, then we will have no consistency whatsoever," Manchin concluded.
Biden's sweeping proposals in his infrastructure proposal also include $400 billion for in-home and community based care for the elderly and disabled as well as $100 billion for schools and child care facilities - two areas left out of a $568 billion Republican counteroffer introduced last week.

Manchin said that while more money is needed for health and child care, it was hard to build public support for a massive bill that goes beyond what he called "traditional" infrastructure needs. -Reuters.
"I think they should be separated," said Manchin, referring to the stimulus. "When you start putting so much into one bill ... it makes it very, very difficult for he public to understand."
Sen. Joe Manchin: "When you start putting so much into one bill, which we call an omnibus bill, it makes it very, very difficult for the public to understand." https://t.co/7YAU9QxPVG pic.twitter.com/Y25diiCMOw

— The Hill (@thehill) April 25, 2021
Manchin also opined on the IRS, arguing "We've eviscerated the IRS. They don't have the guts or basically the firepower they had before. All of this should be explored before we just start raising taxes exponentially."
Sen. Joe Manchin: "We've eviscerated the IRS. They don't have the guts or basically the firepower they had before. All of this should be explored before we just start raising taxes exponentially." https://t.co/7YAU9Qgex6 pic.twitter.com/2eeHqMpgBv

— The Hill (@thehill) April 25, 2021