---
Infectious Disease Experts Advise Health Care Facilities To Drop Universal Mask Policies
Authored by David Charbonneau via The Epoch Times (emphasis ours),
In another sign of changing attitudes to pandemic policy, infectious disease specialists writing in the Annals of Internal Medicine this month argued against the continuation of universal masking policies for doctors, nurses, and other health care workers.
In the article, the eight authors, who are infectious disease specialists associated with Harvard and Washington University medical schools among others, offer a timeline of the evolving responses to the pandemic. The timeline leaves out the Centers for Disease Control and Prevention's (CDC) initially confusing advice on masking but acknowledges that factors like the development of immunity, the evolution of the virus, and development of pharmaceutical "countermeasures" have fundamentally reshaped the landscape of the pandemic.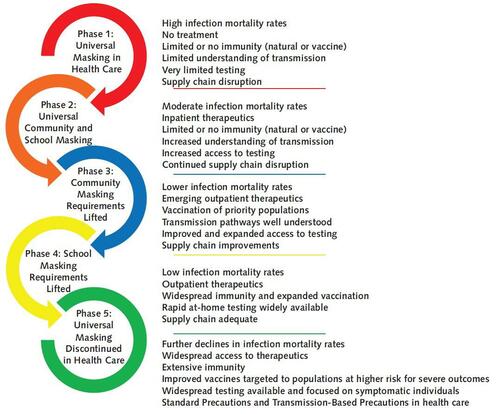 "The burden of SARS-CoV-2 has been mitigated over time," the authors state, "through access to testing, substantial population-level immunity providing durable protection against severe disease, a series of less virulent variants, and widespread availability of medical countermeasures, which in combination have resulted in decreasing infection mortality rates."
They conclude that "SARS-CoV-2 has transitioned to a more stable phase, during which the choice and intensity of mitigation efforts must be commensurate with the risk and align with management strategies" for other endemic, transmissible diseases.
"Recognizing these changes," the authors state, "many pandemic interventions have been deimplemented," but, "Masking requirements and other restrictions remain notable exceptions."
Some in the medical field, such as Dr. Kalu Ibukunoluwa and co-authors writing in the journal Infection Control and Hospital Epidemiology in January, argue for making universal masking requirements in health care settings permanent, stating that such "universal source control masking … should become the 'new normal' for all healthcare institutions."
However, Dr. Erica Shenoy, an infectious diseases physician at Massachusetts General Hospital, lead author of the study and her co-authors disagree.
Read more here...
Loading...