---
Inside China's Military Balloon Program
Authored by Eva Fu via The Epoch Times (emphasis ours),
Years before a gigantic white spy balloon from China captured America's attention, a top Chinese aerospace scientist was keenly tracking the path of an unmanned airship making its way across the globe.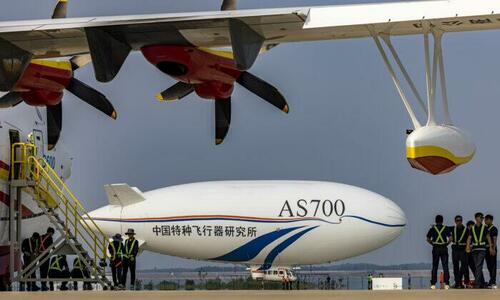 On a real-time map, the white blimp appeared as a blinking red dot, although in real life its size was formidable, weighing several tons and measuring 328 feet (100 meters) in length—about 80 feet longer than a Boeing 747-8, one of the largest passenger aircraft in the world.
"Look, here's America," the vessel's chief architect, Wu Zhe, told the state-run newspaper Nanfang Daily. He excitedly pointed to a red line marking the airship's journey at about 65,000 feet in the air, noting that in 2019, that flight was setting a world record.
Named "Cloud Chaser," the airship had been flying for just shy of a month over three oceans and three continents, including what appears to be Florida. At the time of Wu's interview in August, the airship was hovering above the Pacific Ocean, days away from completing its mission.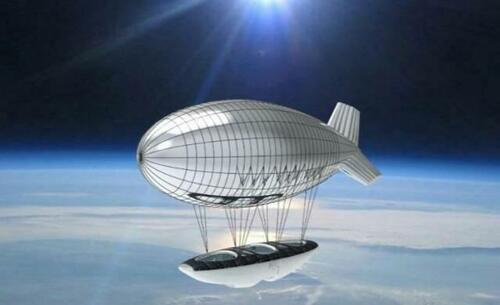 Wu, a veteran aerospace researcher, has played a key role in advancing the Chinese regime in what it describes as the "near space" race, referring to the layer of the atmosphere sitting between 12 and 62 miles above the earth. This region, which is too high for jets but too low for satellites, had been deemed ripe for exploitation in the regime's bid to achieve military dominance.
Despite having existed for decades, the regime's military balloon program came into the spotlight recently when the United States shot down a high-altitude surveillance balloon that drifted across the country for a week and hovered above multiple sensitive U.S. military sites. That balloon, the size of three buses, was smaller than Cloud Chaser.
The U.S. and Canadian militaries have since taken down three flying objects over North American airspace, although President Joe Biden on Feb. 16 said those are likely linked to private companies.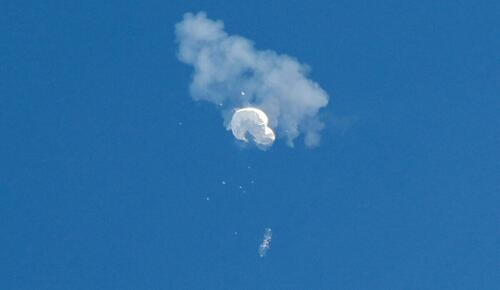 Wu is turning 66 this month. He has ties to at least four of the six Chinese entities Washington recently sanctioned for supporting Beijing's sprawling military balloon program, which the U.S. administration said has reached over 40 countries on five continents.
As a specialist in aircraft design, Wu has helped develop the Chinese regime's homegrown fighter jets and stealth technology during his more than three decades in the aerospace field, taking home at least one award for his contribution to the military.
He was the vice president at Beihang University in Beijing, a prestigious state-run aeronautics school, until he voluntarily gave up the title for teaching and research in 2004, and he once served on the scientific advisory committee for the People's Liberation Army (PLA) General Armaments Department, a now-dissolved agency in charge of equipping the Chinese military.
Public records show that Wu is well-connected in the aerospace field, with stakes in many aviation firms. He is the chairman of Beijing-based Eagles Men Aviation Science, one of the six firms that, along with its branch in Shanxi, Washington has named as culprits in the balloon sanctions.
Both Beihang and the Harbin Institute of Technology, Wu's alma mater and dubbed "China's MIT," are on a U.S. trade blacklist, the former for aiding China's military rocket and unmanned air vehicle systems, and the latter for using U.S. technology to support Chinese missile programs.
'Silent Killer'
The Chinese Communist Party (CCP) has long vied for dominance in near space, which Chinese scientists see as a region for a variety of applications, from high-altitude balloons to hypersonic missiles.
From high above, there's a wealth of information that an aerostat, equipped with an electronic surveillance system, can intercept and turn into an intelligence asset.
"If you're flying a balloon that is 100,000 feet up in the air, you've got … visibility on the ground of hundreds and hundreds of miles over several states, because it's up so high," said Art Thompson, co-founder of California aerospace company Sage Cheshire Aerospace. During his three decades in the aerospace industry, Thomspon has worked on the B-2 stealth bomber and was technical director for the Red Bull Stratos project that broke the record for the highest balloon flight and the largest manned balloon.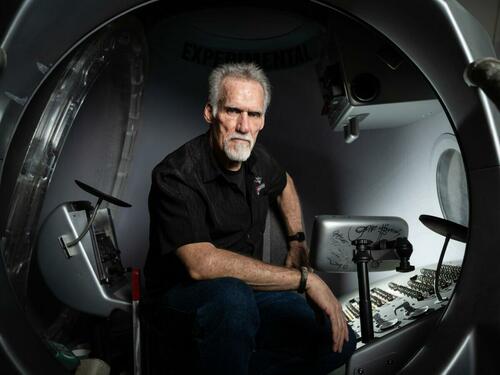 "Whether it's phone data, radio data, transmissions from aircraft, as to what the airplanes are, who owns it, all that data is available," Thompson said.
As early as the 1970s, efforts were underway at the state-run Chinese Academy of Sciences to explore high-altitude balloons, according to a state media report. Lacking the aid of computers, Chinese researchers drew inspiration from German and Japanese aerospace books and cut up newspapers to piece together prototypes.
The result was a helium balloon with an aluminum basket, altogether about the size of a typical hot air balloon. The team triumphantly named it HAPI and flew it into the stratosphere in 1983 to observe signals from a neutron star.
For the Chinese military, there's high strategic value in aerostats, a technology that was in use as early as the late 1700s by the French as lookouts. Compared to airplanes or satellites, balloons are cheaper and easier to maneuver, can carry heavier payloads and cover a wider area, and are harder to detect, two regular columnists wrote in a 2021 article for PLA Daily, the Chinese military's official newspaper. They consume less energy, allowing them to loiter in a target area for an extended period. And critically, they are often not caught by radars, so they can easily evade an enemy's air defense system or be classified as UFOs.
Read more here...
Loading...