---
Instead Of Hot Chicks In Bikinis, Bud Light Goes With 'Grunting Men' In Rehab Fail
Bud Light's latest ad is getting slammed online as the beer brand keeps garnering angry comments and a huge number of dislikes, with the company facing ire from both sides of the social aisle.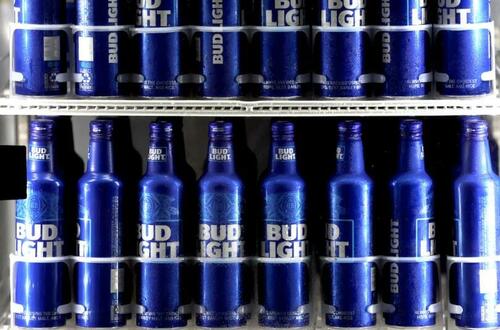 As Naveen Anthrapully reports as The Epoch Times, the latest ad, "Backyard Grunts with Travis Kelce", released on the weekend of July 4, features Kansas City Chiefs star Travis Kelce with a group of men grunting as they crack open a can of Bud Light.
On YouTube, it has gotten 2,187 comments, 256 likes and over 11,000 dislikes. Some of the comments on the ad are quite scathing.
"So you went from a man pretending to be a little girl to now showing manly grunting people … to swing it the other way? You gotta lock your marketing team in a room with rabid dogs and toss the key," said one user.

"This is such an entertaining horror show!! Bud Light continues to push above and beyond the Envelope of Depraved Desperation & Pathetic Pleading!!" said another user.

I support Kelce as a KC receiver for Mahomes but he looks desperate for money to stoop to do commercials for Bud light.

— rodney durrett (@DurrettRodney) July 3, 2023

"LOL Kelce didn't even touch the can. Come on, Bud Light, you guys are losin … Still," one user observed.
Bud Light's Twitter post celebrating the July 4th weekend also attracted massive backlash.
"It's 4th of July weekend, enjoy some beer," said the post, which got over 26,000 comments and just around 4,500 likes.

"My family always called it Independence Day. This year I guess it's independence from politically active beer too," Tom Pappert, editor-in-chief at Valiant News, stated in a July 1 tweet.

"I don't drink beer. But if I did, it would NOT be Bud Light. We didn't forget!" Chaya Raichik, the creator of Libs of TikTok, stated in a tweet and garnered nearly 2,000 likes.
Permanent Dent in Sales
Bud Light turned into a boycott target after partnering with transgender social media personality Dylan Mulvaney in a promotional campaign in April. Since then, sales have cratered, market capitalization declined, and Bud Light-maker Anheuser-Busch InBev is caught in a tough spot trying to regain people's confidence in the brand.
Data from Bump Williams Consulting and NielsenIQ show that sales for Bud Light was down 28.5 percent year over year for the week ended June 17, according to the New York Post. Other Anheuser-Busch brands, including Michelob Ultra and Budweiser, have also seen year-over-year losses.
Between April 3 and July 3, Anheuser-Busch's market capitalization declined from $133.68 billion to $115.38 billion—a loss of more than $18 billion.
During this period, the company's stock fell from €61.16 to €52.48, an over 14 percent decline.
In a recent note, Deutsche Bank analyst Mitch Collett said that the recent underperformance of Anheuser-Busch implies a "permanent reduction" in the company's business in the United States, according to Barron's.
"Our proprietary survey data suggest these headwinds are likely to fade even if we do not expect the U.S. business ever to fully recover from its current challenges."
Bud Light has also lost the number-one position in the U.S. beer market following the marketing debacle.
Meanwhile, Luxembourg-based Ardagh Group, a major contractor for Bud Light, is shutting down two of its glass-bottling plants in Louisiana and North Carolina amid declining sales for the beer.
Leftist Backlash
As Bud Light deals with the disastrous aftermath of its pro-LGBT campaign, Mr. Mulvaney has now come out slamming the company for abandoning the transgender activist while left-wing media are blaming the firm for trying to appeal to its conservative audience.
"I patiently waited for things to get better," Mulvaney said in a recent Instagram Reel about the backlash. "But surprise, they haven't really, and I was waiting for the brand to reach out to me, but they never did."

"For a company to hire a trans-person and then not publicly stand by them is worse, in my opinion, than not hiring a trans-person at all because it gives customers permission to be as transphobic and hateful as they want," Mulvaney insisted.
Left-wing outlet Jezebel ran an article on Bud Light last month with the headline, "Bud Light Is Embracing Country Music and Football to Try and Win Back Transphobes."
A former president of sales and distribution for Anheuser-Busch, Anson Frericks, has called for the company's U.S. CEO Brendan Whitworth to step down from the post due to his inability to solve the Mulvaney fiasco.
In a write-up at Daily Mail, Mr. Frericks criticized the company for not providing an appropriate response to Mulvaney's claim that Bud Light abandoned the activist following the controversy.
Bud Light's response to Mulvaney's claim was that "as we move forward, we will focus on what we do best—brewing great beer for everyone and earning our place in moments that matter to our consumers."
Frericks called the response "weak and indecisive … What does that mean? Absolutely nothing. And it will only deepen the chasm between the brand and its customers."
He called Mulvaney's criticism of Bud Light a sign of the activist cutting ties with the brand, "something Whitworth should have had the wisdom to do weeks ago."
Loading...