---
Investigation Reveals 'Revolving Door' Of DOJ, Big Tech Employees
Authored by Kevin Stocklin via The Epoch Times (emphasis ours),
In the midst of an ongoing lawsuit against the Biden administration alleging collaboration with social media companies to censor Americans, a new report has detailed the extent to which former Justice Department (DOJ) employees are now working at "Big Tech" firms.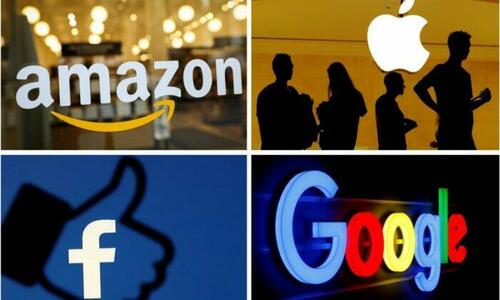 The American Accountability Foundation (AAF) investigated the resumes of recent hires and found that more than 360 current employees of Google, Amazon, Microsoft, Apple, and Facebook/Meta are former DOJ employees. Likewise, more than 40 DOJ employees, many of them in senior roles, previously worked at Big Tech firms.
According to the report, since President Joe Biden took office, Google hired 40 former DOJ staffers, Amazon hired 61, Microsoft hired 26, and Meta hired 53.
While staff often move between government and the private sector, "this case is different because unlike government and industry moving expertise back and forth (knowledge about procurement rules for example) what we have seen moving back and forth between DOJ and tech is a shared political agenda, specifically to silence conservative voices," Yitz Friedman, AAF communications manager, told The Epoch Times.
"Sadly, it is evidence that in the Big Tech community, corporate policy is the government's policy."
This concern is heightened by recent evidence of collaboration between the DOJ and Twitter to silence Americans, particularly regarding political speech.
After buying social media platform Twitter, Elon Musk released thousands of internal emails that allegedly showed collusion between Twitter and DOJ officials to censor speech, including banning a report by the New York Post before the 2020 election that reportedly incriminated then-candidate Joe Biden in illicit payments scandals.
'Campaign of Public Threats'
The release of the "Twitter files" follows a lawsuit by Louisiana Attorney General Jeff Landry and former Missouri Attorney General Eric Schmitt that alleges illegal collusion between the Biden administration and Big Tech companies to suppress free speech.
In a November 2022 interview with The Epoch Times, Landry stated that, because of the First Amendment, "the government doesn't have the ability to censor speech, especially political speech. And so they can't go out there and force these companies [to do it]."
Plaintiffs in this case filed a 364-page "finding of fact" document showing a "campaign of public threats against social-media platforms to pressure them to censor more speech on social media." This document will be discussed in a congressional hearing on March 30 on the "Weaponization of the Federal Government."
Read more here...
Loading...