---
"Irresponsible People Are Spreading Lies" - Joni Mitchell Removes Music From Spotify "In Solidarity" With Neil Young
Another popular Canadian-born classic rock musician has decided to pull her music from Spotify in solidarity with Neil Young, whose label pulled his music from the streaming giant in protest over its deal with Joe Rogan.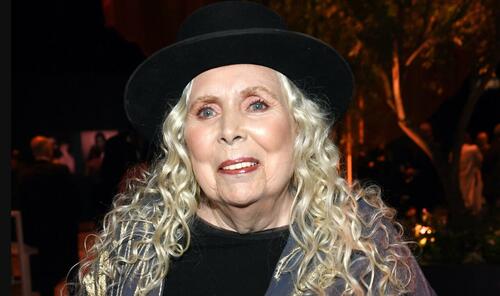 Popular folk musician Joni Mitchell - who, like Young, was in her hayday back in the 1970s but nevertheless maintains an audience among the young people of today (she's particularly popular with a certain demographic: gay women) - announced her decision to pull her music from Spotify in a statement on her website.
"I've decided to remove all my music from Spotify. Irresponsible people are spreading lies that are costing people their lives. I stand in solidarity with Neil Young and the global scientific and medical communities on this issue," she said.
As of Saturday morning in New York, most of Mitchell's catalogue was still available on the app; Young's had been removed earlier in the week after he sent the company a letter declaring that the service could have "Neil Young or Joe Rogan. Not both".
While Mitchell accused Spotify of "spreading lies", she didn't go into any details about what those lies might be. Instead she just posted a link to a previous open letter.
Unsurprisingly, the company chose Rogan, who in addition to being America's most popular podcaster, is also a money-making machine who commands a minimum advertising spend of $1 million (advertisers who want in on his show must also also agree to buy ads on other Spotify podcasts as well), as the Verge explains.
While Rogan is of course a valuable asset to Spotify, as Glenn Greenwald tweeted in response to Mitchell's statement, Spotify is probably already trying to figure out just how much pain it can take (in terms ofthe public backlash) before they finally would need to consider parting ways with a star whom they reportedly paid $100MM for exclusive rights to his shoe.
Remember, NBC News ate tens of millions of dollars after cutting Megyn Kelly lose rather than "withstand liberal anger".
Obviously, Spotify is not going to get rid of Rogan over Neil Young or Joni Mitchell. But for US liberalism, censorship is a virtual religion now, so they will start pressuring bigger names to do this. They try to make any platform toxic which allows dissent from liberal pieties.

— Glenn Greenwald (@ggreenwald) January 29, 2022
(A correction on the Kelly/NBC timeline: she lasted about a year before NBC, responding to internal and external liberal anger over her on-air comments, removed her from the air).

— Glenn Greenwald (@ggreenwald) January 29, 2022
Mitchell also posted a link to an open letter from the scientific community, which we reported on here.
We can't help but reflect on how strange it is that two musicians with a reputation as "critics" of the music industry and big business are now standing up for Big Pharma. After all, Pfizer and Moderna took billions of dollars of public money and are still demanding enormous products while acting as gatekeepers of vaccines and choosing to give four doses to American children who truly don't need the jabs rather than giving vulnerable adults in the emerging world a chance.
Adam Carolla put this sentiment into words during a recent appearance with Sean Hannity.
"Their job is to push back against the man and Neil Young should know the man isn't Joe Rogan, the man is Dr. Fauci, the man is Governor Gavin Newsom, the man is the CDC, the man is the WHO, the man is Biden," said Carolla.
The backlash started when Rogan hosted Dr. Robert Malone for an interview where he expressed his skepticism about the vaccines' efficacy and safety. Dr. Malone spoke in favor of using Ivermectin, and discussed the concept of "mass formation psychosis".