---
It "Was Not Made To Be Housing" - NYC Mayor Unveils Crackdown On Homeless "Cancerous Sore" On Subway System
Following a string of violent crimes on the New York subway system in recent weeks, including a knife attack on Feb. 17 in broad daylight, freshly minted New York Mayor Eric Adams is making an aggressive push to try to remove homeless people, announcing a plan to start barring people from sleeping on trains or riding the same lines all night.
"People tell me about their fear of using the system and we are going to ensure that fear is not New York's reality," Adams said.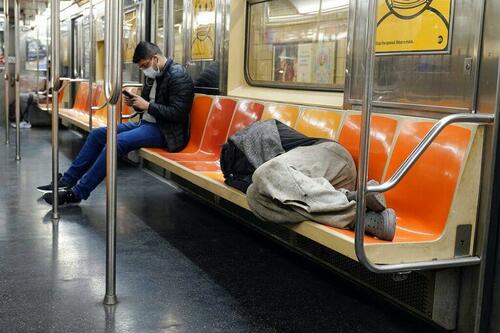 "The system is not made to be housing," Adams said Friday at a press conference.

"It's made to be transportation and we have to return back to that basic philosophy."
Alongside Adams, New York Gov. Kathy Hochul echoed his comments, saying that:
"we know it's a big problem. But shame on us if this moment in time, if we don't turn over every single stone, find every possible way to to deal with this."
Adams called it a complex problem, saying:
"You can't put a band-aid on a cancerous sore," but, "You must remove the cancer and start the healing process."
Of course, this prompted outrage among some with Shelly Nortz, the deputy executive director for policy at the Coalition for the Homeless, calling the mayor's comment "sickening" and said "criminalizing homelessness" was not the answer.
"Repeating the failed outreach-based policing strategies of the past will not end the suffering of homeless people bedding down on the subway. It is sickening to hear Mayor Adams liken unsheltered homeless people to a cancer. They are human beings," Nortz said.
Police Commissioner Keechant Seweell said the police department will start enforcing the new rules in New York City subway this week.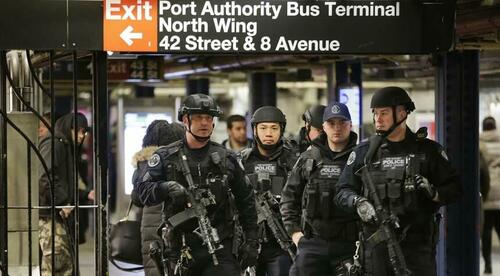 Police teams, she said, will focus on high-traffic areas or areas where there have been reports of crime.
As OPB reports, subway ridership cratered during the pandemic, homeless people have become more visible, sometimes sleeping on platforms or several seats on a train, something the mayor has said contributes to a general feeling of "disorder" in the nations' largest city. The mayor, who has emphasized the appearance of crime and disorder as being just as important to tackle as the actual crime statistics, said it was unacceptable that the system allowed, in one case, a woman to live under a stairway inside a station for months.
"That is not dignity. That is disgusting," he said. "And that's not who we are as a city."
Loading...