---
Italy Won't Bow To Powerful Elites In Favor Of Open Borders, Insists Meloni
Authored by Thomas Brooke via Remix News,
A defiant Giorgia Meloni offered a staunch defense of her government's handling of the migrant crisis in the Chamber of Deputies this week...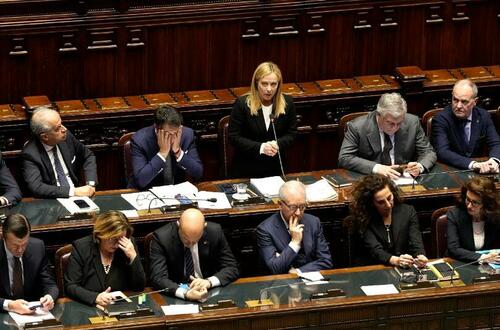 Italian Prime Minister Giorgia Meloni told political opponents she will not bow to the political pressure exerted by powerful elites in favor of open borders.
Speaking during Question Time in the Chamber of Deputies, Meloni responded to questions related to her government's handling of the ever-increasing migratory pressure in the Mediterranean following government data published this week that revealed more than 20,000 people have now reached the country so far this year.
"As long as there are departures on boats in bad condition, navigating in bad weather conditions, there will be loss of life," she told parliamentary colleagues.

"We need to invest in legal routes, and that is exactly the job the government is doing. Our conscience is clear. I hope that whoever attacks the government but does not say a word about smugglers can say the same," she added.
She offered a staunch defense of the country's coastguard, which came under considerable scrutiny from Italy's left-wing press in the aftermath of the migrant boat tragedy in the Ionian Sea, which cost several dozen lives.
The Italian premier expressed her amazement that "for political ends, we end up questioning the honor and the work of people who risk their lives every day to save human lives and the honor of Italy."
On the wider migratory issue gripping the nation, Meloni highlighted that "for several months we have been witnessing a migratory pressure that has few precedents toward Europe and Italy," and despite calls from humanitarian lobbyists and political opponents, she "has no intention of bowing to the many powerful pressures of those who would like a vision without national borders."
She reiterated her desire to "firmly combat illegal traffickers and manage immigration in a regular way" through government decree and subsequent legislation. However, she warned that Italy cannot be expected to handle the crisis alone and called for "a framework of responsibility that must also involve the other European states."
The conservative administration in Rome has been busy tackling the issue facing Italy and wider Europe since its electoral success in September, with Meloni recently introducing legislation to pass tougher sentences on convicted people smugglers. Those found guilty of the offense could soon face up to 30 years in prison should their negligent actions or failure to act result in the death of vulnerable migrants.
Meloni also issued several government decrees that she aims to pass to stifle the operations of humanitarian search-and-rescue vessels operating in the Mediterranean. The decrees, which have caused outrage among the Italian left and European NGOs, call on vessels operating in the area to return to land immediately after a rescue, rather than remaining at sea and effectively becoming a magnet for other prospective migrants encouraged to attempt the perilous journey.
This perspective was supported by a recent report by Italy's intelligence services, which claimed the presence of NGO vessels in the Mediterranean is fueling the migrant crisis.
The report accused NGOs of providing "a logistical advantage for the criminal organizations that manage migrant trafficking, allowing them to adapt their modus operandi according to the possibility of reducing the quality of the vessels used, correspondingly increasing illicit profits, and exposing the people on board to a more concrete risk of shipwreck."
Loading...