---
"It's Seven Grandchildren, Mr. President": NYT Rips Biden For Ghosting Granddaughter
Have you noticed the shift? All of the sudden, the same media which peddled Joe Biden as a virtuous, vigorous, mentally competent alternative to Donald Trump have turned on him.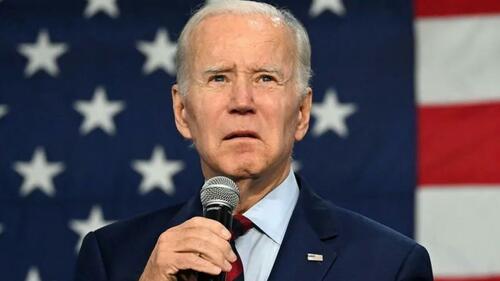 Two weeks ago, the White House press corps jumped all over the Biden corruption bombshells - including how Biden's DOJ allegedly buried, minimized, or otherwise ignored evidence of Hunter Biden's illegal activities - instead giving him a sweetheart plea deal for multiple crimes that would land anyone else in prison.
And just two days ago, establishment mouthpiece The Atlantic more or less called the patient in terms of 'behind the curtain' support for ol' Joe.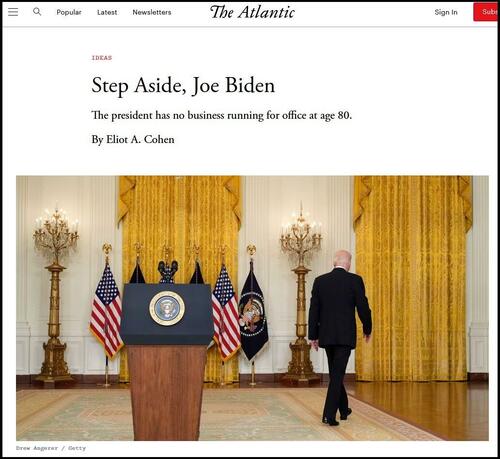 Now, the NY Times has joined the party with an article by columnist Maureen Dowd titled: "It's Seven Grandchildren, Mr. President," after reports emerged last week that the Biden White House has been instructed not to acknowledge Hunter's illegitimate daughter, Navy Joan Roberts, who Hunter successfully fought to ensure couldn't legally use the Biden name. Instead, Biden staffers have been instructed to say that Joe has six grandchildren.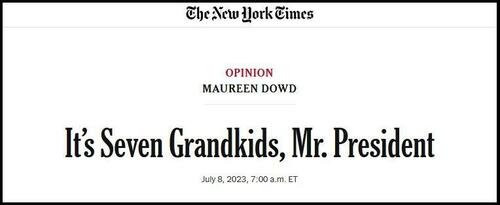 "What the Navy story reveals is how dated and inauthentic the 80-year-old president's view of family is," writes Dowd, adding "The president's cold shoulder — and heart — is counter to every message he has sent for decades, and it's out of sync with the America he wants to continue to lead."
In short, the Bidens are no longer protected, as it were.
REPORTER: "Hunter Biden and the child support - Are the President and First Lady monitoring that? And how come they haven't acknowledged the 7th grandchild?"

JEAN-PIERRE: "I'm not gonna speak to that from here."

REPORTER: "Why not?"

Great question! pic.twitter.com/g17eXo5CnA

— Daily Caller (@DailyCaller) May 2, 2023
"Joe Biden's mantra has always been that 'the absolute most important thing is your family.' It is the heart of his political narrative," Dowd continued (via the Daily Caller), adding "Empathy, born of family tragedies, has been his stock in trade. Callously scarring Navy's life, just as it gets started, undercuts that."
During the 2021 and 2022 Christmas seasons, Joe and Jill Biden hung up stockings with six of their grandchildren's names, deliberately excluding Navy's name from the decorations. Jill Biden also authored a children's book in 2020 which she dedicated to six of her grandchildren, but not the seventh, Dowd noted in the column. -Daily Caller
And of course, White House spox Karine Jean-Pierre refuses to address the issue.
Loading...