---
J6 Attorney Says Feds Using Military Counterterrorism Tactics Against Americans
Authored by Matt McGregor via The Epoch Times (emphasis ours),
An attorney has called on House Republicans to investigate and defund the Department of Justice's (DOJ) efforts to prosecute defendants being treated as domestic terrorists for their presence at the Jan. 6, 2021, rally at the U.S. Capitol.
"This could go on for two or three more years unless House Speaker Kevin McCarthy takes the floor and declares that the DOJ is abusing legislation," Carol Stewart, who represents several J6 defendants, told The Epoch Times.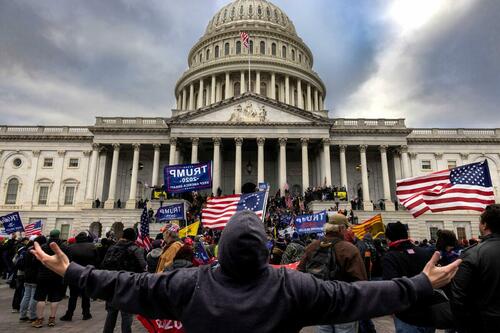 Stewart said McCarthy can make a resolution and start an investigation into the abuse of U.S. criminal codes 1752, 231, and 1512, which relate to restricted buildings or grounds; civil disorders; and tampering with a witness, victim, or an informant, respectively. She said these laws are being misinterpreted to frame American citizens who protested at the Capitol building as culprits in a plot to overthrow the 2020 election through a violent insurrection.
The problem, Stewart argues, is that the story the DOJ, the FBI, and the mainstream media are telling "is a lie."
One of her clients, 56-year-old Eric Christie, is charged with violating statute 1752, a misdemeanor that criminalizes the act of entering or remaining in "any restricted building or grounds without lawful authority to do so."
In addition, he's alleged under subsection (b) of the law to have been brandishing "a dangerous weapon or firearm" on restricted grounds.
On Christie's tool belt was a hammer that Stewart said was never removed, as it was part of a construction worker costume.
"He did not breach or push aside any barriers, assault police, participate in any violence, witness violence, encourage violence, enter the building, or do anything besides use protected First Amendment speech in a peaceful manner in a location that he believed was approved for speech," Stewart wrote in her facts of the case.
Unaware of Restricted Area
Christie, an advocate for the Make America Great Again movement from California, believed he could "lawfully go forward" into an area he didn't know was restricted, Stewart argued, because someone had removed a barricade of bike racks without his knowledge.
Though he never entered the Capitol, Christie was arrested at his apartment on Dec. 22, 2022—almost two years later—surrounded by a SWAT team of 20 to 30 people in a histrionic show of force, Stewart said.
According to Stewart, there was no knock, and Christie was never told he was under arrest, only that the officers wanted to search his apartment. When he asked for a search warrant, officials had to retrieve it, as they had not brought it with them.
His water and electricity had been turned off. A drone was sent into his home and determined that he had guns with the intent to use them.
Having arrived at 9 a.m., it took the officers until 10:45 a.m. to get the warrant. Instead of bringing it to him directly, they sent in a robot, which took 30 to 40 minutes of everyone watching it make its way downstairs.
The FBI had already rammed in the front door and broken the glass, thrown in flash-bangs and tear gas, and brought in a crisis negotiator, Stewart said, which led Christie to believe that they were there to abduct or kill him.
"Other people I've interviewed have examined this situation and agreed with Christie's assessment," Stewart said. "You don't do all of that unless you're going in. It's not done, because you're inviting danger if you do that."
The fiasco was framed as a three-hour standoff, Stewart said.
"His delay in exiting his home had nothing to do with any falsely claimed 'barricade,'" Stewart wrote in the court report. "It was due to shock, anxiety, the belief that the FBI wanted to murder him or take him to Guantanamo as a terrorist, and the failure of the FBI to have a search warrant on-site to present to him."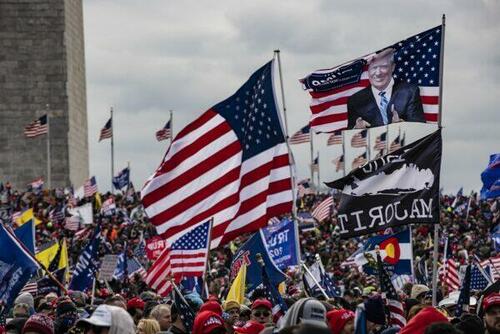 Created Circumstances
At any point, however, the FBI could have gone to Christie's attorney and asked to have Christie self-surrender.
Instead, Stewart said, the FBI engaged in tactics designed to elicit a reaction, not obtain facts.
A week before on Dec. 16, Christie had been pulled over by a state highway patrolman.
"Understand the bizarre nature of this," Stewart said. "The FBI has the California Highway Patrol (CHP) pull him over just to create the circumstances for a person with anxiety."
In the time between Jan. 6 and his arrest at his apartment, every nook and cranny of Christie's life was investigated using avenues opened by the Patriot Act, which would not only include a forensic investigation into his online profile but also into his medical history, Stewart said.
It's the kind of information that can be weaponized in a psychological operation, Stewart said.
Later, in court, Stewart said the FBI admitted to using the state law enforcement pretextually.
Under California law, an officer has the right to ask someone to get out of their car. However, with Christie, there was no traffic violation. The officer yelled at Christie, telling him that if he didn't get out of the car, he would break his window.
In a panic, Christie fled, Stewart said, aware of what was happening with other J6 defendants.
It was agreed that he wouldn't be pursued, Stewart said, so he went about his life until the day of his arrest.
The CHP alleged that the officer pulled Christie over because the officer saw Christie rolling through a stop sign, which Stewart said is not true.
"The dash cam footage shows that this is false," Stewart said. "They didn't even have him in sight. They left out the threat to break his window. They said he fled arrest. For what? The CHP filed a false report and not once said they were operating in coordination with the FBI. So, there's some dirty dealing going on at that level between the guys in that unit and the local FBI agents."
Then there is the probability that the FBI had been entering Christie's condominium for several months, as there was a mock-up made of his apartment, Stewart said.
"This is the kind of stuff they're doing," Stewart said. "I've worked with special forces a lot. They don't build mock-ups for a normal arrest. For all the people we went and grabbed in Afghanistan, they didn't build mock-ups."
'I Know What a Setup Looks Like'
Stewart's seen these strategies before during her time working in counterterrorism and counterinsurgency while serving 25 years of active duty with the U.S. Army, retiring as a colonel.
Stewart's counterterrorism work dates to 1993. She served as an intelligence battalion commander in Bosnia from 1998 to 1999 and continued to work in military intelligence in Kosovo from 2001 to 2002 and at U.S. Central Command (CENTCOM) from 2002 to 2005.
Stewart spent six and a half years working as a senior intelligence officer with the Department of Defense at CENTCOM with strategic assessments related to terrorism, insurgency, and regional issues; targeting; and special projects that included terrorism, counterintelligence, and insider threats.
Considering her work in military intelligence, Stewart said the tactical operations used on Christie and other J6 defendants are strikingly familiar.
"This is how the military in Iraq organized for urban warfare to go in and clear houses," she said. "This isn't much different. I know what a setup looks like."
Before the engagement even takes place, the FBI creates a "baseball card" on the suspects, which is a dossier developed for targeting terrorists.
"This is for kill or capture missions, so I want that to set in for a minute," Stewart said. "The whole concept of a baseball card for overseas terrorism was based on creating a targeting package to go on kill or capture missions. This has now been transported back into the United States to go after American citizens."
Read more here...
Loading...