---
J6 Committee Accuses Trump Of Committing Federal Crime
After nearly a year of partisan squabbling, the Democrat-led Jan. 6 Committee has reportedly compiled evidence that President Donald Trump may have committed a crime. To wit, the committee believes the former president intentionally obstructed an official proceeding, a serious federal charge that could be referred to the Justice Department. The revelation was included in a Wednesday court filing, according to WSJ.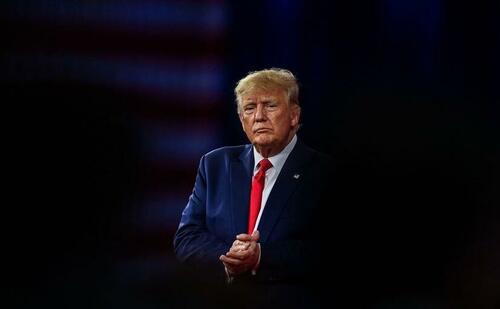 The committee, which is made up almost entirely of Democrats (with the exception of Republicans Liz Cheney and Adam Kinzinger), reportedly believes the evidence that they have obtained represents a "good-faith basis" for accusing Trump of a federal crime.
"The Select Committee also has a good-faith basis for concluding that the President and members of his Campaign engaged in a criminal conspiracy to defraud the United States," lawyers for the congressional panel wrote in the filing in the US federal district court in Orange County, Calif.
The criminal part of this "conspiracy" stems from President Trump's efforts to "interfere" in the election certification process, according to WSJ. The committee found its "evidence" in the testimony of attorney John Eastman, a professor at Chapman University who advocated for a "fringe legal theory" which claimed that VP Mike Pence could stop the election certification process. Eastman is still fighting to withhold thousands of pages of emails from the committee.
The Jan. 6 panel alleges that Trump (and his allies) entered into an agreement "to defraud the United States by interfering with the election certification process, disseminating false information about election fraud, and pressuring state officials to alter state election results and federal officials to assist in that effort," according to the filing.
Eastman has sued the committee to stop the enforcement of its subpoena for documents, claiming that the committee is violating attorney client privilege. The committee has responded by proposing that an independent panel be tasked with reviewing the documents to determine
Unfortunately for the committee, it has no power to bring charges or initiate a legal investigation. It can only refer its findings to the Department of Justice.
An attorney for Vice President Mike Pence reportedly denounced Trump's insistence that Pence could unilaterally throw out the election results.
"I have run down every legal trail placed before me to its conclusion and I respectfully concluded that as a legal framework, it is a results oriented position that you would never support if attempted by the opposition, and essentially entirely made up," wrote Mr. Pence's top lawyer Gregory Jacob on Jan 6. "And thanks to your bulls—, we are now under siege."
No American president has ever faced a criminal prosecution (not even Richard Nixon in the wake of Watergate), and some legal theories hold that the president is immune to prosecution for a wide range of conduct during their time in office. As for Pence's insistence that he didn't have the power to deny certification of the election, President Trump has continued to insist that he did.
AG Merrick Garland hasn't said anything about how he would handle a referral from the committee, although he has previously sought to insulate the DoJ from political pressures following its disastrous investigations of both Hillary Clinton and Trump during the 2016 race (Clinton was investigated for allegedly mishandling classified documents, while President Trump was investigated over his campaign's ties to Russia).
Meanwhile, Trump is facing a range of lawsuits tied to J6; they include everything from defamation to civil conspiracy. But that doesn't change the fact that somebody opened the Capitol doors from the inside on that fateful morning.