---
J6 Defendant On Ray Epps: "They Are Protecting Him Like Crazy"
Authored by Julie Kelly via American Greatness,
Epps' unusual defenders make less and less sense...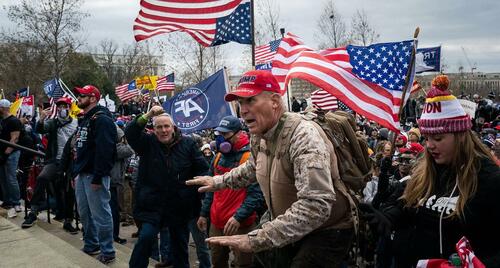 He is one of the most consequential—and complicated—individuals involved in the events of January 6.
Ryan Samsel, then a 37-year-old Pennsylvania barber, drove to Washington on the morning of January 6, 2021 with his girlfriend to watch Donald Trump's speech. Unable to hear the president, they walked east towards Capitol Hill where a large group, including members of the Proud Boys, had assembled.
Samsel soon found himself on the front lines of a protest the national media and Joe Biden immediately branded an "insurrection." Video shows Samsel approaching a weak line of Capitol police officers and bike racks positioned on the west side of Capitol grounds shortly before 1 p.m., the time Congress convened a joint session to debate the results of the 2020 Electoral College vote certification.
Wearing a white hoodie underneath a jean jacket and a red "Make America Great Again" cap, Samsel appears to engage one of the officers guarding the large outdoor area that leads to the building.
Interactions between protesters and police got heated. The officer in front of Samsel shoved a bike rack with an "Area Closed" sign into a few protesters, including Samsel, who grabbed the fence. He then proceeded to remove his jacket and turn his hat backwards as if spoiling for a fight.
At that point, someone can be heard behind Samsel yelling, "hey, hey, hey!" A large man, also donning a red cap, grabbed Samsel's right shoulder and pulled him away from the officer. The man spoke directly to Samsel then cupped his hand to whisper in his ear. Samsel immediately returned to the barricades, where a shoving match ensued. The racks and police were overrun—the individual who spoke to Samsel remained right behind him.
That man was Ray Epps.
It would become a pivotal moment in the events of January 6. In fact, a snapshot of Epps whispering to Samsel remains on the Twitter page of the Washington field office of the FBI in a collage of photos of those "who committed violence" at the Capitol.
What Epps—the still-uncharged agitator who first became a subject of public scrutiny after a 2021 exposé in Revolver News—said to Samsel in that iconic exchange has been the subject of speculation for more than two years.
The New York Times reported Epps told the FBI tip line he attempted to de-escalate the situation between Samsel and police. Epps gave the same story to the January 6 Select Committee. "OK, you know, that's not why we're here," Epps told the committee about his interaction with Samsel. "You've got to be peaceful, [I] pulled him back and told him, it's not what we're about."
Samsel's initial FBI interview, according to Times reporter Alan Feuer, provided a similar account. "Samsel said much the same thing, telling investigators that a man he did not know came up to him at the barricades and suggested he relax, according to a recording of the interview obtained by The New York Times," Feuer wrote in May 2022. "'He came up to me and he said, 'Dude'—his entire words were, 'Relax, the cops are doing their job.'"
But in a phone conversation with American Greatness last week, Samsel disputed Epps' testimony and contradicted what he reportedly told the FBI a few weeks after the Capitol protest.
"[Epps] said to me, 'Don't pull. I've got people. We have to push through.'"
Arrested on January 30, 2021, Samsel has been behind bars ever since. Prosecutors argued Samsel's history—unlike most January 6 defendants, Samsel has a criminal record that includes assaults against women—justified pretrial detention. (The government also maintains Samsel was on parole on January 6. Samsel told me he was on probation.)
Samsel is in custody at the Metropolitan Detention Center in Brooklyn, a treacherous facility that houses "extremely dangerous, violent, or escape-prone inmates." (One defense lawyer described it to me as "one of the worst of the worst.")
Considering his record and public silence on the matter for the past few years, Samsel's new claims about what Epps said to him warrant some skepticism. But a closer look at the court docket shows how the Justice Department is intentionally delaying Samsel's trial, presumably to prevent the public from learning more about Epps' involvement at that crucial juncture and his movements before, on, and after January 6. "[Prosecutors] are protecting him like crazy," Samsel said of Epps.
Samsel's case file seems to support that view. Prosecutors did not indict Samsel until seven months after his arrest, a violation of federal law, which requires the government to file charges within 30 days of an arrest. Samsel said during that time the government tried to coerce him into saying Epps did not instigate any misconduct and that Joseph Biggs, a Proud Boys leader recently convicted of seditious conspiracy, was carrying a gun. (He was not.)
Biden's Justice Department finally charged Samsel in August 2021 on seven counts including assault of a police officer, civil disorder, and obstruction of an official proceeding, the most common felony associated with the January 6 prosecution. According to Samsel, he's been transported to 16 different prisons; he was viciously attacked by guards in the D.C. gulag, sustaining injuries that still require medical attention.
His trial date has been moved numerous times as the Justice Department added codefendants and new charges to his case, a tried-and-true delay tactic. And two days before both sides were expected to file a schedule in preparation for an April 24 trial, U.S. Attorney Matthew Graves filed a fourth superseding indictment against Samsel, forcing another postponement.
Samsel's new trial date is October 23—which means he will have been behind bars for nearly three years before he has an opportunity to defend himself before a jury. (Judge Jia M. Cobb, a Biden appointee, is overseeing Samsel's case.)
While Samsel now faces 12 charges and has languished in jail for more than 28 months, Epps remains a free man even though Graves' office could easily indict Epps on many of the charges filed against Samsel, who, like Epps, never entered the building.
Why isn't Epps charged with the obstruction felony since he was among the first set of protesters that eventually forced Congress to suspend the joint session? Why is Epps not charged with impeding law enforcement and civil disorder? He, like Samsel, crossed police barricades and remained on restricted grounds for at least 90 minutes as officers fought with the crowd. (Samsel tended to one of the officers pushed down by the protesters as Epps ran past her.)
Further, Epps was wearing military garb including a tactical vest and backpack, garb prosecutors cite as evidence of preplanning for violence.
And what about Epps' text boasting to his nephew at 2:12 p.m. on January 6 that "I was in the front with a few others. I also orchestrated it." He told the January 6 committee that he "helped get people there." 
Individuals have been charged and convicted for conspiracy based on less. Why does Epps continue to evade prosecution?
Not only is Epps seemingly protected by the Justice Department—after Epps showed up in yet another video in the Proud Boys trial, a prosecutor told jurors accusations that Epps worked at the behest of the government are "fantasies"—he is defended by the same news media and politicians insisting anyone involved in the events of January 6 is a criminal.
None other than former U.S. Representative Liz Cheney (R-Wyo.) recently brushed off questions as to why Epps hasn't been charged. Cheney, vice chairman of the now-defunct January 6 committee, referred to claims Epps was a federal asset as a "conspiracy theory," a favorite descriptor of those oddly eager to exonerate one of the most outspoken "insurrectionists."
For now, Samsel remains in the ruthless grip of Joe Biden's Justice Department. (He has a GiveSendGo account to raise money for his defense.) So why is he speaking up now in seeming contradiction to what he told federal authorities shortly after his arrest? "I don't want to look back in 10 years and say I was a coward," he told me.
Samsel is neither a coward nor a hero for now—but he is a human pawn in the Biden regime's ongoing retaliation against Americans who protested the rigged 2020 presidential election on January 6. And while government agencies come under increased scrutiny as to the role of undercover officers and informants on January 6, Epps' unlikely set of defenders make less and less sense.
If Samsel gets the chance to take the stand and testify under oath, and before the American people, as to what Epps said to him that fateful afternoon, he might unravel one of the biggest mysteries of January 6. Which appears to be precisely what the Justice Department is desperate to prevent.
Loading...