---
Jan. 6 Prisoner Takes His Obstruction Charge To The Supreme Court
Authored by Patricia Tolson via The Epoch Times (emphasis ours),
In a historic move, a Jan. 6 prisoner has taken his challenge of the infamous obstruction charge, levied against him and hundreds of other Jan. 6 prisoners and defendants, all the way to the Supreme Court.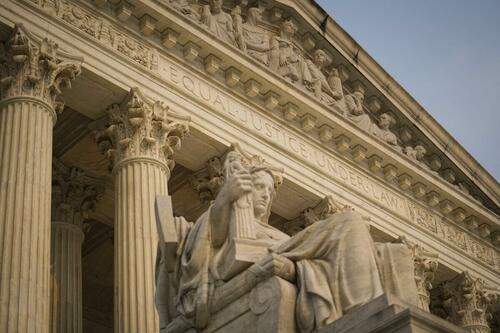 On July 7, attorneys for Jan. 6 prisoner Edward Jacob (Jake) Lang filed a document with the Supreme Court of the United States (SCOTUS) challenging the government's obstruction of Congress charge—one of the most common felony charges used against Jan. 6 defendants—which carries a 20-year prison sentence.
"We filed what's called a writ of certiorari, or a request to the Supreme Court to hear an issue," Norm Pattis, lead attorney for Mr. Lang, told The Epoch Times. Mr. Pattis explained that the legal team is asking the high court to review the details behind Mr. Lang's alleged violation of Title 18 U.S. Code Section 1512(c)(2), one of the 11 charges against him, according to court documents (pdf).
According to the writ, obtained exclusively by The Epoch Times (pdf), "Mr. Lang filed a motion to dismiss the Section 1512 count prior to trial. The District Court granted his motion."
However, "on a consolidated interlocutory appeal to the United States Court of Appeals for the District of Columbia Circuit joined by two similarly situated codefendants, the Court, in a split decision, reversed the District Court. A motion for rehearing was denied."
The "question presented for review" is "Whether the Court of Appeals erred in concluding that application of 18 U.S.C. Section 1512(c)(2), a statute crafted to prevent tampering with evidence in 'official proceedings,' can be used to prosecute acts of violence against police officers in the context of a public demonstration that turned into a riot, resulting in so 'breathtaking' an application of the statute as to run afoul of Van Buren v. United States, 141 S. Ct. 1648 (2021)."
The document warns the high court that "dozens of convictions" on this same obstruction charge are "headed to this Court," all arising from Jan. 6, and "Resolution of the question is imperative to prevent the use of this statute to prosecute folks who protested in a good faith belief that their actions were necessary to prevent an election from being stolen, an event tantamount to an internal coup d'état."
"Refusal to resolve this question," the document predicts, "will chill others inclined to petition and assemble for the redress of grievances, for fear that those opposed to their views might prosecute them for possessing a 'corrupt' intent."
'Really Far Afield'
Obstruction under Section 1512(c) is among the 37 charges for which the federal government indicted the current GOP frontrunner for the 2024 election, Donald Trump (pdf). A favorable ruling by the Supreme Court could have a significant impact on the former president's legal future as well.
This is not the first time the obstruction charge has been called into question.
Politico reported that, during a two-hour hearing on Nov. 19, 2021, U.S. District Court Judge Dabney Friedrich argued in the case of Jan. 6 prisoner Guy Reffitt—also charged with hindering communications through physical force, civil disorder, and bringing a firearm onto the grounds (pdf)—that the government's effort to apply the obstruction charge appeared to run "really far afield" from what Congress intended.
Mr. Friedrich ultimately allowed the charge to stand.
On June 7, 2022, U.S. District Judge Carl Nichols granted Mr. Lang's motion to dismiss (pdf) the obstruction charge.
It was the third time Mr. Nichols granted a Jan. 6 prisoner's motion to dismiss. On March 8, 2022, he had granted the motion to dismiss of Jan. 6 prisoner Garret Miller.
"Upon review of the Defendant's [Motion to Dismiss], and for the reasons discussed in the Court's [opinions] in United States v. Miller, it is ordered that the Motion is granted," Mr. Nichols wrote. "It is further ordered that Count Nine is dismissed without prejudice Superseding Indictment [citations omitted]."
Mr. Nichols then granted the motion to dismiss of Jan. 6 defendant Joseph Fischer on March 15, 2022.
Mr. Nichols believes that the statute "must be interpreted" in such a way that "requires that the defendant have taken some action with respect to a document, record, or other object in order to corruptly obstruct, impede or influence an official proceeding."
In other words, if someone hasn't been accused of taking such an action, they cannot be charged with this particular violation.
In all, federal prosecutors have charged more than 300 Jan. 6 defendants with obstructing congressional proceedings. The obstruction charge has been frequently used by the Justice Department during plea negotiations and as a means to coerce some Jan. 6 protesters into providing information to incriminate fellow protesters.
'Reworking the Penal Code'
Mr. Pattis and fellow Lang attorney Steven Metcalf are asking the United States Supreme Court to review their client's case and determine "whether the federal government is misusing the statute designed to prohibit or deter tampering with evidence or evidentiary proceedings" to inflict "extra heavy punishment on those involved in the January 6 events."
Title 18 U.S.C. Section 1512 (pdf) provides in part:
(c) Whoever corruptly –

(1) alters, destroys, mutilates, or
conceals a record, document, or
other object, or attempts to do so,
with the intent to impair the object's integrity or availability for
the use in an official proceeding;
or
(2) otherwise obstructs, influences
or impedes any official proceeding, or attempts to do so,
shall be fined under this title or imprisoned
not more than 20 years, or both.
"The statute says if you obstruct or impede an official proceeding, by screwing around with records or documents, you're guilty of a felony," Mr. Pattis said.
He added, "Congress amended that to include a second section that says if you interfere with an official proceeding you are guilty as well. That statute has been used to punish Jan. 6 protesters who broke the law by trespassing or, in some cases, engaging in acts of violence against police officers, even when that act was in defense of themselves."
Read more here...
Loading...