---
Jeffrey Epstein Offered To Introduce Jes Staley To Senior UK Ministers: JPMorgan
Royal pal Jeffrey Epstein claimed to have brokered meetings between former JPMorgan banker Jes Staley and high-ranking members of the UK government, an internal investigation by the bank has found.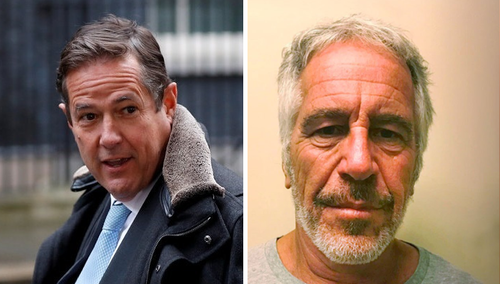 The 22-page report, compiled after Epstein's 2019 arrest, reveals that Epstein offered to connect Staley with then-UK chancellor Alistair Darling and former business secretary Peter Mandelson, the de facto deputy prime minister, the Financial Times reports.
"I've set up you and peter to meet in davos with darling," Epstein wrote to Staley in January 2010, referring to the World Economic Forum taking place in Switzerland.
Days later, Staley emailed Epstein to say that he saw "Peter last night. Darling in 20 minutes. Will talk again with Peter this AM."
Darling, meanwhile, says he has no recollection of meeting Staley - who was a senior executive at JPMorgan at the time.
"Why would I?" he asked.
An ensuing exchange recounted in the report suggests that Staley was interested in the pending sale of the non-North American units of Sempra Commodities by Royal Bank of Scotland, which was forced to divest the unit following a UK government bailout. Months later, JPMorgan bought the business for $1.7bn.

Darling said that any meeting on government business would have been attended by civil servants and that the Treasury was not involved in the running of RBS.

A person close to Mandelson said he met Staley at Davos to discuss the banking crisis but that Epstein "certainly" did not arrange the meeting. -Financial Times
The JPMorgan report also found an email from Epstein to Staley to let him know that "Peter" was staying at "71st" over the weekend in June 2009 - a likely reference to the flat he owned on East 71st Street in Manhattan. It also notes an Epstein to Staley email from January 2011 letting the former exec know that "peter in paris with me."  Epstein also owned a 'lavish flat' in the French capital.
In another exchange from 2009, Epstein emailed Staley to suggest he "Ask Andrew about [the] island, tell him about your boat plans," apparently referring to his friendship with Prince Andrew, and the island Epstein owned in the Caribbean.
Speaking of Andrew, JPMorgan also found a 2010 email Epstein forwarded to Staley from the prince "with an inquiry the Prince received" from a company "looking for a $200mn working capital line."
"Since the company is based in the US, Prince Andrew appeared to suggest Epstein connect them with a US bank," concluded the JPMorgan investigators.
The decision by JPMorgan to retain Epstein as a client from 1998 to 2013 prompted the filing of two bombshell lawsuits late last year, one of which, brought by an alleged Epstein victim, was settled by the bank for $290mn last week.

The bank still faces a separate civil claim from the US Virgin Islands, where Epstein's home on Little St James was based. The territory accuses JPMorgan of profiting from human trafficking by ignoring numerous internal red flags about Epstein. -FT
"Jeffrey Epstein connected JPMorgan Chase's executives with some of the world's most high-profile and wealthy individuals," said a spokesperson for the US Virgin Islands' Attorney General's office. "The USVI's complaint alleges that, in return for bringing valuable new clients into the bank, JPMorgan Chase . . . ignored the evidence of Jeffrey Epstein's crimes and traded victims' public safety for its own profits."
Loading...