---
Jim Jordan Launches Probe Into Atlanta Prosecutor In Trump-Georgia Case
Five days after a Georgia state Senator demanded a special emergency legislative session to investigate Fulton County DA Fani Willis over 'weaponization of our justice system' against former President Donald Trump, House Republicans have launched an investigation into Willis.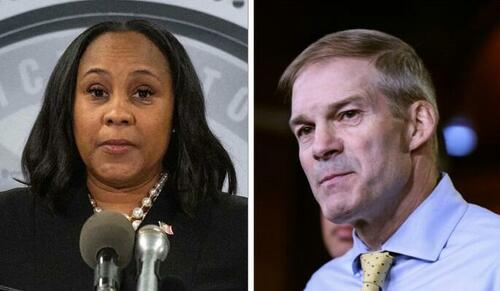 On Thursday, Jim Jordan's House Judiciary Committee sent Willis a letter demanding documents and information, including whether her office had been communicating with Biden DOJ grand inquisitor Jack Smith, the federal special counsel prosecuting Trump over alleged attempts to overturn the results of the 2020 election.
"Your indictment and prosecution implicate substantial federal interests, and the circumstances surrounding your actions raise serious concerns about whether they are politically motivated," reads the letter from Jordan (R-OH) to Willis.
"The indictment appears to be an attempt to use state criminal law to regulate the conduct of federal officers acting in their official capacities."
In addition to asking for communications with Smith, Jordan asked for documents related to the DA office's use of federal funds, and her communications with any officials in the federal executive branch.

Jordan asked Willis to provide the information by Sept. 7.

Trump is due to surrender at an Atlanta jail on Thursday evening to be booked in the case. Eighteen other people, including lawyers who promoted false claims about the 2020 election, also were indicted in the case.

The lion's share of Jordan's letter is dedicated to justifying why a congressional committee has the right to demand information about a state criminal investigation. -CNBC
While the House Judiciary Committee is typically limited to oversight concerning federal courts and federal officials, Jordan claims that Willis' case falls under his committee's purview because it concerns the actions of former federal officials.
Earlier this year, Jordan's committee demanded similar information from Manhattan "Soros" DA Alvin Bragg, who has charged Trump with falsifying business records related to his porn start hush-money payoff.
Loading...