---
John Kerry's Family Sold Private Jet Amid Accusations Of Climate Hypocrisy
Authored by Ryan Morgan via The Epoch Times,
John Kerry's family has sold its private jet, after he received criticism for the aircraft's considerable carbon footprint.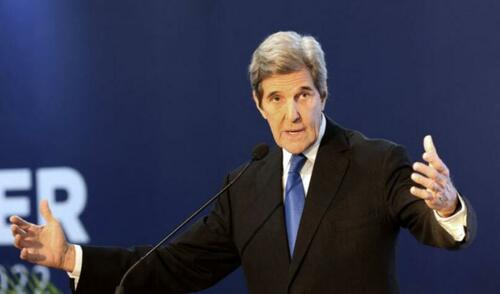 Kerry has been a vocal proponent of agreements for the United States to reduce carbon emissions and transition away from fossil fuels. Kerry helped bring the country into the Paris Climate Agreement in 2015, and currently serves as President Joe Biden's special presidential envoy on climate issues.
In 2019, Kerry flew on a private jet to Iceland to accept an award for his climate leadership. By some estimates, a round trip to Iceland by private jet would emit about 90 tons of carbon. By comparison, the Environmental Protection Agency (EPA) estimates a typical passenger vehicle produces about 4.6 tons of carbon in a year.
Kerry's family quietly sold off the private jet last summer.
"I can confirm the plane previously owned by his wife's family was sold last summer," a spokesperson for the Kerry family told Fox News in an article the news outlet published on Tuesday.

"Secretary Kerry travels commercially in his role as Special Presidential Envoy for Climate," the family spokesperson told Fox News.
The Kerry family had owned a Gulfstream G-IV jet, which it operated through its Flying Squirrel, LLC. The company is owned by Kerry's wife, Teresa Heinz-Kerry.
The aircraft's reported registration number, which has previously been cited by Fox News, is no longer listed by the Federal Aviation Administration (FAA) under Flying Squirrel, LLC's ownership. FAA data shows the aircraft's ownership changed from Flying Squirrel, LLC to another firm on Aug. 22, 2022.
Private Jet Controversy
Several critics had presented Kerry's use of a private jet as being at odds with his position and his calls for significant reductions in carbon emissions.
In 2021, Kerry defended his decision to fly to Iceland to accept the climate change leadership award, saying, "If you offset your carbon, it's the only choice for somebody like me, who is traveling the world to win this battle."
"I'm not sure flying across the world in a private jet while simultaneously trying to put the workers who supply your fuel out of a job is a winning strategy as climate czar," Sen. Bill Cassidy (R-La.) tweeted in response to Kerry.
Kerry defended his decision to travel by private jet just days after the Biden administration suspended construction permits for the Keystone XL natural gas pipeline. Kerry said those workers facing a job loss after the construction permits were canceled "have alternatives" like installing solar panels.
Sen. Tom Cotton (R-Ark.) placed Kerry's defense of flying on a private jet alongside his comments to pipeline workers facing job losses.
"John Kerry told pipeline workers whose jobs were destroyed by the Biden Administration to 'go install solar panels.' But Kerry can't sacrifice enough to fly commercial? What a fraud," Cotton tweeted.
John Kerry told pipeline workers whose jobs were destroyed by the Biden Administration to "go install solar panels."

But Kerry can't sacrifice enough to fly commercial?

What a fraud. pic.twitter.com/8iwnFemQ8Q

— Tom Cotton (@TomCottonAR) February 3, 2021
Data obtained by Fox News in 2021 showed Kerry's family flew on the private jet for a total of 24 hours in a single year. An emissions calculation for the private aircraft estimated the total travel time would have produced about 117 metric tons of carbon.
Timing of The Sale
The Kerry family sold the Gulfstream private jet about a month after Fox News reported in July, based on federal data, that the aircraft had flown on 48 separate trips since the start of the Biden administration.
Those trips, lasting a total of 60 combined hours, produced an estimated 325 metric tons of carbon.
The Kerry family spokesperson told Fox News, at the time, that Kerry did not use the private aircraft in his role as the special presidential envoy.
For official travel, the family spokesperson said Kerry travels via commercial or military flights.
NTD News reached out to the U.S. State Department and the Heinz-Kerry family for comment but did not receive a response by the time this article was published.
Loading...