---
First Speaker Vote A Bust As Jordan Loses 20 Republicans
Update (1356ET): Jim Jordan lost the first round of votes for Speaker, after 20 Republicans voted 'no' - falling fall short of the 217 votes needed to become speaker in round one.
VICTORIA SPARTZ votes for Tom Massie.

20 against Jordan.

— Jake Sherman (@JakeSherman) October 17, 2023
Prediction (stating the obvious): Never-Trump / Pro-Scalise Republicans will negotiate for maximum concessions from Jordan's camp before eventually voting him in. Recall it took 15 votes in January to elect the now-ousted Kevin McCarthy (R-CA).
This could be a long day.
Watch live:
*  *  *
The House will vote on Tuesday for a new Speaker, a vote in which Rep. Jim Jordan (R-OH) can only lose four Republicans in his quest for 217 votes.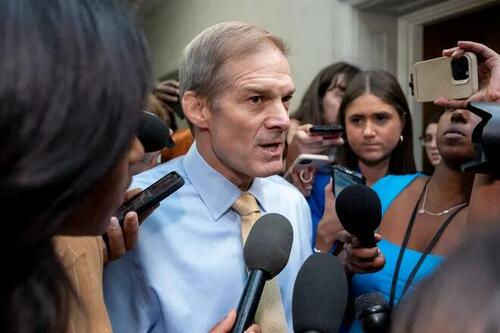 The first vote is scheduled to be held at Noon today.
While Jordan has picked up key support from holdouts heading into the vote, there are currently six Republicans who remain a 'no' on the first ballot today, per The Hill:
Rep. Don Bacon (R-NE) said he is "opposed" to Jordan, but not "never, never."
Rep. Mike Kelly (R-NE) said he is planning to vote for Scalise.
Rep. Carlos Giménez (R-FL) is voting for McCarthy.
Rep. Mike Lawler (R-NY) is planning to vote for McCarthy.
Rep. Mario Diaz-Balart (R-FL) is planning to vote for Scalise on at least the first ballot.
Rep. Ken Buck (R-CO) said he is a "no" on Jordan after meeting with him Monday night.
What's more, Rep. Gus Bilirakis (R-FL), who was going to vote for Jordan, will be absent due to his mother-in-law's funeral, according to the report.
"We need to get a speaker tomorrow," Jordan said Monday following a closed-door GOP conference meeting. "The American people deserve to have their Congress, their House representatives, working. And you can't have that happen until you get a speaker."
If Jordan doesn't get the votes on the initial ballot, the House would hold additional votes until he (or someone else) is elected. In January it took Kevin McCarthy (R-CA) 15 rounds.
According to Punchbowl News' Jake Sherman, the situation is much worse for Jordan - and there are actually between a dozen and 20-something no votes on the right.
☀️JORDAN IN TROUBLE

There are somewhere between a dozen and 20 something no votes on Jordan's candidacy to be speaker. Lawmakers tell us they'll drop off if he doesn't win on first ballot.

We have a deeply reported list on who is in play, who is out as Jordan tried to reach…

— Jake Sherman (@JakeSherman) October 17, 2023
There are currently two vacancies in the House due to the resignations of one Republican (Chris Stewart of Utah) and one Democrat (David Cicilline of Rhode Island), bringing the total to 433 members. House Republicans have 221 members, while Democrats have 212.
On Tuesday, holdout Rep. Juan Ciscomani (R-AZ), announced that he would vote for Jordan on the House floor.
Rep. Ann Wagner (R-MO), who had previously called Jordan a "nonstarter," also flipped for him. Others joined in.
"I feel like he can bring together everybody, from the moderates to the ultra conservatives, and Republicans across the spectrum," said Rep. Nicole Malliotakis (R-NY). "The bottom line is we've got to get back to work. We don't have any time here to waste."
Until a speaker is elected, the House is stalled on legislation - including addressing another government shutdown just a month away, after a six-week stopgap expires.
Check back for more updates...
Loading...