---
Juan Guaido, Once Seen By 50 Countries As Venezuelan "President", Lands In US Seeking Refuge
Starting last November the Biden administration began easing oil sanctions on Venezuela and restarted negotiations with the government of President Nicolás Maduro, also as part of mediation efforts to establish peace with the US-backed opposition.
The US had also been scrambling to free up oil and energy resources amid the Ukraine war and sanctions efforts against Russia. This was against the backdrop of the Venezuela regime change efforts of the prior Trump years, when opposition leader Juan Guaido had for years been dubbed by Washington as 'Interim President'. 
But "president" Guaido had no power whatsoever at any time within the socialist country, but still Washington got many dozens of its allies onboard the political fiction. At one point the American government boasted that 50 countries officially supported Guaido as leader.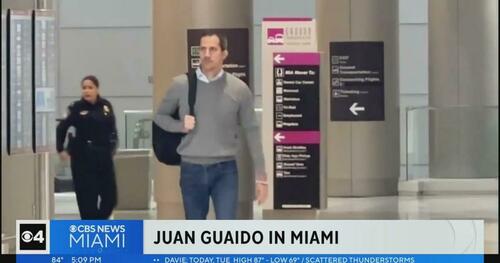 The idea was that he could muster enough support in the street, peeling off military units in the process, in order to mount a successful coup. The closest this scenario came to being realized was in April 2019, but it was not actually "close" at all - but instead was an embarrassment to the US and the opposition. There were other bizarre coup attempt moments to follow, with suspected US fingerprints on them.
But times have definitely changed: Maduro is more in charge than ever, given recognition by Biden admin officials and negotiators, and Juan Guaido has fled, having landed in Miami on Tuesday to seek "refuge" in the United States.
The Washington Post reports that he literally had to walk across the border into Colombia before departing to the US: 
The 39-year-old engineer, who was at one time recognized by the United States and more than 50 other countries as Venezuela's rightful leader, had entered Colombia "on foot." Colombian President Gustavo Petro was hosting an international summit in Bogotá on Tuesday aimed at jump-starting a dialogue between Venezuela's government and its adversaries.

Guaidó made it to Bogotá but was "expelled" from the country.
Guaido then complained in a social media video that "The persecution of the dictatorship, unfortunately, spread to Colombia today" - but which Colombian officials denied. They only said he entered the country "irregularly".
WaPo further details that "He arrived in Miami on a commercial flight Tuesday morning, alone and toting a backpack." Further, "He told reporters he feared for his wife and two children, who he said had been threatened and were in danger."
ÚLTIMA HORA | Guaidó llegó a Miami tras expulsión ordenada por gobierno de Petro: Sus primeras declaraciones a su llegada a EEUU (Fotos y videos). https://t.co/YJuApMSaSb pic.twitter.com/Pbc1T1xCm3

— AlbertoRodNews (@AlbertoRodNews) April 25, 2023
Guaido reportedly entered the US on a tourist visa and is considering whether or not to apply for asylum. An asylum entry could result in his never again being allowed to step foot inside Venezuela for as long as Maduro remains in power.
Loading...