---
Derek Chauvin Found Guilty On All Counts In Murder Of George Floyd
Update (1705ET):  After deliberating for more than 10 hours, the jury in the Derek Chauvin trial has found the former Minneapolis police officer guilty on all counts in the murder of George Floyd.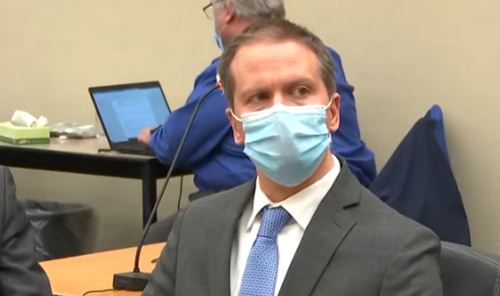 Count one: Second-Degree murder - guilty
Count two: Third-Degree murder - guilty
Count three: Second-Degree Manslaughter - guilty.
Watch:
Derek Chauvin is handcuffed and led out of court pic.twitter.com/RF163AcwLO

— Aaron Rupar (@atrupar) April 20, 2021
Sentencing will occur in approximately eight weeks according to the judge.
Nancy Pelosi has thanked George Floyd for 'sacrificing your life for justice.'
Nancy Pelosi thanks George Floyd for being murdered pic.twitter.com/na0Fjoj891

— philip lewis (@Phil_Lewis_) April 20, 2021
*  *  *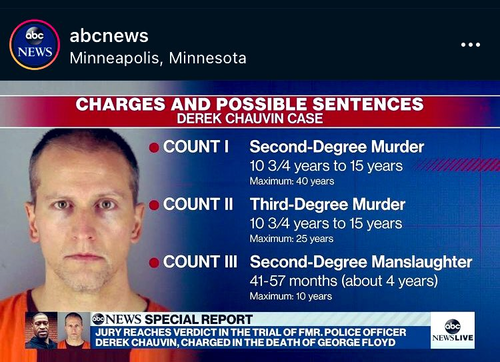 Buckle up if you live in large cities:
NEW: Antifa/BLM poster tells rioters to "rage" in Portland "no matter what the verdict is" pic.twitter.com/As4HmXQxq7

— Breaking911 (@Breaking911) April 20, 2021
Protests planned for NYC tonight. pic.twitter.com/eOwdxf1fJH

— Breaking911 (@Breaking911) April 20, 2021
*  *  *
The jury has reached a verdict in the trial of former Minneapolis officer Derek Chauvin in the May 2020 death of George Floyd.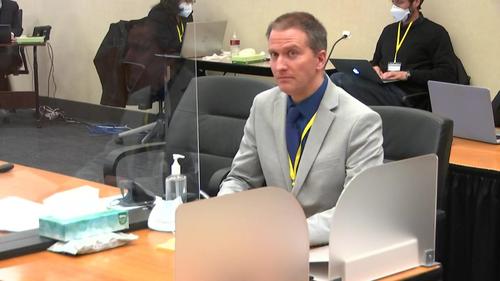 It took the jury roughly 10 hours of deliberation to reach their verdict, which is expected to be read in Hennepin County court between 3:30 and 4 p.m local time (between 4:30 and 5pm ET).

Chauvin faces three charges (via CBSN Minnesota)
Second-degree unintentional murder means causing death without intent by committing a felony.
Second-degree manslaughter is causing death by unreasonable risk.
Third-degree murder means causing death by an "eminently dangerous" act, showing a "depraved mind."
On Monday, jurors heard closing arguments in the trial - with the prosecution arguing that the law requires that they prove beyond a reasonable doubt that Chauvin's knee restraint was a "substantial cause" in Floyd's death, while the defense argued that Chauvin did what any reasonable officer would have done.
Minnesota Attorney General Keith Ellison will deliver a statement 20 minutes after the verdict is delivered and court concludes in the Derek Chauvin trial. He will be joined by Hennepin County Attorney Mike Freeman and other members of the prosecution team.
According to CBS, WCCO's Esme Murphy reports that Hennepin County court employees were notified to stop working at all downtown courthouse locations and to "exit downtown immediately."
In other words, it appears the "looting assured" no matter which way the verdict goes.
Developing...