---
Kavanaugh Accuser Admits To Lying, Faces Criminal Charges
Authored by Molly Bruns via HeadlineUSA,
Editor's note via HeadlineUSA: The story below is based on events that originally happened in 2018, as reported at the time by Business Insider. Headline USA (then known as Liberty Headlines) also covered it at the time. It recirculated over the weekend via social media, and Headline USA took the bait. Several other prominent news aggregators have since picked it up.
As noted by The Beltway Report, the story garnered little traction during the actual aftermath of the Kavanaugh hearings, and so we have decided to keep it posted in order to remind everyone of the false pretenses that many on the Left continue to push as fact surrounding Justice Kavanaugh.
Judy Monro-Leighton, one of three women who accused now-Justice Brett Kavanaugh of sexual assault, was found to have lied during a congressional investigation and is now being charged with making materially false statements and obstruction.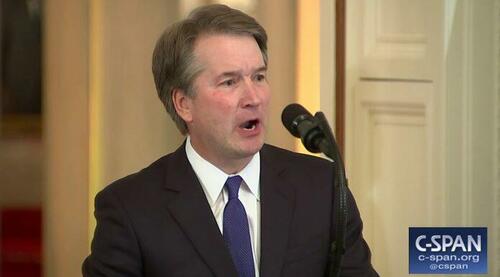 According to The Beltway Report, a letter written by Senate Judiciary Committee Chairman Chuck Grassley, R-Iowa, made a criminal referral against Monro-Leighton, who admitted that she "just wanted to get attention."
She also admitted that an anonymous letter she sent to then-Sen. Kamala Harris describing a graphic sexual assault by Kavanaugh and a friend was not written by her, despite her original claim of being "Jane Doe from Oceanside, California."
"No, no, no. I did that as a way to grab attention," Munro-Leighton explained when questioned by investigators of the Committee on the Judiciary. "I am not Jane Doe… but I did read Jane Doe's letter. I read the transcript of the call to your committee… I saw it online. It was news."
In her statements, she also clarified that she never met Judge Kavanaugh.
"In short, during the Committee's time-sensitive investigation of allegations against Judge Kavanaugh, Ms. Munro-Leighton submitted a fabricated allegation, which diverted Committee resources," Grassley's letter reads. "When questioned by Committee investigators she admitted it was false, a 'ploy' and a 'tactic.'"
Harris, who was acting as a senator at the time, went on to become the vice president without any discipline for bringing the false letter forward without conducting a proper investigation into the matter.
None of the senators on the committee took the time to investigate the anonymous letter, which Grassley claims was due to their haste to close out the hearings.
Continuously throughout the letter, Grassley attempts to push the blame off of the committee, minimizing their part in the political hit job.
None of the politicians on the committee commented on the charges being brought against Munro-Leighton.
Loading...