---
A Kennedy Libertarian Party Run Could Tilt Election: Officials
Authored by Matthew Lysiak via The Epoch Times (emphasis ours),
Presidential candidate Robert F. Kennedy's declaration that he may be open to running as a third-party candidate has the potential to completely shift the political landscape ahead of the 2024 election, according to a party official.
"If he made the decision and did the work that needs to be done within the party, I could see him having a massive impact," Angela McArdle, the chair of the Libertarian Party, told The Epoch Times.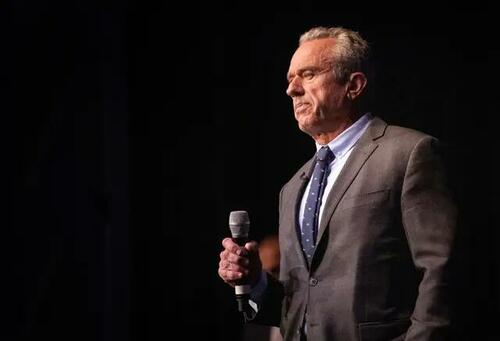 Mr. Kennedy, currently running second behind President Joe Biden in the Democratic primary, has flirted with a potential Libertarian Party candidacy. In July, Mr. Kennedy met privately with Ms. McArdle, at a conference they were both attending, where he notably expressed his admiration.
"He told me he wants to run as a Democrat but said that he is very libertarian in a lot of ways," said Ms. McArdle. "We are definitely on friendly terms."
In a June interview with the libertarian magazine Reason, Mr. Kennedy acknowledged his ideological leanings, saying, "I've always been aligned with libertarians on most issues."
Mr. Kennedy had already garnered the support of some of the party faithful, many who were won over by his populist messaging and who are currently volunteering in his campaign, according to Ms. McArdle.
"Some of the things he has done over the last several years are admirable," she added.
"We love his anti-war position, how he is a strong advocate of free speech, and that his track record on medical freedom is not contrived. And as a Kennedy, he placed himself in a very vulnerable position speaking out about forced vaccination. As libertarians we appreciate his courage and see ourselves as aligned on a lot of issues."
However, although there was much in common, there remained significant differences in policy positions. Ms. McArdle cited his stance on the Environmental Protection Agency and certain regulations, which, in some instances, he is looking to expand.
"We don't want to see policies that would hurt small businesses and entrepreneurs," she said. "I talked with him about our concerns as libertarians and he was open to hearing us out, which was important."
In recent months Mr. Kennedy has appeared increasingly frustrated by what he perceives as an unlevel playing field within the Democratic Party. Asked by a voter at a town hall earlier this month in North Charleston, South Carolina, whether he'd launch an independent bid for the White House he replied that he is open to the possibility.
"They're trying to make sure that I can't participate at all in the political process, and so I'm going to keep all my options open," Mr. Kennedy said.
In a general election, Democrats worry that a third-party run by Mr. Kennedy could draw votes away from President Biden and help elect former President Donald Trump.
A poll released last week found that one-third of Democrats would vote for Mr. Kennedy if he were to run as an independent.
The Libertarian Party is currently the third-largest political party in the United States and is based on freedom and the belief "that respect for individual rights is the essential precondition for a free and prosperous world," according to the party platform. In the 2020 Presidential Election, the party's candidate, Jo Jorgensen, received 1.2 percent of the popular vote. However, in the 2016 presidential election, candidate Gary Johnson secured over three percent of the popular vote.
The slightest uptick in votes cast for a third-party candidate could prove to be a determining factor in the 2024 election where many swing states were decided by razor-thin margins. In Wisconsin, the official tally put President Biden at less than 21,000 votes ahead while in Georgia the margin was even tighter, with President Biden having been declared to have won the state's sixteen electoral votes by under 12,000 votes.
Most polls currently have the 2024 election as another likely toss-up.
Mr. Kennedy would have to make a final decision on whether he wants to join the Libertarian Party by early next year at latest. The Libertarian Party will select its presidential nominee until May 26 at the 2024 Libertarian National Convention in Washington, D.C.
However, if Mr. Kennedy does enter the race on the Libertarian ticket, he should expect to have to earn the nomination, according to Ms. McArdle.
"The presidential nomination for the libertarian party isn't going to be handed to anyone," said Ms. McArdle. "The candidate is going to have to earn the votes and that will take a lot of work. It is really going to depend on what he wants and how serious he is about it."
"He is a Democrat right now, but we all know how quickly things can change in today's political climate."
Loading...