---
Kentucky Rep: FBI "Don't Respect Anyone In Congress"
Authored by Steve Watson via Summit News,
Kentucky Republican Representative James Comer charged Monday that the FBI's refusal to turn over documents relating to Joe Biden's alleged illegal dealings with a foreign national betrays the fact that the Bureau has no respect for anyone in Congress.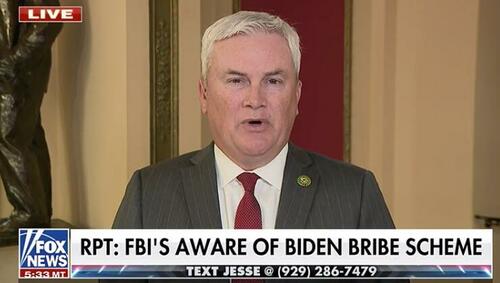 Comer, chairman of the House Oversight Committee, made the comments during an appearance on Jesse Watters' show, noting that lawmakers may have to "hold [the FBI's] budget hostage until they get new leadership at the FBI or they produce the documents that we want."
"The FBI refused to turn over the form 1023. We had another meeting where they were very patronizing. I've asked for a phone call with Director Wray. We expect to get this document," Comer urged.
He continued, "Speaker McCarthy had a phone call with Director Wray. He demanded that they turn over this document. This is a very crucial piece of our investigation. And the reason that I think it's very credible is this claim was made years before anyone knew about these different shell companies. And knew exactly what the Biden family did in countries like Romania and China to get money."
"What we're going to have to do in this House is demand that the Senators get our backs, like they are doing as we speak with these debt ceiling negotiations," Comer asserted, adding "it's not just this form 1023. We also want to know what classified documents Joe Biden had in his possession because that's an important part of our investigation."
Comer further noted that Republicans may attempt to entice the apparent whistleblower within the FBI to go public.
He said "we need to take extreme measures on trying to get this whistleblower to come forward publicly and say what exactly is in this document. Remember this form 1023 is not classified. It's not a classified document. So this is something that shouldn't be that hard for the chairman of the house oversight committee to obtain."
Watters noted "I think the American people's patience is running out on this cover-up," adding "we're getting to the point where I think we need to do a little bit more than demand a phone call with the FBI director."
Watch:
*  *  *
Brand new merch now available! Get it at https://www.pjwshop.com/
In the age of mass Silicon Valley censorship It is crucial that we stay in touch. We need you to sign up for our free newsletter here. Support our sponsor – Turbo Force – a supercharged boost of clean energy without the comedown.
Also, we urgently need your financial support here.
Loading...