---
"The Kids Are Out To Suck D": White House Trans Invitee Says 'Misinterpreted'
A social media firestorm continues to blaze over the discovery of controversial content from a drag queen President Joe Biden invited to the White House in December to help celebrate his signing of the Respect For Marriage Act.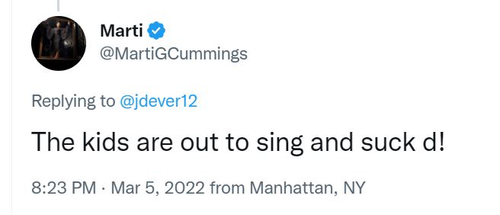 The drag queen, who goes by the name Marti Cummings, insists that his comments have been taken out of context.
"In queer culture, we have a lot of different colloquialisms, one of them being that we call our friends the kids and the children," some have said.

"Obviously, that's not about kids or children, but because of the new right wing talking points."
Really?
As Alice Giordano reports at The Epoch Times, while the March 6 post included comments that are too graphic to print, Cummings posted a response on Twitter. He did not respond to inquiries from The Epoch Times but posted a letter thanking his supporters and condemning those attacking him.
"This dangerous and disheartening barrage of rhetoric against me continues as the House Oversight Committee holds a hearing … on the rise of anti-LGBT violence and extremism, including the role that dangerous rhetoric, especially on social media, plays in driving harm and violence," Cummings wrote.
The controversy also promoted the LGBT group's terms, such as "dragphobia."
Cummings has taken down the posts, but well preserved on several social media pages along with videos he made before appearing at The White House for Biden's Dec. 13 signing of the Respect For Marriage Act.
The measure requires states to recognize marriage licenses issued from other states to gay couples.
In one of the videos, Cummings, who is dressed in drag and wearing makeup and earrings, talks about his desire for male genitals, using vulgar terms, as music plays in the background.
Another video of Cummings surfaced showing him twirling so that the dress he is wearing flies up and reveals his naked buttocks.
Other videos have also spurred outrage that Cummings was a White House invitee, including one in which he performs in a leotard and long black patent boots made up in drag on top of a bar counter to the children's song "Baby Shark."
🌈 BABY SHARK DOO-DOO: Drag Queen Marti Cummings, who performed at Biden's Respect for Marriage Act launch - also Tweeted "Kids are out to sing and suck D!" earlier this year. pic.twitter.com/sRmbFt71ng

— █ Bob 🚯 (@eviilbob) December 15, 2022
Social media posts between Facebook and Twitter are in the thousands.
However, many also defended Cummings, with T.J. Mair asking, "what is the illegal behavior that Marti G. Cummings did here in the nine-second clip?"
The White House had made no statements regarding Cumming's past comments and videos and did not respond to inquiries by The Epoch Times.
Cummings, who is involved in several LGBT organizations and made an unsuccessful bid last year for a seat on the New York City city council, is the latest in a long string of drag queens and drag queen events that have led to public outcry and proposed legislation to ban such occasions for children.
[ZH: The 'war' between 'trans' and 'normies' appears to be heating up... and we suspect a large swathe of the 'LG' segment of the alphabet people would just like the extreme ends of the spectrum to just calm it all down...]
Chaya Raichik went on Tucker Carlson and said the "LGBTQ community has become this cult... It's extremely poisonous." She later says "They're just evil people, and they're out to groom kids. They're recruiting."

This is one of the most bigoted interviews I've ever heard. pic.twitter.com/0tVe9WONOH

— Alejandra Caraballo (@Esqueer_) December 27, 2022
Republicans in at least four states, including Texas and Idaho, have introduced legislation banning drag queen performances on public property.
A national tour called "A Drag Queen Christmas" has sparked special outrage. Among its skits include a drag queen with a box of very large female breasts strapped to his chest. He makes sexual jokes about them. Other acts feature simulated sexual acts.
Town officials in Chesterfield, Missouri, threatened to shut down the show if it didn't change its description from "all ages" and "family friend" to "adults only."
In San Antonio, Texas, when a Christian group protested against the show, counter-protesters showed up chanting "trans-life matters."
Congressman Mike Johnson (R-La.) has called for a federal ban on drag queen events anywhere that received federal taxpayer dollars to fund them. It will also prohibit drag queen events at venues that enjoy tax exemption, such as churches.
In July, an Episcopal Church in Manhattan hosted a drag queen show for students from a private school.
Entitled "Stop the Sexualization of Children Act," the broad sweeping bill calls for a ban on using federal taxpayer dollars to expose minors to sexually-oriented materials or events such as drag queen reading events at public libraries and schools that receive federal funding.
"The Democrat Party and their cultural allies are on a misguided crusade to immerse young children in sexual imagery and radical gender ideology," Johnson said in announcing the bill.
Democrats have charged back, accusing conservatives and Christians of spreading hate and promoting violence against creative artists because they don't like their act.
Loading...