---
Kunstler: Who Do They Think They're Kidding?
Authored by James Howard Kunstler via Kunstler.com,
"After 2016, the national security state, the foreign policy establishment, & the gov't-funded NGO-plex orgs redefined the word "democracy": it no longer meant a consensus of individuals, it meant a consensus of institutions."

- Mike Benz
The din of war drums beating hasn't completely drowned out the barrage of lying bullshit issued by US Deep State blobsters in their effort to keep reality at bay from a citizenry gone restive and aggrieved over the seemingly deliberate ruination of our country by the people who run it.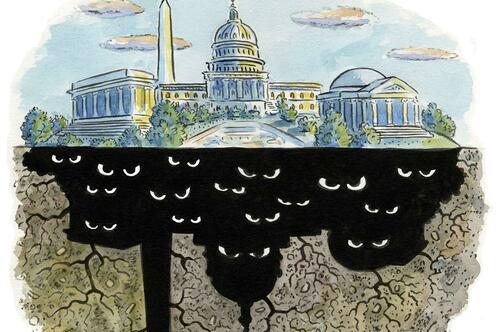 On Thursday, FBI Director Chris Wray and Homeland Security chief Alejandro Mayorkas warned Americans that terrorist threats are rising in the US since Hamas attacked Israel, October 7th. Mr. Wray explained:
"Here in the U.S., we cannot and do not discount the possibility that Hamas or other foreign terrorist organizations could exploit the conflict to call on their supporters to conduct attacks on our own soil."

We must be especially alert to the "lone wolf" lurking  amongst us, he added.
Neither of these officials noted that the rising terror threat here had any relation to the thousands of aliens streaming daily across the US border unvetted, or that the agencies under Homeland Security were helping to distribute them into every corner of America by plane and bus, giving them free cell phones, loaded debit cards, and other rewards for breaking the law.
And that "lone wolf" bit — is it possible that any number of them actually arrived as trained and pre-organized cadres or squads? How would we know? Most of them are military-age young men.
Are these unreasonable questions to ask? And If Hamas was so supernaturally successful in secretly planning the mass murder and kidnapping operation of 10/7 from Gaza that the world's supposedly top intel agencies were blindsided as it rolled out, why should Americans have any confidence that the FBI has a clue what any of those unvetted border-jumping mutts are up to here? Especially since those free phones enable them to find each other and hook-up right from the get-go, without delay. It's even possible that those phones were preloaded with their comrades' numbers on speed-dial. Not to mention that illegal migrants have been coming here in huge waves for years, and surely some have been busy ever since setting up networks aimed at making trouble that new arrivals can easily slot into.
Since the FBI has been so preoccupied the duration of the "Joe Biden" regime tracking down every native-born living soul who attended the 1/6/21 riot at the US Capitol, instead of using the agency's assets to monitor alien networking, you have to wonder why Mr. Wray even bothers to comment on the current situation. He can only embarrass (or incriminate) himself more deeply. One thing for sure is not happening: any effort by Mr. Mayorkas and his 260,000 employees to make the US/Mexico border any less porous. If it hadn't occurred them yet, they might consider closing down the US-funded United Nations operation in Central America (with help from several international NGOs) that is running way-stations to transport aliens north to our border in hundred-plus bus fleets at a time, taking every possible advantage to accelerate the flow. I guess we'll just have to stand by and see what happens.
Speaking of mind-blowing bullshit, emanating from a different pseudopod of the DC blob, former CIA Director Leon Panetta chimed in with Fox News's Bret Baier last week to declare he still thinks that Hunter Biden's laptop was a Russian dis-info operation. Mr. Panetta was a co-signer of the notorious letter from 50 other former US Intel bigwigs in October, 2020, a few weeks before the election, organized by former Acting CIA Director Mike Morell to gaslight voters after The New York Post published the existence of the Laptop from Hell and some of its sordid contents tending to incriminate the Biden family for foreign influence-peddling.
As with so many blobsters infesting government and its nether regions, Leon Panetta likes to demonstrate that his contempt for the people of this land is boundless. He can't possibly believe what he is saying. Everyone from the FBI to The New York Times has declared Hunter's laptop authentic. Therefore, Leon Panetta is either a fool, a lying scoundrel, or insane. This kind of self-satisfied dishonor is a new thing in the USA, at least at the colossal scale it has achieved the past decade. In 2023 it is the order-of-the-day. In this particular case, it led to putting "Joe Biden," with his handlers and movers, in a position to destroy the country, and they are getting it done.
Yet, events are still in motion, and decades are happening in days now.
We'll learn this week whether escalation of the war involving Israel and its enemies can be averted without giving Hamas a pass on consequences for its recent murder spree.
We'll learn whether a meaningful opposition against the Party of Chaos can organize around a new House speaker.
We'll learn whether that same assembly can begin the process of laying out a president's crimes for all in the nation to see, including the sizeable cohort of citizens who relish official lying and being lied to.
*  *  *
Support his blog by visiting Jim's Patreon Page
Loading...