---
NY AG Jockeys For Attention With "Long List" Of Trump Policies For 'President Biden' To Undo
AG Letitia James is making a list - of Trump Administration policies and actions that future President Joe Biden must undo immediately after being sworn in.
James, who was likely behind the leak of Trump tax records related to the Trump International Hotel in Chicago, since the NYT story included references to her investigation into Trump's finances. Now we know for sure: her investigation has nothing to do with shadowy Russians, but whether Trump owes taxes on the loans that he was allowed to walk away from by Deutsche Bank and American investment firm Fortress.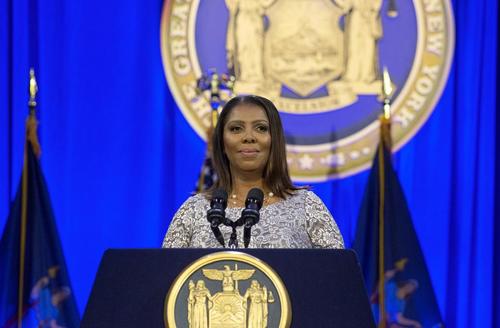 The thrust of the investigation is obvious: James is jockying for a promotion to attorney general if Biden wins, a role for which there is no clear frontrunner (though Tom Perez has been floated). As a black woman, James is already a strong contender.
And just in case her relentless investigation into Trump's business records, an invasive probe that has produced countless leaks of Trump's private financial information, wasn't a clear enough signal, James is "preparing a list. And hte list is long."
As AG in New York, James said she would "work with the Biden Administration to ask them to file stays in a number of cases that are pending in the courts all across the country." Of course, that's all contingent on her staying on as AG in Albany.
She also said that she and her staff are reviewing any and all options that she could undertake if Trump tries to contest the election.
James has fought Trump on everything from the Post Office to EPA regulations to immigration. She famously led the probe into Trump's charity which led to its dissolution, and an investigation into potentially inflated property values hasn't gone away, either (Eric Trump was recently deposed in that case).
She's also taken some scalps at the NRA.
As for what's on the list? Well, it's not clear. Perhaps it never will be. Asked by reporters whether she would consider running for Mayor of NYC, she said that she was happy as AG.