---
Liberals Voice 'Sense Of Betrayal' After Muslim-Ruled MI City Bans Pride Flags
Liberals who cheered when a Michigan city elected America's first Muslim-majority city council are now voicing a "sense of betrayal" after the council voted to ban LGBT Pride flags from city property. 
In 2015, Hamtramck, Michigan -- a Detroit suburb and former Polish and Ukrainian enclave -- put itself in an international spotlight when Muslims were elected to four of six city council positions. As the Guardian recounts, liberals rejoiced: 
"They viewed the power shift and diversity as a symbolic but meaningful rebuke of the Islamophobic rhetoric that was a central theme of then-Republican presidential candidate Donald Trump's campaign."
Fast forward another seven and a half years, and -- as people of European descent represent an increasingly smaller proportion of the electorate -- that slim majority has evolved into a monopoly, with all six slots filled not just by Muslims, but by Muslim men.  
Now liberals are recoiling after the city council on Tuesday voted unanimously to bar Pride flags from being displayed on city property, as part of a prohibition that bars "religious, ethnic, racial, political or sexual orientation group flags."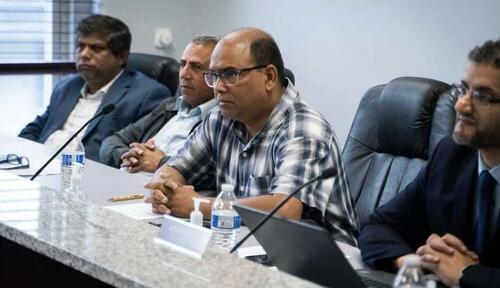 "There's a sense of betrayal," said former Hamtramck mayor Karen Majewski, a Polish-American. "We supported you when you were threatened, and now our rights are threatened, and you're the one doing the threatening."
Mayor Amer Ghalib, a Yemeni-American, told the Guardian that LGBTQ advocates are creating tension by "forcing their agendas on others." He added, "There is an overreaction to the situation, and some people are not willing to accept the fact that they lost."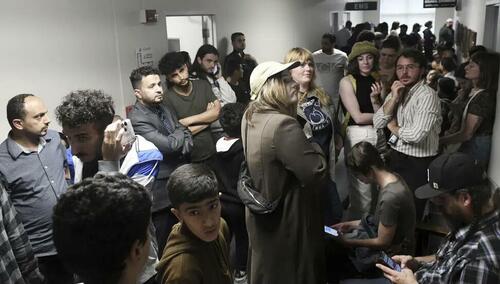 A dismayed Hayley Cain told Associated Press that she moved to Hamtramck from California because it had a reputation as a diverse community. "I'm questioning whether it is...The pride flag represents making space for all humans on all the spectrums, and this is where we're going as a human species," she said. "You can't stop that."
Community interest in the vote was so high that an overflow crowd packed the hallway outside the council meeting room. During the public comment segment of the meeting, a woman opposing the measure donned a clown nose and gave the kind of emotive, unhinged speech that's standard of woke leftists -- before kissing another woman, eliciting groans of dismay:
Muslims vs. LGBT community: LGBT activists pick fight w/ Michigan Muslims over proposal to ban Pride flags

Woman wearing clown nose gives sarcastic speech mocking Hamtramck, Michigan's all-Muslim government & majority-Muslim population before kissing woman during debate on… pic.twitter.com/Gbii2M9oQP

— Samirah (@SameeraKhan) June 16, 2023
"You guys are welcome," said council member Nayeem Choudhury. "[But] why do you have to have the flag shown on government property to be represented? You're already represented. We already know who you are."
Most of the city's Muslim immigrants come from two countries: Yemen and Bangladesh. A man who immigrated from Yemen at age 7 ridiculed those who want Pride flags flying from government flag poles, saying, "They don't know...what it's like to live under severe repression."
He said he owed his success first to "almighty God" and "then to this great country." Evoking World War II soldiers who died to secure "peace, prosperity, and freedom," he said "it's shameful and embarrassing to have any other flag [than the US flag] in public buildings. You have the freedom to display whatever you wish in your home or your private businesses."  
WATCH immigrant from Yemen during a City Council Meeting in Hamtramck, Michigan slams the city for wanting to fly LGBTQ flag from city property.

"Our soldiers fought, bled, and died in the jungles of Iwo Jima and the beaches of Omaha so that you and I can live with peace,… pic.twitter.com/yu797qQNvS

— I Meme Therefore I Am 🇺🇸 (@ImMeme0) June 16, 2023
With rhetoric like that from a Yemeni-American, it's no surprise that, while lagging Biden by some 30 points, Donald Trump performed better with Muslims in 2020 than he did in 2016.
Trump's uptick wasn't just about the kind of social conservatism on display in Hamtramck. "I wish 95% of people voted for Trump," Indian-American Muslim Salman Razzaqi told The Guardian in November 2020. Citing Obama's rampant interventionism that caused misery from Afghanistan to Syria, Libya and beyond, he added, "[Trump's] the one who harmed Muslims the least." 
Loading...