---
Liz Cheney Faces Chopping Block As GOP Braces For Chaotic Week
House Republicans will return to Washington DC this week to address a growing schism in the party between never-Trumpers led by Rep. Liz Cheney (WY), and Rep. Elise Stefanik (NY) who hopes to replace her as chair of the House Republican Conference - a move endorsed on Sunday by House Minority Leader Kevin McCarthy - roomate of Democrat pollster Frank Luntz.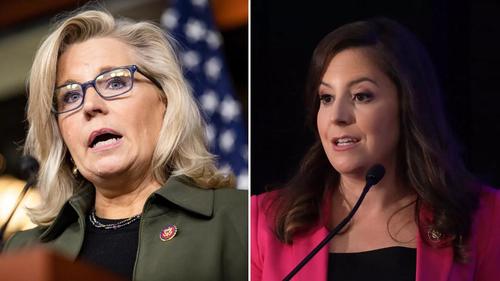 "She's done as a member of leadership. I don't understand what she's doing," one former House GOP lawmaker told The Hill of Cheney's ongoing attacks on former President Trump. "It's like political self-immolation. You can't cancel Trump from the Republican Party; all she's done is cancel herself."
Cheney has repeatedly attacked Trump for 'inciting' the Jan. 6 'insurrection' despite telling supporters to protest peacefully and then go home following the breach of the Capitol.
GOP leaders hope that purging Cheney from the leadership ranks will move Republicans beyond their civil war over Trump — one that's raged publicly since the Jan. 6 attack on the Capitol — and allow the party to unite behind a midterm campaign message that President Biden and the Democrats are too liberal for the country. -The Hill
"There are still a few members that are talking about things that happened in the past, not really focused on what we need to do to move forward and win the majority back next year," according to Rep. Steve Scalise (R-LA), the minority whip. "We're going to have to be unified if we defeat the socialist agenda you're seeing in Washington."
A victory by Stefanik would mark a symbolic shift back towards Trump by leading Republicans - as the former president remains highly engaged this election cycle and has threatened to politically obliterate any remaining GOP opposition.
"By ousting her, what we're saying is: We are repudiating your repudiation of the Trump policies and the Trump agenda and her attacks on the president," according to Rep. Andy Biggs (R-AZ), adding "President Trump is the leader of the Republican Party. And when she's out there attacking him, she's attacking the leader of the Republican Party."
Cheney has already survived one challenge to her leadership post, in February, after she infuriated conservatives by voting to impeach Trump for inciting the Capitol rampage on Jan. 6. With the backing of Minority Leader Kevin McCarthy (R-Calif.), she easily kept her seat as conference chair, 145 to 61 by secret ballot.

With McCarthy and Scalise fed up with Cheney and now backing Stefanik, the 36-year-old New Yorker is expected to prevail in Wednesday's contest — a would-be victory for leaders who have failed to unite the conference behind a post-Trump strategy in the early months of the Biden administration. -The Hill
That said, ousting Cheney is not without risk. She's the highest-ranking GOP woman in Congress, the daughter of a former Vice President, and has a much more conservative voting record than Stefanik's - which has caused some GOP leaders to fear alienating female Republican voters, particularly educated suburbanites who will be key votes in the 2022 elections.
"You're not going to win or hold some of these swing seats if it's all about loyalty to a person," said former Rep. Barbara Comstock (R-VA). "We certainly know that Trump divided the country, and lost the House and lost the Senate — he lost the [popular vote] two times — and you're now going to hang your hat on the guy who got 47 percent" in 2020? she asked, snarkily.
"This is nuts," added Comstock. "He's not going to get more votes. His people are dying off."
Cheney isn't the only House Republican facing backlash for taking on Trump. Earlier in the week, Sen. Mitt Romney (R-Utah), one of seven Republican senators who voted this year to convict Trump, was booed and called a traitor at the Utah GOP state convention, where he narrowly beat back an effort to censure him.

On Friday, the Ohio Republican Party Central Committee voted to censure Rep. Anthony Gonzalez (R-Ohio), Cheney and the eight other House Republicans who backed Trump's impeachment in January. The Ohio GOP also formally called for Gonzalez's resignation.

House GOP leadership allies have argued that this week's referendum on Cheney isn't about the final purge of Trump foes from the party. They note that McCarthy stood by Cheney after she voted to impeach Trump, in a bid to unite the warring factions of his 212-member conference.

But McCarthy allies say the GOP leader has no choice but to dump her this time around, arguing she has repeatedly undercut McCarthy and the GOP's message during leadership news conferences, in media interviews and in op-eds where she continues to rail against the dangers of Trump and his "Big Lie." -The Hill
And so, Cheney's ouster will set the tone for whether Trump still has his mojo within the Republican party. That, in turn, will be a key indicator of whether he's got any kind of chance in 2024 - should he choose to run again.