---
Watch: Body Cam Video From Officers Responding to Louisville Rampage
Update (1925ET): Louisville police have released footage captured by body cameras worn by two police officers responding to Monday's mass shooting at an Old National Bank office in the city's downtown. Both were wounded by gunfire, one of them -- Nickolas Wilt -- critically, as he was shot in the head and has undergone brain surgery.   
In the press conference that accompanied the initial release of the video, Deputy Chief Paul Humphrey noted that these first responding officers were hampered by a lack of visibility due to the difference between the bright outdoors and the darkened interior lobby where killer Connor Sturgeon had been waiting to ambush them.
Glare from the floor-to-ceiling windows also made it difficult to pinpoint the threat. After Sturgeon's shots at subsequent responding officers shattered the glass, Officer Cory Galloway was able to engage and kill him. 
* * *
The 25-year-old employee of Old National Bank who killed five people and wounded nine more in Louisville, Kentucky on Monday morning livestreamed his rampage on Instagram. A city official has related specifics of the stream to CNN, while many new details about the attack and its perpetrator have emerged.
Connor Sturgeon, whose LinkedIn profile says he was a "syndications associate and portfolio banker," wrote to his parents and a friend of his intent to shoot up the bank, but it's not clear yet whether that communication was physical or electronic, or whether the recipients received them before he opened fire with an AR-15 rifle around 8:30 am.    
Video from a witness shows a chaotic scene at Old National Bank in downtown Louisville.

"Active shooter at the bank" an officer screams as multiple gunshots are fired on the background.

The details emerging from this are very grim. pic.twitter.com/Ax3Gc5imNg

— Dalton Godbey (@DaltonTVNews) April 10, 2023
While there's no official confirmation of it so far, Louisville's WDRB reported that the last three posts on Sturgeon's apparent Instagram account on Monday morning were:
A meme of Star Wars character Kylo Ren saying "I know what I have to do, but I don't know if I have the strength to do it." 
Accompanied by the label "MONDAY VIBES," a meme of a character from the movie Office Space saying "I could burn this whole place down." 
Sturgeon's apparent own words: "THEY WON'T LISTEN TO WORDS OR PROTESTS. LET'S SEE IF THEY HEAR THIS."

Citing a police source, CNN reported that the shooter had learned that he was going to be fired after working at Old National for two years and previously interning there for three summers.  
His attack began before the bank's operating hours, and he livestreamed it on Instagram. The platform has since taken the video offline, but police have a copy.
A Louisville official tells CNN the stream begins with a view of his AR-15. A woman greets the shooter with a "good morning," and he replies "you need to get out of here." Sturgeon attempts to shoot her but the weapon on is on safe and doesn't have round chambered. He corrects those issues and shoots her in the back.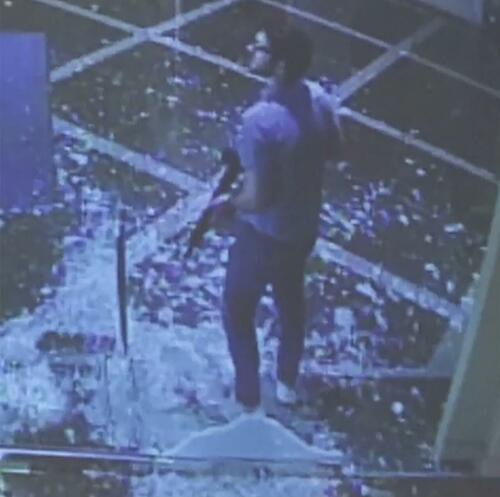 He then proceeds to shoot many other employees who try to outrun him, before sitting down in the lobby and seemingly waiting for police. That wait lasts about 90 seconds, and the then is hit and killed in the gun battle. 
An employee meeting had been underway, with some attending in person and others via video. Manager Rebecca Buchheit-Sims told CNN she attended remotely, and saw her coworkers being gunned down on her computer screen: "I witnessed people being murdered. I don't know how else to say that...I'm just as much in shock and disbelief and was in disbelief as I watched it unravel."

Employee Tammy Madigan told the Daily Beast of her rush to find shelter: "The bathrooms on our floor have keycode entry, so it was probably the safest place we could think of to hide. So the six of us went into the men's room, turned off all the sound on our phones, tried to be as quiet as we could." Others hid in a vault. 
The first cops arrived on the scene within three minutes of being dispatched. Dispatchers told officers to look for a 6' 4" white male in dark pants, adding that he'd left a voicemail for a friend declaring his intent to "kill everyone at the bank," reports Heavy.  
Seven employees and two officers were wounded. The five dead are Joshua Barrick (40), Thomas Elliot (63), Juliana Farmer (45), James Tutt (64) and Deana Eckert (57).  
🚨 #EXCLUSIVE: The scene of the Louisville shooting, as seen from the front of the entrance of the Old National Bank Building

(ft. the building's bitter landlord literally assaulting me on a sidewalk) pic.twitter.com/v3FPSQNE1L

— Nick Sortor (@nicksortor) April 11, 2023
Police officer Nickolas Wilt, a 26-year-old rookie who graduated just 10 days before the shooting, was critically wounded with a gunshot to the head and underwent brain surgery. The other wounded officer has not been identified. 
As with every mass shooting, people raced to discern the shooter's political orientation. Some of his social media posts reflected support for the Black Lives Matters protests and criticism of police and Donald Trump. Trying to reach conclusions about his sexuality, others highlighted the fact that the shooter's LinkedIn profile said he uses "he/him" pronouns.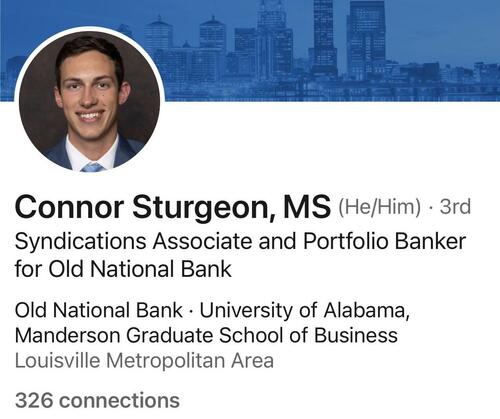 A 2020 University of Alabama graduate with a masters in finance, Sturgeon is described as a star multi-sport athlete in high school. Amid the shock of learning what Sturgeon did, a former classmate told Daily Beast:
"The big thing I keep going back to is that in the first year of high school, we played football together in eighth grade, he was out most of the year because he had multiple concussions. Then he had a couple more in high school. I'm not saying it's the cause but I always think back to that… There were times I'd wonder, will this catch up with him? But never in this way. He's the last person I'd expect would do this."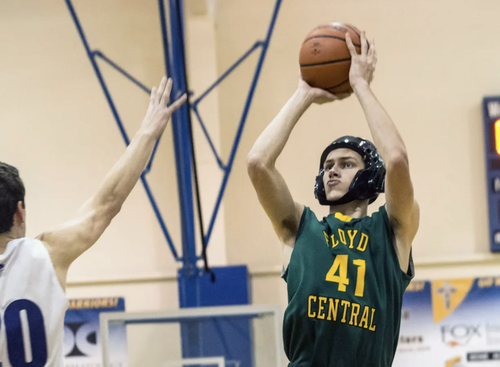 An autopsy would be needed to determine if Sturgeon had Chronic Traumatic Encephalopathy (CTE). The degenerative brain disease caused by multiple episodes of head trauma, CTE leaves people prone to aggression, mood swings, depression and paranoia. Murderous New England Patriot Aaron Hernandez is perhaps the most infamous example. 
High school friends described Sturgeon as smart and popular. However, in an introspective 2018 essay at the the University of Alabama, Sturgeon wrote,
"My self-esteem has long been a problem for me. As a late bloomer in middle and high school, I struggled to a certain extent to fit in, and this has given me a somewhat negative self-image that persists today. Making friends has never been especially easy, so I have more experience than most in operating alone."
#BREAKING
A heavily-armed convoy just arrived in the 1500 Blk. of Taylor Avenue and is about to breach a house. ATF says this is in relation to the mass shooting downtown. @WHAS11 #Louisville pic.twitter.com/jHgRtSCtJZ

— Travis Breese (@tbreeseontv) April 10, 2023
Jim Ryan, CEO of Chicago- and Evansville-based Old National Bank, immediately traveled to Louisville along with other senior executives. "As we await more details, we are deploying employee assistance support and keeping everyone affected by this tragedy in our thoughts and prayers," said Ryan. 
At a Tuesday morning press conference, Louisville's police chief said Sturgeon acquired his rifle legally from a local dealer on April 4.   
On Monday, President Biden issued a statement calling for gun control measures that seemingly have no relevance whatsoever to Monday's shooting: 
"How many more Americans must die before Republicans in Congress will act to protect our communities? It's long past time that we require safe storage of firearms. Require background checks for all gun sales. Eliminate gun manufacturers' immunity from liability." 
Not letting a crisis go to waste, Team Biden also threw in a thinly-veiled opportunistic shot at potential 2024 presidential opponent Ron DeSantis, as the statement condemned Republican officials "from Florida to North Carolina to the U.S. House of Representatives, [who've] double[d] down on dangerous bills that make our schools, places of worship, and communities less safe."
Presumably that statement refers to laws enabling law-abiding citizens to carry firearms into those places. Does the White House really think the people at Louisville's Old National Bank would have been worse off if some of the bankers were carrying pistols?
Sadly, they were prohibited to do so -- by CEO Ryan and Old National Bank -- without "proper authorization." Per page 49 of the bank's employee handbook:   
"Firearms, weapons, and other dangerous or hazardous devices or substances are prohibited from the premises of Old National without proper authorization. Firearms may be kept in parking areas in accordance with state law where recognizing such possession is required by state law."
Loading...