---
Major Banks Could Be Liable For Jeffrey Epstein Sex Trafficking: Judge
Authored by Zachary Stieber via The Epoch Times (emphasis ours),
Two major banks and a bank executive could be liable for Jeffrey Epstein's sex trafficking, a judge has ruled.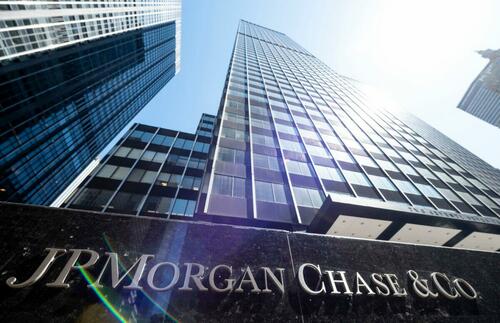 Plaintiffs have presented enough evidence that JPMorgan Chase, longtime JPMorgan executive Jes Staley, and Deutsche Bank could be liable for Epstein's sex trafficking, U.S. District Judge Jed Rakoff said on May 1 as he rejected motions to dismiss cases brought against Staley and the institutions.
"Plaintiffs have pled sufficient facts to support their allegations that JP Morgan had … knowledge of Jeffrey Epstein's sex-trafficking venture, either directly or by recklessly disregarding what was plainly to be seen," Rakoff, a Clinton appointee, wrote in a 54-page decision.
One of the plaintiffs, a woman who says she was abused by Epstein and his associates, has also pled "sufficient facts to support her allegation that Deutsche Bank knew or recklessly disregarded that Jeffrey Epstein ran a sex-trafficking venture," the judge also said.
The ruling came in cases brought by several alleged Epstein victims and the U.S. Virgin Islands government against JPMorgan and Deutsche Bank. It also covers a claim filed against Staley by JP Morgan.
The banks are accused of violating federal law that prohibits sex trafficking of children by force, fraud, or coercion, with one section of the law allowing for the punishment of people who knowingly benefit financially from participating in a sex trafficking venture.
Defendants have argued they did not participate in Epstein's venture because they were only providing typical banking services. Participation in a venture requires "specific conduct that furthered the sex trafficking venture," or conduct that is "more than just passive facilitation," previous rulings have stated. But plaintiffs have presented evidence that both banks structured the voluminous cash withdrawals Epstein enacted in ways that hid how they were suspicious, the judge said, in addition to delaying or failing to file suspicious activity reports.
Plaintiffs have noted that Epstein pleaded guilty to a sex offense in Florida in 2008 and that news articles and lawsuits lodged before and after the plea accused Epstein of sex offenses, including abuse of minor girls. They have released internal correspondence showing JPMorgan officials questioning whether the bank should cut ties with Epstein in light of the allegations.
The ruling means the cases are slated to hear on trial later this year.
Former Executive
Staley was the head of JPMorgan's private banking division in 2000 when he began to service Epstein's accounts. Emails indicate the two became friends.
"I deeply appreciate our friendship. I have few so profound," Staley, who has left the company, said in one missive.
Staley visited homes owned by Epstein on multiple occasions.
One day after Staley went to Epstein's home in New York, Epstein emailed to say "you were with Larry, and I had to put up with…," attaching a picture of a young woman posing in a sexually suggestive manner. In another missive, Epstein wrote no words but only sent a picture of a different girl.
Plaintiffs say Staley not only saw one of the alleged victims while visiting Epstein, but that he abused multiple girls himself.
Staley wrote to Epstein after a visit: "That was fun. Say hi to Snow White." Epstein asked, "what character would you like next?" Mr. Staley responded, "Beauty and the Beast."
"If the allegations in plaintiffs' complaints are taken as true, Mr. Staley had actual first-hand knowledge that Epstein conducted a sex-trafficking venture," Rakoff said in the new ruling.
Staley, who was brought into the lawsuits by JPMorgan, has said he was not in charge of Epstein's accounts.
"The third-party complaints, while creating provocative media fodder, never explain how an employee who is not alleged to have had decision-making authority over Epstein's accounts—and who is not alleged to have seen any of the suspicious account activity that other JPMorgan employees ignored—caused the plaintiffs' alleged injuries," he said in one filing.
Staley has asked the court to dismiss the bank's claim against him, arguing that the bank is trying to "treat Mr. Staley as its public relations shield by asserting claims that lack any legal (or factual) basis." That motion is still being considered.
The Epoch Times reached out to JPMorgan and Deutsche Bank for comment.
Loading...