---
Mark Levin Says Target Won't Sell His Book Due To Concerns Liberal Customers May Get "Offended"
Authored by Naveen Anthrapully via The Epoch Times,
Conservative radio personality Mark Levin's upcoming book has been banned from sale by Target as the mega retail chain was reportedly worried the book would offend Democrats.
"Target has informed my publisher, Simon & Schuster, that it will not carry my new book when it is released on Sept. 19," Mr. Levin said in a July 6 tweet.
The book is titled, "The Democrat Party Hates America."
According to Mr. Levin, Target "claims that certain customers might be offended by the title. Imagine that! So, the corporatist leftwing censorship begins."
The Epoch Times reached out to Target to verify the claim.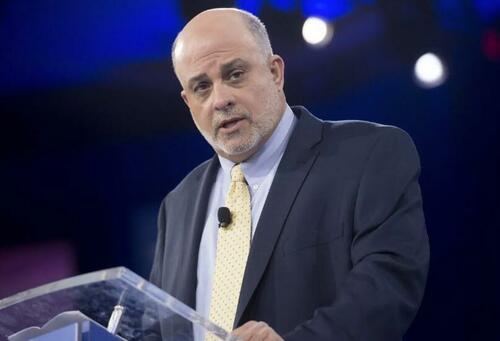 According to the book's description, Mr. Levin characterizes the Democrat Party as an entity that "set out to rewrite history and destroy the foundation of freedom in America" since its establishment.
Some people justified Target's book banning. "Can't imagine why they didn't want this screaming at their shoppers. Really unfair man," Ryan Grim, the Washington, D.C., bureau chief at news outlet The Intercept, said in a July 6 tweet while responding to Mr. Levin.
James Surowiecki, author of "The Wisdom of Crowds," also put up a similar argument.
"Not surprising Target isn't interested in selling a book the title of which slurs a huge chunk of its customer base," he said in a tweet.
However, many people spoke out in support of Mr. Levin and against the book censorship imposed by Target.
"Let's give @marklevinshow a big lift here. I've read every book he's written and listen to his show routinely. This is simply another form of censorship. #WeThePeople are going to stand our ground and say ENOUGH is ENOUGH!" former National Security advisor Mike Flynn said in a tweet.
"Target reminding conservatives not to shop there, in case tuck-friendly swimsuits and chest-binders for Pride Month weren't enough," Brent Bozell, founder of Media Research Center, said in a July 6 tweet.
Boycotting Target
Boycott calls against Target were triggered after the retail chain rolled out its Pride collection at the beginning of May. Among the many Pride offerings, some were aimed at children.
For example, books for kids aged 2–8 had titles like "Pride 1,2,3," "Bye Bye, Binary," and "I'm Not a Girl." Target also suggested "The Pronoun Book" to kids aged 0–3. In home décor, Target offered mugs labeled "Gender Fluid." It also offered transgender swimsuits for adults with a "tuck-friendly" feature.
In an interview with Fox News in early June, former Target vice chairman Gerald Storch said that the boycott calls against the retail chain were triggered by a single item—the tuck-friendly swimsuit.
"I've never seen a case where one item, that tuck swimsuit, that's really what made the difference versus the competitors. That's where the big mistake [was] made," he said.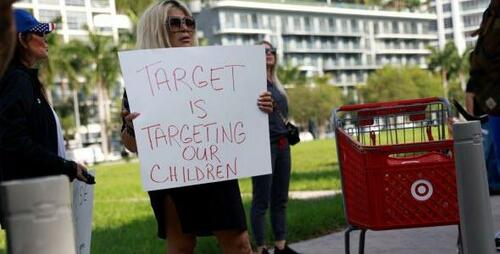 A woman protests outside of a Target store in Miami, Fla., on June 1, 2023. The protesters were objecting to "Pride Month" merchandise at Target. (Joe Raedle/Getty Images)
By refusing to sell Mr. Levin's book, Target can end up adding more fuel to the fire of discontent among conservative shoppers, thus negatively affecting the chain.
"Another good reason not to shop at Target," Rep. Chip Roy (R-Tex.) said in a July 6 tweet.
Ever since the Pride Month controversy and boycott, Target's valuations have suffered. Between May 1 and July 3, the company's market capitalization fell from $72.42 billion to $62.16 billion, a decline of $10.26 billion, or over 14 percent. During this period, Target's share price fell from $157.12 to $134.86.
Target has also been hit with a series of downgrades. In early June, Citi analyst Paul Lejuez predicted that Target's rival Walmart will begin to take over the market share and lowered the company's share rating from Buy to Neutral. Earlier, JPMorgan Chase had also downgraded Target's shares.
Loading...