---
Marvel-ous Bomb: Disney's Latest Social Engineering Attempt Is Box Office Flop
Disney's latest attempt to force-feed its woke agenda to movie-goers resulted in another embarrassing box-office flop, as "The Marvels" posted the worst opening weekend in the history of the Marvel Cinematic Universe -- the term used for Disney films that are based on characters from Marvel Comics.  
The movie, which centers on three female characters -- white, Hispanic and black -- took in only $47 million over its first three days in the theaters.
"By all accounts and by all sources, it's a disastrous result for a $200M Marvel Studios movie," writes Deadline's Anthony D'Alessandro. 
Marvel Studios, under President Kevin Feige, has been a major Hollywood force, with its 33 films generating around $30 billion since 2008. Despite this, recent films like "The Eternals" and "Ant-Man and the Wasp: Quantumania," along with Disney+ TV shows such as "She-Hulk: Attorney at Law" and "Secret Invasion," have seen lukewarm reception.
"The Marvels," starring Brie Larson and Zawe Ashton, faced delayed marketing due to a Screen Actors Guild strike resolved on November 9. Disney CEO Bob Iger, addressing recent underperforming releases, announced a reshuffle in Disney's movie release schedule, postponing some Marvel films to 2025.
CNBC added that "The Marvels" achieved the second-lowest first-day box office in the MCU history, earning $21.5 million on its opening Friday, including $6.6 million from Thursday previews. Only "The Incredible Hulk" from 2008, which followed the unexpected hit "Iron Man," recorded lower initial domestic ticket sales.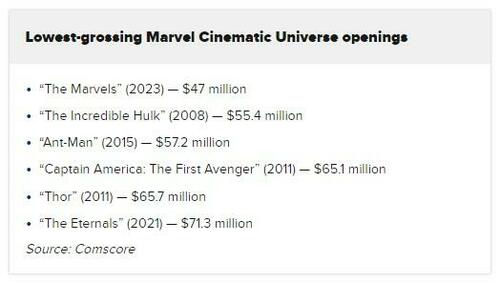 Paul Dergarabedian, senior media analyst at Comscore, told CNBC: "Despite posting the lowest domestic debut for the MCU, 'The Marvels' proved once again the importance of the international marketplace for the Marvel brand. The film will now rely on Thanksgiving holiday corridor moviegoing to help move the big budget superhero film closer to profitability and help to determine the film's ultimate success at the box office. "
Shawn Robbins, chief analyst at BoxOffice.com, added: "Marvel has simply set a very high standard for themselves. When a new film or series is released, they have more pressure to stand on their own while also pushing the universe forward."
He added: "Expanding the MCU brand past the goldilocks zone of balanced exposure without feeling like homework to the casual audience has created a challenge for the franchise to begin correcting for." 
"In fact, this underwhelming box office performance occurs at the same time 'Loki's' second season is, ironically, drawing praise as one of the few Disney+ Marvel series to resonate positively with a big part of the fan base," Robbins said.

"This is certainly a crossroads moment from a creative and business standpoint. Perhaps the relative slowdown in Marvel content next year will provide a healthy and necessary buffer for the studio, for Disney, and for audiences," he concluded. 
Hollywood writers strained to find a wokespeak silver lining to the disaster. 
"The Marvels scored the best opening for a movie by a black female director," Deadline reported. Given it was the worst-ever Marvel opening, we'd say the outlet was damning Nia DaCosta with faint praise. 
Asked about the movie's performance in the context of woke backlash, DaCosta told Variety she focuses her attention on fans who provide "civilized critique." The director said she turns away from "pockets that are really virulent and violent and racist — and sexist and homophobic and all those awful things."
"We know the film is resonating with female audiences," Disney EVP of theatrical distribution told the New York Times. We're going to keep the pressure up and fight the good fight into Thanksgiving."
Last year, Strange World -- a Disney animated film from the Toy Story franchise -- bombed after it garnered pre-release headlines celebrating that the cartoon-movie included "the first openly gay teen romance in Disney movie history."
Another Disney production is a bomb even before it hits the theaters: The company has decided to delay until at least 2025 the release of its live-action version of Snow White, in which the seven dwarfs were replaced with what Disney calls "magical creatures" of varied colors, sizes, shapes, and genders, and the starring role was given to a Latina whose skin is decidedly not "as white as snow."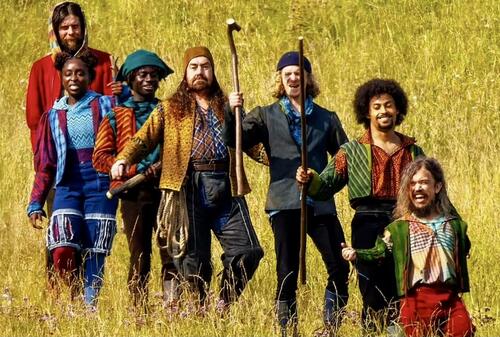 Casting a woke feminist who proceeded to snarkingly mock the original classic and its traditional values put another dagger in the film: 
Go woke, go broke. Disney should issue a gag order… pic.twitter.com/xHrldnPpf7

— @amuse (@amuse) August 13, 2023
🚨 REPORT: Disney delays the release of their woke Snow White remake until 2025...

Can't imagine why! 🤣pic.twitter.com/MXWONToTxS

— Will Hild (@WillHild) October 27, 2023
Finally, back to 'The Marvels', it appears the infamous it appears "get woke, go broke" maxim applies once again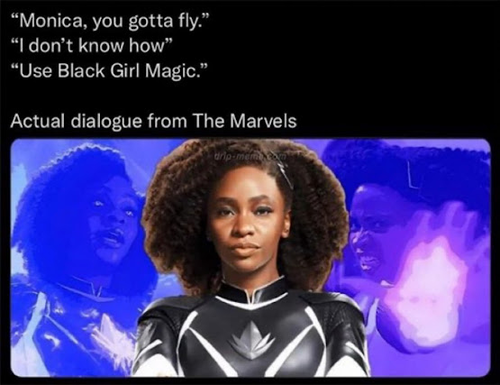 Who knew coming in for a movie and a good time and instead getting a lesson in identity politics wasn't the prescription for weekend entertainment success?
Loading...