---
MCC Vs. AOC: Michelle Caruso-Cabrera To Run Against Ocasio-Cortez In Democratic Primary
Is AOC about to get a taste of her own medicine?
The Democratic diva and self-proclaimed 'Democratic Socialist' has been out campaigning for Bernie Sanders in recent weeks as one of his top surrogates. But back home, a challenge is brewing, as Michelle Caruso-Cabrera, a popular anchor on CNBC, has filed paperwork to challenge the 29-year-old lawmaker during this year's Democratic Primary.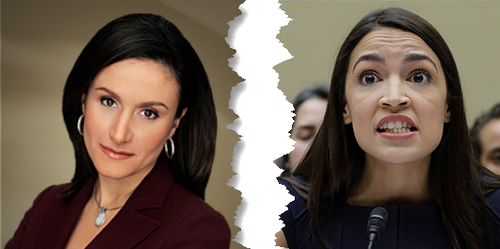 Being a member of the House, AOC is obligated to defend her seat every two years. She famously knocked out Joe Crowley, the chairman of the Queens Democratic Committee and a leader in the House Democratic caucus, during a 2018 upset primary win.
MCC made the announcement on CNBC, the channel where she has worked for years. In a brief statement, she cited her Italian and Cuban heritage and longstanding roots to the Bronx and Queens district that AOC currently represents, and where MCC also lives.
"I am the daughter and granddaughter of working class Italian and Cuban immigrants," Caruso-Cabrera said in a statement.

"I am so lucky to have had such a wonderful career and I want everybody to have the opportunity that I've had. That's why I'm running."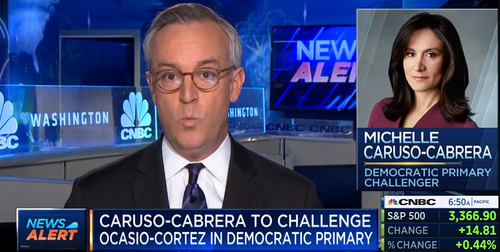 One anchor on CNBC joked that viewers were calling the race the 'rumble in the Bronx'. Readers can find her disclosure paperwork here.
MCC vs AOC: Long-time CNBC anchor and contributor Michelle Caruso Cabrera files paperwork to run against Alexandria Ocasio-Cortez in the Democratic primary in New York's 14th Congressional district: https://t.co/aVXlH3yVkK

— Eamon Javers (@EamonJavers) February 11, 2020
Longtime CNBC anchor Larry Kudlow is now one of President Trump's top economic advisors, and once ran for Senate in his home state of Connecticut.
The race is already growing crowded as MCC will be the 12th candidate. Here's a rundown of who's running in NY's 14th district.
Democratic Party Democratic primary candidates
Alexandria Ocasio-Cortez (Incumbent)

Fernando Cabrera

Michelle Caruso-Cabrera

James Dillon

Badrun Khan

Jose Velazquez
Republican Party Republican primary candidates
Jineea Butler

Israel Ortega Cruz

John Cummings

Miguel Hernandez

Scherie Murray

Ruth Papazian

Rey Solano

Antoine Tucker
If MCC's coverage is any guide, she will likely attack AOC's socialistic tendencies, while also attacking AOC's role in driving Amazon, and more than 100,000 well-paying jobs, away from Long Island City.