---
McConnell Hits Resistance From GOP Over Debt Deal
Update (2010ET): Senate Minority Leader Mitch McConnell (R-KY) is hitting friction within his own party over Tuesday's debt deal announcement - which would essentially hand Democrats a blank check to continue raising the debt ceiling in exchange for 'owning' whatever negative effects it may have.
"There are always very diverse points of view within our conference on these types of issues," said Sen. John Thune (R-SD), the #2 Senate Republican.
Republicans were describing the measure Tuesday as setting up a one-time exception to the filibuster. Though a GOP aide noted that the Senate routinely has a fast-track process for other issues like arms sales and trade deals, the debt agreement was drawing criticism from conservatives who don't want to lift a finger to help Democrats extend the nation's borrowing limit. -The Hill
Sen. Mike Lee (R-UT) called it a "Frankenstein bill" that would "neuter the Senate," while Sen. Ted Cruz (R-TX) said that Democrats shouldn't have any help from Republicans when it comes to raising the debt ceiling.
"[Democrats] should at least own the responsibility for crushing debt they are necessitating. Republicans should not participate in racking up that debt, which is harming people across the country," said Cruz.
McConnell reportedly pitched his caucus on it during a close-door lunch on Tuesday, touting it as a way for the GOP to shine a spotlight on Democrats' reckless spending.
"I think this is in the best interest of the country by avoiding default. I think it is also in the best interest of Republicans," he said.
That said, it's unknown how many Senate Republicans actually agree with McConnell, who sounded confident that he could round up 10 GOP votes on Thsday.
At least two GOP senators who helped advance the debt ceiling agreement in October said they were either opposed or likely to be "no" votes.

"I wouldn't vote for it," said Sen. Richard Shelby (R-Ala.), who helped advance a short-term debt hike earlier this year. "I just think we ought to keep our word with the base."

Sen. Mike Rounds (R-S.D.), another one of the 11 GOP senators, said that he was "leaning" toward opposing the deal.

"I just think they can do it with reconciliation," he said. "They've known that from day one."
Stay tuned...
*  *  *
Senate Minority Leader Mitch McConnell says Congressional leaders have reached a deal to avoid breaching the federal debt ceiling.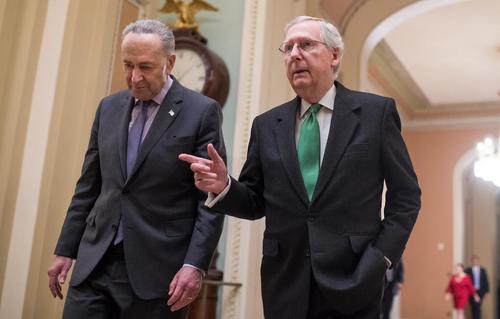 The deal will allow Democrats to raise the debt ceiling on their votes alone - creating a temporary fast-track process which would allow them to increase the debt limit with 51 votes, bypassing the filibuster.
"I believe we've reached here a solution to the debt ceiling issue that's consistent with Republican views of raising the debt ceiling for this amount at this particular time and allows the Democrats to proudly own it," said McConnell, adding that there will be a vote on Thursday.
The new plan will be tied to a non-controversial bill which would avoid cuts to Medicare, according to NBC News' Sahil Kapur.
As Goldman notes, the bill would also address several Medicare payment issues:
Specifically, it would: 
Delay Medicare sequestration: COVID-relief legislation Congress passed in 2020 and 2021 suspended the 2% cuts to Medicare payments ("sequestration") that had been in place since 2013. That suspension was due to expire at the end of the year, when the 2% across-the-board cut would have taken effect again. The pending legislation would renew the current suspension for another three months (through March 31, 2022) and then cut payments by 1% from April 1 to June 30, 2022, after which the full 2% cut would take effect. 

Boost Medicare physician payments: Congress boosted Medicare payments to physicians by 3.75% for 2021, but that temporary increase is due to expire at year end, which would have resulted in a cut of around 3.75% on Jan. 1, 2022. The bill would raise payments by 3% from the currently scheduled level for 2022, or only about 0.75% below the 2021 level. 

Postpone PAYGO sequestration: Under current law, if Congress passes direct spending or tax legislation raising the deficit in a given year, statutory Pay-As-You-Go (PAYGO) rules require that the White House issue a sequestration order early the following year to cut some areas of spending (primarily Medicare) to offset the deficit impact. Congress routinely passes legislation to waive this requirement, but had not yet done so this year to address the deficit increases stemming from the American Rescue Plan and the bipartisan infrastructure bill. The legislation just posted in the House would do this. While unsurprising, this step was necessary to avoid spending cuts at the start of 2022.
The debt ceiling is set to reach its limit as soon as Dec. 15, according to a recent warning by Treasury Secretary Janet Yellen.
If Congress passes the measure, it would be the second such bailout in recent days after Biden signed a 10-week stopgap funding bill into law last week which gives Congress until Feb. 18 to come up with a full year of appropriations.