---
Mea Culpa: Oregon's Largest Newspaper Admits Defunding Police Was A Terrible Idea As Homicides Skyrocket
Oregon's largest newspaper, The Oregonian, has published a mea culpa over their previous endorsement of defunding the police, after 266 shootings and 25 homicides in the first quarter of 2021. In fact, in a Monday article from the paper's editorial board, they heaped praise on the city's gun violence reduction team and defended the mayor's recent proposal to restart the 'canceled' unit after a spate of violence ensued.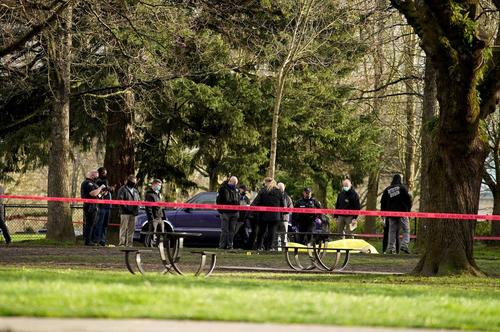 "While we supported the move at the time, we – and all Portlanders ­– should recognize what has also been lost. The gun violence reduction team responded to every shooting, identifying incidents that were connected and helping disrupt potential retaliatory action. Officers had established relationships with many of those considered high-risk for being involved in gun-violence, connecting people with resources in the community as well as communicating with them about ongoing disputes to keep violence down. And as part of their work, they took dozens of guns off the street."
The paper then slams the city council for ignoring the "reality of the threat" that removing cops from enforcement jobs has had on the city, saying that a proposal by commissioners to hand $3.5 million to unspecified community groups reflects a "startling lack of seriousness, if not outright naivete," which "fails to show the urgency or understanding of the scope of this crisis."
"The council's three newest commissioners told Mayor Ted Wheeler that they oppose the $2 million proposal to revive the gun-violence unit that he developed with members of the Interfaith Peace & Action Collaborative..."
April 4, 2021
As PJMedia's Jeff Wreynolds noted last month, after (George) Floyd's death, the "defund the police" movement sprung up under misplaced motivations of social justice, and many people died unnecessarily.
Crime policy expert Sean Kennedy, a fellow at Maryland Public Policy Institute, crunched the numbers, based on Portland Police Bureau stats and media reports:
Since June 2020, there has been a 255% increase in murder in Portland through February 2021;

Shootings increased 126% in 2020, and Year to Date have increased 93%.
The numbers are truly alarming. From January through April 2020, there were a total of three murders in Portland. Just in January and February 2021, we've already seen 20 murders. For the period of June 2020 through February 2021, 71 murders have occurred in Portland. That's a staggering 255% increase over the same period one year prior.
* * *
"These shootings and murders are happening now ­­– on streets, in convenience stores, in homeless camps as well as in parks, with homicides occurring at a pace to reach a record-busting 100 this year. Many shootings are tied to retaliatory violence between rival groups – a complex dynamic of relationships, families and history that was well understood by the disbanded Portland Police's gun violence team but whose connections now go largely unrecognized as investigations are handled by whoever is on duty," the editorial continues, adding that restarting the gun violence unit would not be an easy undertaking.
Then, the paper suggests that "somehow" the city has become polarized to the point where everything has been painted as a "zero-sum game" in which "support for one thing translates into rejection of another."
When will leftist lawmakers stop making sweeping, kneejerk decisions that affect entire communities so they can signal their virtue? We won't hold our breath.