---
Authored by Thomas Brooke via Remix News,
Antti Lindtman, a favorite to replace Sanna Marin as his party's chair, told a Finnish tabloid newspaper the embarrassing photographs were not intended for public viewing...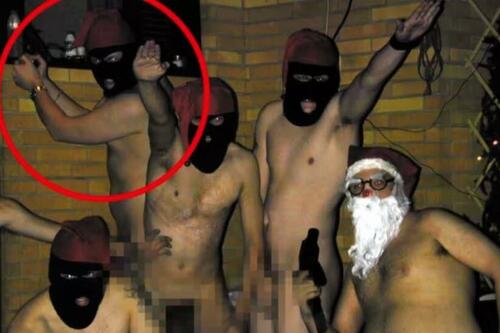 A top Finnish politician in the running to replace former Prime Minister Sanna Marin as leader of the Social Democratic Party (SDP) has sought to explain how he came to be photographed stark naked, save a balaclava and Santa hat, with a group of friends giving Hitler salutes.
Antti Lindtman, the current chairman of the Social Democratic Parliamentary Group and a member of parliament for the Finnish district of Uusimaa, has admitted to being one of the individuals in a number of resurfaced photos taken when the 40-year-old politician was 18 years old.
The photographs, which show Lindtman and four other individuals posing in Santa hats and full face masks, equipped with replica firearms, and giving the Sieg Heil salute, have been circulated on social media and among the Finnish media since Tuesday. The SDP politician has now commented on the scandal via the Iltalehti tabloid newspaper.
"I am in the picture in the back with a plastic bullet gun in my hand," Lindtman admitted.
"These pictures were not meant to be made public, mainly because we are scantily clad," he told the newspaper, adding that the photographs had been uploaded to a private website more than a decade ago and that Lindtman had asked the site's administrator to remove the images years ago.
The Finn said of those giving Nazi salutes that they had "obviously gone too far with posing," and insisted the photographs were taken at a Christmas party for his high school film group when he was still a teenager.
"The pictures were taken as a thank you to those who helped us make a short film," Lindtman told the Finnish tabloid newspaper.

"I wasn't a Nazi sympathizer then, and I'm not now," he insisted. "Even then, I could not have been in favor of the neo-Nazis because of my opinions."
Lindtman took to Twitter on Wednesday accusing saboteurs of manipulating the photographs; however, there is no evidence the photograph has been doctored in any way, and the politician himself has admitted he participated in the photo shoot.
The SDP politician is considered the favorite to take over the chair of his party from outgoing leader Sanna Marin at the party congress in early September.
It is too soon to say whether this scandal will prove fatal for his political ambitions, but it's safe to assume it won't help.
Lindtman has been particularly outspoken in his criticism of the newly formed coalition government between the center-right National Coalition Party and the right-wing populist Finns Party.
He condemned Vilhelm Junnila, a member of the Finns Party who has already resigned as a minister of the coalition government after it was revealed he made Hitler jokes and spoke at an event attended by neo-Nazis.
"A country that sends a person known for Nazi sympathies to market Finland to international companies can cause itself genuine reputational harm and damage," Lindtman tweeted last week.
Loading...